Apple iPad 3 prices, storage to stay the same: $499 for the basic 16GB model?
17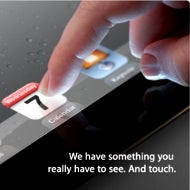 The
Apple iPad 3
is just a couple of days away from getting unveiled, and recent troublesome rumors claimed that it will cost more than iPads have cost so far.
9to5Mac counters that claim
as it got information that both pricing and capacity of the new iPad won't change.
This means that the iPad 3 will be available in the same
16GB/32GB and 64GB versions
with prices starting from $499 for the Wi-Fi-only model.
The publication's Mr. X source got the model numbers of the upcoming iPad 3 to back the claims up. Here is what's allegedly the model numbers of the upcoming tablet:
MC705LL/A – J1 GOOD A-USA
MC706LL/A – J1 BETTER A-USA
MC707LL/A – J1 BEST A-USA
MD328LL/A – J1 GOOD B- USA
MD329LL/A – J1 BETTER B-USA
MD330LL/A – J1 BEST-B-USA
MD366LL/A – J2A GOOD A-USA
MD367LL/A – J2A BETTER A-USA
MD368LL/A – J2A BEST A-USA
MD369LL/A – J2A GOOD B-USA
MD370LL/A – J2A BETTER B-USA
MD371LL/A – J2A BEST B-USA
Good, Better and Best seem to refer to the storage capacity, while the J1 and J2A are indicators that should differentiate the iPads by either connectivity or less likely color.
9to5Mac's source, Mr. X, has been mostly right about his predictions. He gave out the 64GB iPhone 4S news a couple of days before Apple made it official. He's also had some misses, though, so we'd still take this with a slight grain of salt.
There's no word on whether 4G LTE will be included and that's the single biggest question that we expect Apple to answer on March 7th at the official unveiling of the tablet. Except for that, most sources agree that the new iPad will have a stunning resolution of 2048x1536 pixels, a faster processor and improved camera. It's also possible that it will have more RAM memory.