Leaked images may point to dual-core iPad 2S, not quad-core iPad 3
47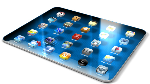 Far be it from us to stop reporting non-stories when they happen, so we though you all might like to know that there is more proof that the iPad 3 (or iPad 2S, or iPad 2.379) has the components that we all expected. Oh, and before we go any farther, we know that some of you tend to think that we would drop an actual picture of an unreleased device as the small title image on an article, so for you: no, that is not an actual picture of the iPad 3. If it were, this article would have "exclusive" slapped all over it. It is just a random mockup that we found and thought it looked far cooler than the actual iPad 3 is likely to look.
Anyway, we have all known for upwards of
6 months or so
that the next iPad would have a quad-core A6 processor; and, we have known for just as long that it would also have LTE, although we've only had reasonable proof for
about 3 months now
. Regardless of what we already know, it's always nice to have completely unsourced rumors to "confirm". BGR has reported that an anonymous source, which claims to have a prototype iPad 3 (because Apple is known for giving prototypes to people who will leak random bits of code,) has released info from debugging software iBoot showing that the iPad 3 will have a quad-core A6 processor, and a global radio. Unfortunately, the actual information in the images doesn't confirm the A6 that BGR is claiming.
The radio, as we expected, is a world radio covering all flavors of GSM, CDMA, and LTE that you may come across.
**Update** Although, as an intrepid reader Squallz pointed out, the number scheme for the CPU model number doesn't necessarily match with the predictions. We've checked the images and there is no actual mention of an A6 quad-core CPU, just the new model number. And, as Squallz points out, the single core A4 was model **30X, the dual core A5 was **40X, and the CPU listed in this iPad is model **45X. So, there's a fair chance that this isn't the iPad 3 with an A6 processor, but an iPad 2S with a slightly souped up dual-core A5.
Adding to the confusion is Apple's device model numbering scheme, as the device shown is tagged as the iPad3,1, which doesn't mean it is the iPad 3, merely that it is the 3rd gen iPad, which again could be the iPad 2S.