Apple iPad 3 event official for March 7th
68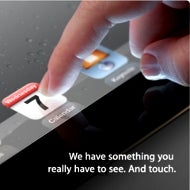 Before everyone starts zooming in on the pixels of Apple's teaser with which it invites the press to a March 7 event in San Francisco, we'll save you the suspense. It's more than likely the unveiling of Apple's third generation iPad, of which we've seen already all the externals and
internals
, and will be really surprised if the screen is not
double the iPad 2 resolution
.
The biggest mysteries remain pricing - recent reports said it is likely to
sell for a premium above the current iPad 2 generation
, while the common knowledge (and sense) before that was that the iPad 2 will slide into a lower price bracket when the 3rd gen hits shelves.
We'll see about price, but the most exciting thing might not be the product itself, although 2048x1536 pixels 9.7" screen would be impressive no matter how you look at it - it could very well be the software.
Ever since the rumor about a third iPad edition with high-res display started, it was accompanied by wingman rumors that it will be destined for graphics designers, photographers, video editors and that whole
pixel
-pinching crowd, with new software to take advantage of that display. The iPhone 4S brought Siri, but what will iPad the 3rd bring we'll know as soon as next Wednesday.
The show will start 10am PST/1pm ET, and the presentation will be as closely watched as the product itself, now that Tim Cook is in charge.