Even the Huawei P30 Lite is set to come with three rear-facing cameras
5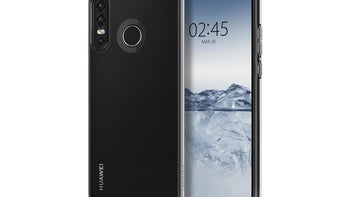 Huawei boldly went where no other smartphone manufacturer had gone before with the
P20 Pro
last year, slapping what then seemed like an insane triple camera setup on the back of its early 2018 flagship. But as Nokia gears up to redefine crazy mobile photography with
the world's first penta-lens device
, Huawei is reportedly preparing a P30 Pro featuring "only" four rear-facing shooters, as well as a "regular" P30 equipped with a triple-lens main imaging system.
Wait, what about a Huawei P30 Lite? Fret not, bargain hunters, as the same reputable accessories manufacturer that
revealed the design of the P30 and P30 Pro
a couple of weeks ago is today back with "confirmation" of a Lite variant's existence and a few key features.
Believe it or not,
Spigen's first batch of P30 Lite cases
suggests there will be no less than three cameras on the back of the handset, which would be pretty impressive for a mid-ranger that's likely to cost significantly less than the
Galaxy S10e
, for instance. Of course, the number of imaging sensors is not always representative of a phone's photography skills, as proven by the horrible quad camera
Samsung Galaxy A9 (2018)
.
Then again, Huawei has been able to produce some very respectable "Lite" devices over the years, including a
Mate 10 Lite
with a competent dual camera arrangement. Let's just hope the price point of the P30 Lite will remain low, despite the addition of a third rear snapper
compared to its predecessor
, as well as a substantial notch and bezel reduction. The new "chin" looks pretty slim, obviously leaving no room for a company logo, while the waterdrop-style screen cutout is still preferred by many over the hole-drilling method of pursuing the borderless dream.
One detail that makes us confident the Huawei P30 Lite will be reasonably priced is a rear-mounted fingerprint scanner, but it's probably better to wait for more information before venturing any guesses. The headphone jack doesn't appear to be going anywhere, and for some reason, the LED flash is positioned between the second and third rear camera and not below all three or to their side, as on the P30 and P30 Pro respectively.