Huawei Mate 10 Lite Review
10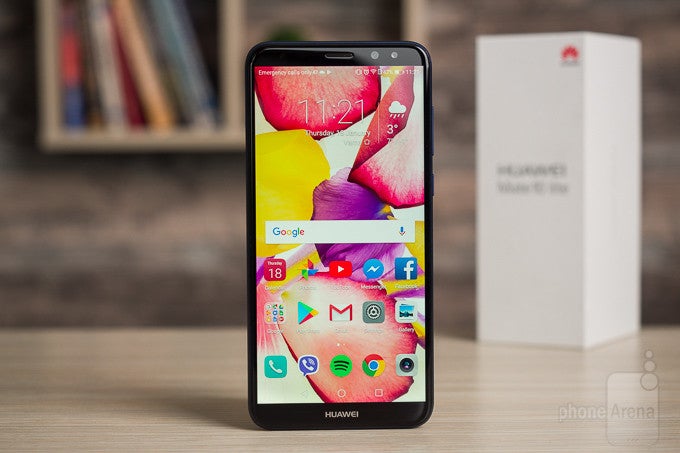 You can now read:
The
Huawei Mate 10 Lite
is a mid-range phone sold across the globe (but not in the United States) as the more affordable sibling to the high-end Mate 10 series.
The phone features a 2:1 screen – one that's taller than traditional 16:9 screens we used to see on virtually every new phone until about last year. It is built of solid metal and it runs on Huawei's own Emotion UI interface on top of Android 7.0 Nougat. The Mate 10 Lite also has a dual camera system on both the front and the back, with a 2-megapixel secondary camera on both sides that allows shooting photos with a blurred background – an effect that resembles the look you get with a dedicated DSLR camera.
We spent a few days using the Mate 10 Lite to find out how good of a phone it really is. Read on for our experience with Huawei's new mid-ranger.
Design
Premium and sturdy, the Mate 10 Lite is built of solid aluminum and made to last.
The first thing to notice about the Huawei Mate 10 Lite is that it really does not feel as big as you would expect a 5.9-inch phone to be. In fact, its physical size is about the same as that of the OnePlus 5 – a phone with a 5.5-inch screen, but with a traditional 16:9 aspect ratio. Huawei achieved this by putting a taller, 2:1 display on the Mate 10 Lite (more on it later). This is still not a phone that you can conveniently operate with one hand, of course, but it is manageably big.
The Mate 10 Lite is built of aluminum and feels sturdy, substantial, and made to last. It is slightly curved around its sides, very much like an iPhone 6/7/8, and its back is flat. The physical volume and power buttons are all on the right and feel nice and clicky.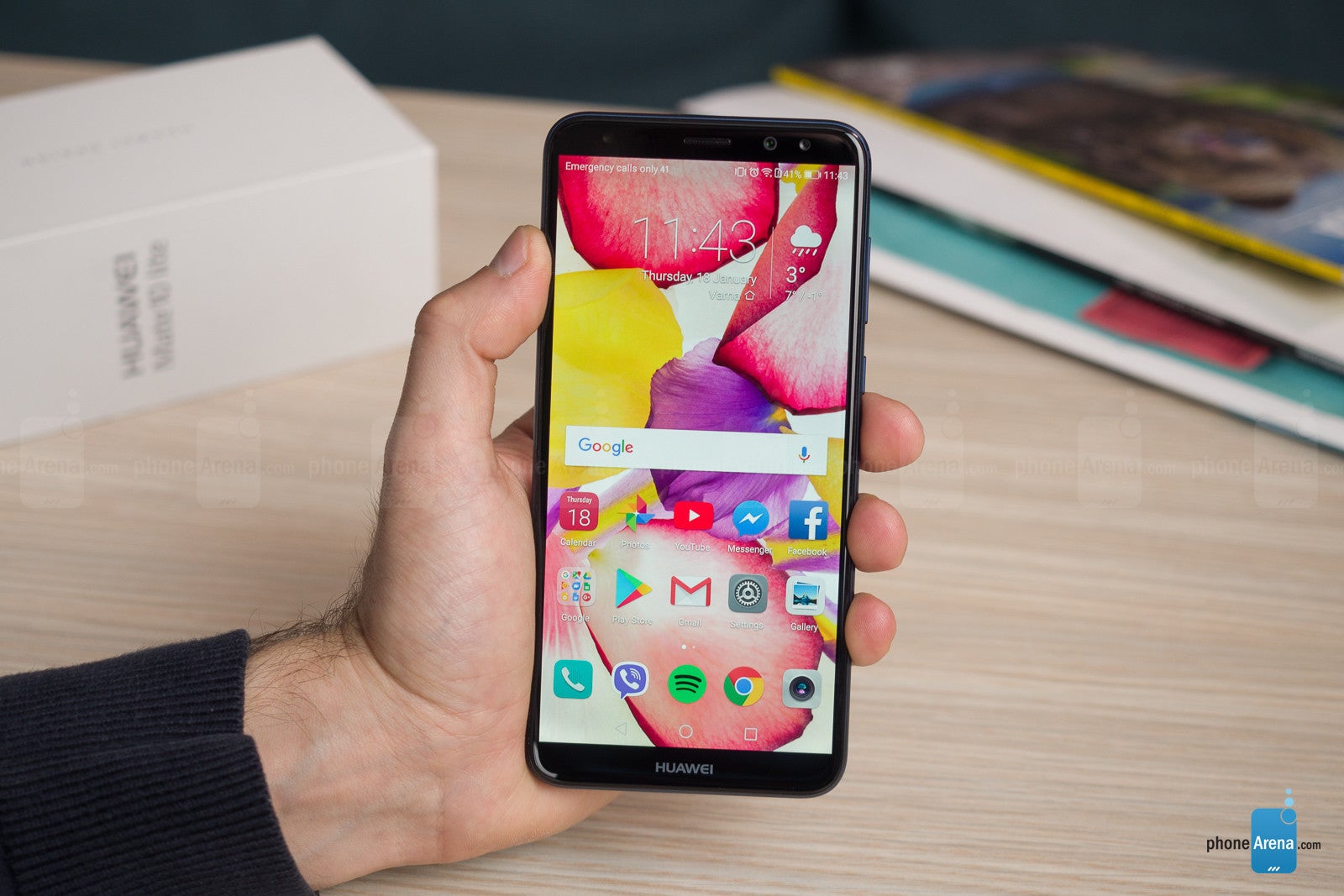 On the back you have a fingerprint scanner. It unlocks the phone with just a tap even from stand-by, as it should, and it is impressively fast. (Interesting fact: Huawei was the pioneer of this one-tap fingerprint log-in feature.)
Right above the fingerprint reader you have the dual main camera system. Its position is a bit too close to the finger sensor, and you may often hit the lower camera, accidentally smudging it when trying to unlock the phone. It's not a big deal, but it is one little detail that does not feel completely right. The dual camera system itself sticks out quite a bit, but it is perfectly centered, and you can lay the phone on its back without it wiggling.
Unfortunately, there is no water-proofing on the Mate 10 Lite, so be careful not to get it wet.
On the bottom there is a single speaker (more on audio quality later), a headphone jack (thankfully), and a… microUSB port for charging. Yes, we are as disappointed as you probably are reading about a microUSB port in 2018, and we wish Huawei did not cheap out here. USB-C should definitely be a part of all phones in 2018, except for maybe the very cheapest ones.
Display
Having a 2:1 screen on an affordable phone is nice, but colors could be better.
The Huawei Mate 10 Lite has an ample, 5.9-inch display with a 18:9 (2:1) aspect ratio making it taller than the 16:9 screens on phones from the past years. This screen is about as wide as a 16:9 5.5-inch display, which is great since it is not too wide in the hand while still fitting more content. Speaking of handling, the screen is slightly curved towards the edges, which makes a big difference in terms of how pleasant it is to swipe on it.
But how good is it in terms of color and quality?
First, it is an LCD screen, so you don't have quite the lush colors that you get with AMOLED, but it still looks fine. One compromise it makes, however, is with color quality. The most notable issue is that the screen is very bluish by default. You do have a color temperature slider that you can play around with in settings to alleviate this a bit, but you will not have a complete fix.
Brightness gets to around 500 nits and with no excessive reflections, the screen is not too hard to see even outdoors on a sunny day.
Fun fact:

Huawei Mate 10 Lite has a display very, very similar to that of the Honor 7X, and while we cannot verify if it's exactly the same one, the both do look almost identical.
Display measurements and quality
Interface and Functionality
Huawei's Emotion UI is one of the most heavily modified Android interfaces around and it takes getting used to.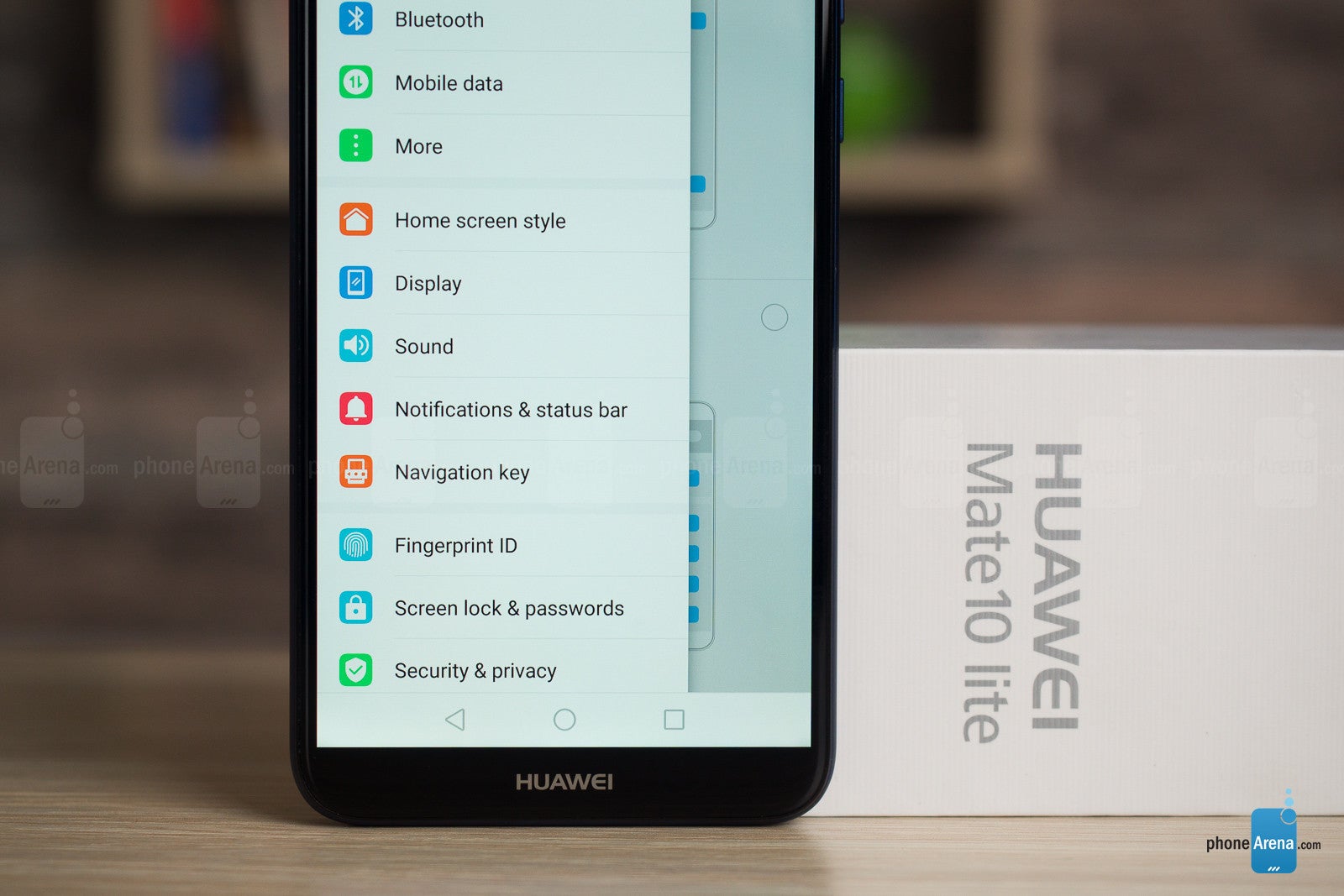 The Huawei Mate 10 Lite – like most affordable Android phones – is a victim of the Android update situation from day one as it ships with the older Android 7.0 Nougat. It may take months until it gets the current Android 8 version, and it is questionable whether it will get any major future Android updates. It will surely get security updates, though.
Once we get this out of the way and look at the actual phone, we see that its custom Emotion UI on top of Android makes it look very, very different from Google's Material Design. Emotion UI is a complete overhaul of the Android visual style in favor of an iPhone-esque interface. From the lack of an app drawer, the design of the settings menu, the look of the icons, the swipe-down action that brings local search and from many other cues, it's not hard to see that Huawei is clearly more influenced by Apple in its design choices than by stock Android.
Many interface elements appear very dated and the whole interface is in dire need of a visual refresh. Emotion UI also supports themes, but while they offer some variety, none of them feels esthetically pleasing. This would matter more to some than to others, but it's one thing we ought to mention.
Functionally, Emotion UI is well-capable of running everything just fine. It has some crazy features like knuckle gestures: you can use your knuckles to draw letters to quick-start apps and take screenshots. It also has some not so crazy yet still useful features like twin apps where you can run two accounts of one app – handy if you manage two different social profiles, for example.
Pro Tip:

You can swipe up from the bottom part of the lockscreen to get something like Apple's Control Center menu of quick toggles: you can quickly switch wallpapers, record an audio note, open the calculator, flashlight, timer or scan a QR code.
Processor, Performance and Memory
Smooth in daily use, but not one to win benchmark testing records.
One thing we like about most Huawei phones is that they run very smoothly in the daily grind. The Mate 10 Lite is no exception as it moves at a swift 60fps throughout the home screen, and opening apps is fairly swift, with very rare slowdowns. Other much more expensive phones (cough, Samsung, cough) could learn a few tricks from Huawei's phones.
Under the hood, the Mate 10 Lite is powered by Huawei's own Kirin 659 chip (a 64-bit octa-core chip with 8x Cortex-A53 cores and 16nm design) with 4GB of RAM. This is a mid-range chip with about the same performance as the Snapdragon 625, meaning that it is a long shot from the performance level you get on flagships. In fact, in benchmarks it gets around half the score of a 2017 Snapdragon 820 chip.
Gamers and specs geeks can take a look at the full benchmark testing results below to have a better idea of the phone's performance.
The Huawei Mate 10 Lite we have up for review comes with a hybrid dual SIM card slot, so you can choose between using two SIM cards or one SIM + one microSD card.
In terms of storage, you get 64GB on board, but since system files occupy some of it, only around 48 gigs are available for your apps and media. That's not ideal, but it is not a bad amount either since most phones in this price range only have 32GB of native storage. Plus, the option to expand via microSD cards is nice having.
Internet and Connectivity
Disclaimer:

The Huawei Mate 10 Lite is not officially sold in the United States and
it does not support US 4G LTE bands
.
The Mate 10 Lite has 4G LTE connectivity with support for the following bands:
FDD LTE: Bands 1, 3, 7, 8, 20
In simple terms, these bands will cover practically all European carriers and many international ones. Before buying one, check with your carrier to see if the Mate 10 Lite is fully LTE compatible with its bands.
To access the web on the phone, you have Google Chrome on board as well as a selection of alternatives via the Google Play Store.
Other connectivity options here include GPS, dual-channel Wi-Fi b/g/n and Bluetooth 4.2, but there is no support for NFC.
Camera
A camera app with useful options and good image quality.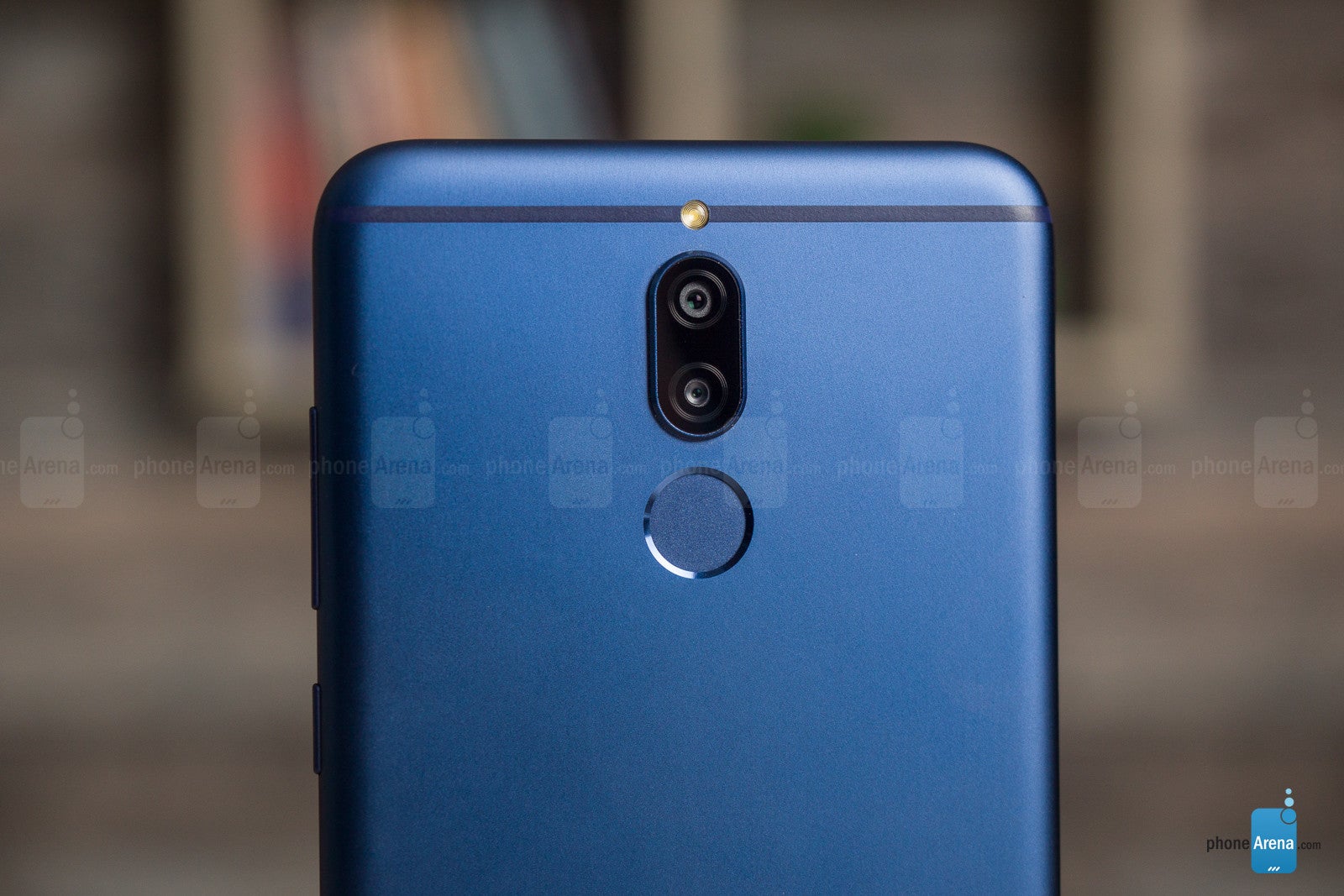 In affordable phones like the Huawei Mate 10 Lite, camera and image quality are usually the biggest compromises made. Is the Mate 10 Lite a compromise like the rest in this?
First, let's look at its specs: the phone features dual cameras on the back and dual cameras up front. The secondary camera on both the front and the back is a 2-megapixel shooter that only helps get depth information and achieve a blurred background (aka "Portrait Mode" effect).
The main camera on the back is a 16-megapixel shooter, while up front there is a 13-megapixel camera.
The camera app itself is utilitarian and gets the job done. Unlike most phones, the shortcut to quick start is a double press of the volume down button, not the power key.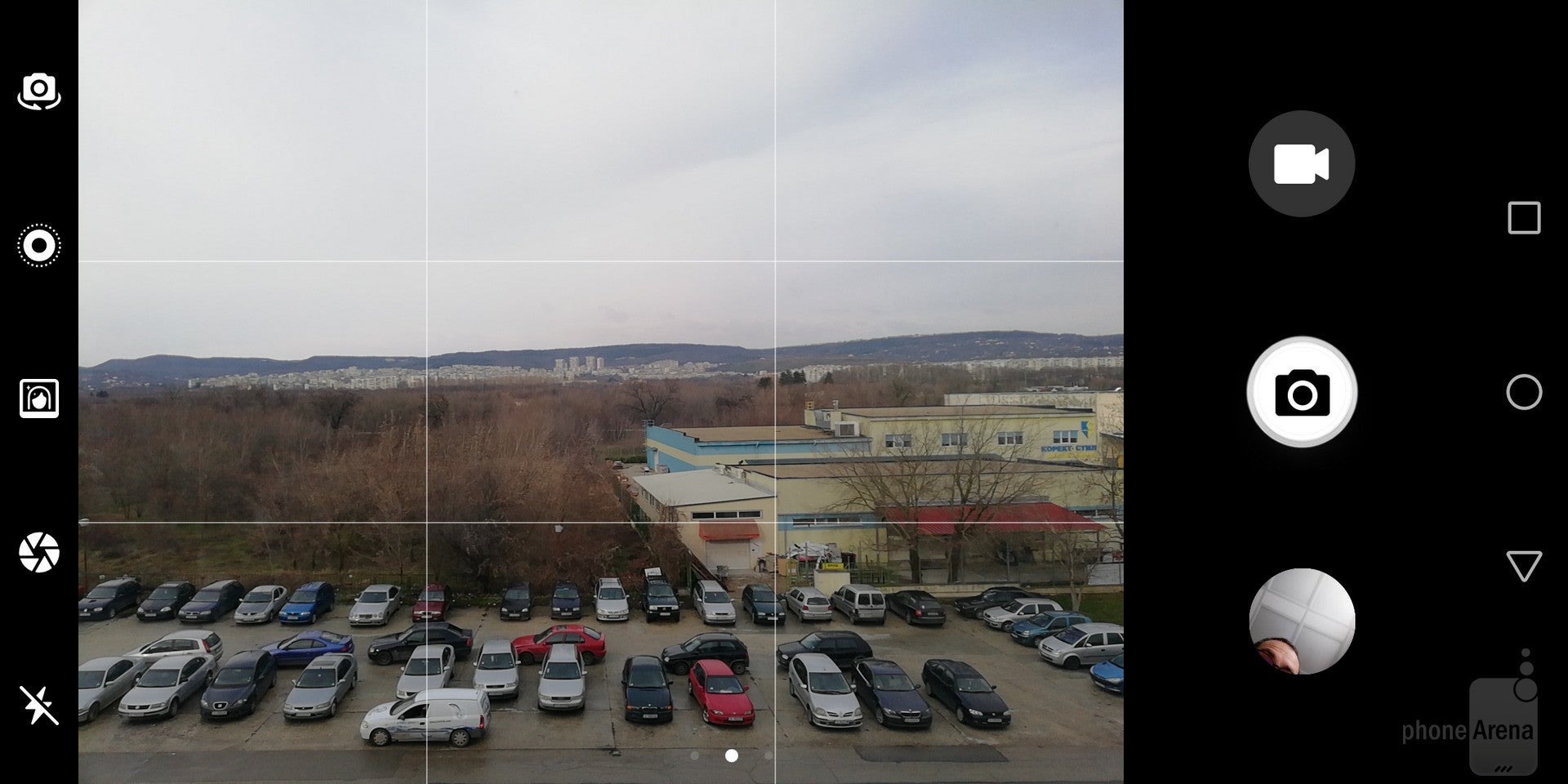 The app has quite a few interesting options (swipe left from the edge of the camera app to open the settings) and while most of them are standard – timer, grid, smile capture, mute option, object tracking and so on – right at the bottom is one that stands out: "Image adjustment". Here you will find that you can adjust the saturation, contrast, and brightness of images that come out of the camera.
Pro tip:

Photo enthusiasts will appreciate this option and after shooting with the phone for a while, we would bring the saturation and contrast up by 1 stop.
To switch to a different mode of shooting, you swipe right from the left edge of the camera app. You will see a list where you have Pro Photo (you can shoot RAW on this phone) and Pro Video (you can control metering, EV, use manual focus and set a manual white balance). Huawei also include few cool options like Light Painting with which you can get creative and photograph car light trails, paint light graffiti, shoot silky-looking water or even do basic astrophotography. You also have a time-lapse mode and slow-mo videos, as well as photo panoramas and a few other modes including a useful document scanning option.
Overall, the app is well done and functional.
Image Quality
How do photos actually turn out?

We are quite happy with photos we get during the day as they look fairly detailed and sharp. Two things that could be improved, though, are contrast and saturation as by default colors are definitely on the bland side, lacking in vibrancy. If this was any other phone, there would be no way to fix this, but with the useful "Image adjustment" option in the camera settings you can just bump saturation and contrast by 1 stop and get much, much better looking photos.

At night, this camera shows its weak side. It is hard to get a sharp shot and most of our snaps turned out very blurry and underexposed. No settings will help you here; this is just the way this phone is. You can try to hold it super steady or put it on a tripod for better shots, but this is not something that can always be done.

The LED flash does the job, but not particularly gracefully. It's not perfectly controlled and often creates terrible "laser-eye" photos.

The front camera shoots very detailed selfies, but, as most front cameras, burns the highlights of an image quite badly. Still, we like the quality. One thing that we notice is that skin tone always turns out way too pinkish and not perfectly accurate, though.



Portrait and Wide Aperture Mode

You have a portrait mode with both the rear and front cameras, so you candigitally blur the background to achieve a more creative effect. It all works very well, especially considering that this used to be a feature only available on more expensive phones. Of course, do not expect professional results, but for its small sensor, the Mate 10 Lite does great.

We took some great-looking portrait-style photos with zero effort, and we like that we can adjust the amount of blur in a picture. We can go all the way to f/0.95 (simulation) that will bring true bokeh blur rings or go for a more natural-looking f/3.5 or f/4 setting. These last two optionsseem like the golden mean.

And yes, you can get similarly good results with selfies. Take a look at the photos we shot below.



Video quality

Video recording quality is the most disappointing part of the Mate 10 Lite.

First, the phone does not support 4K video resolution, but even the 1080p videos do not look great: they lack detail sorely, and highlights are very overblown. There seems to be some basic stabilization on board, but it is the quality of the footage that leaves a lot to be desired.





Sound quality

You have a single bottom-firing loudspeaker on the Mate 10 Lite. It's a bit on the quiet side and just average in terms of quality, with no depth to it and a slightly squeaky tonality.

Thankfully, there is a headphone jack on board, so you do not need to spend more than $100 on wireless headphones just to enjoy the sound. If you do have wireless headphones, though, the phone does support Bluetooth 4.2, so it will work fine (even though it lacks the latest 5.0 specification).



Call Quality
Call quality is good on the Mate 10 Lite. Voices in the earpiece sound natural and with sufficient quality, so that you can recognize who is calling easily. On the other end of the line, we do not have any complaints about the microphone outputeither.
Battery life
It will last you a day, but not much more.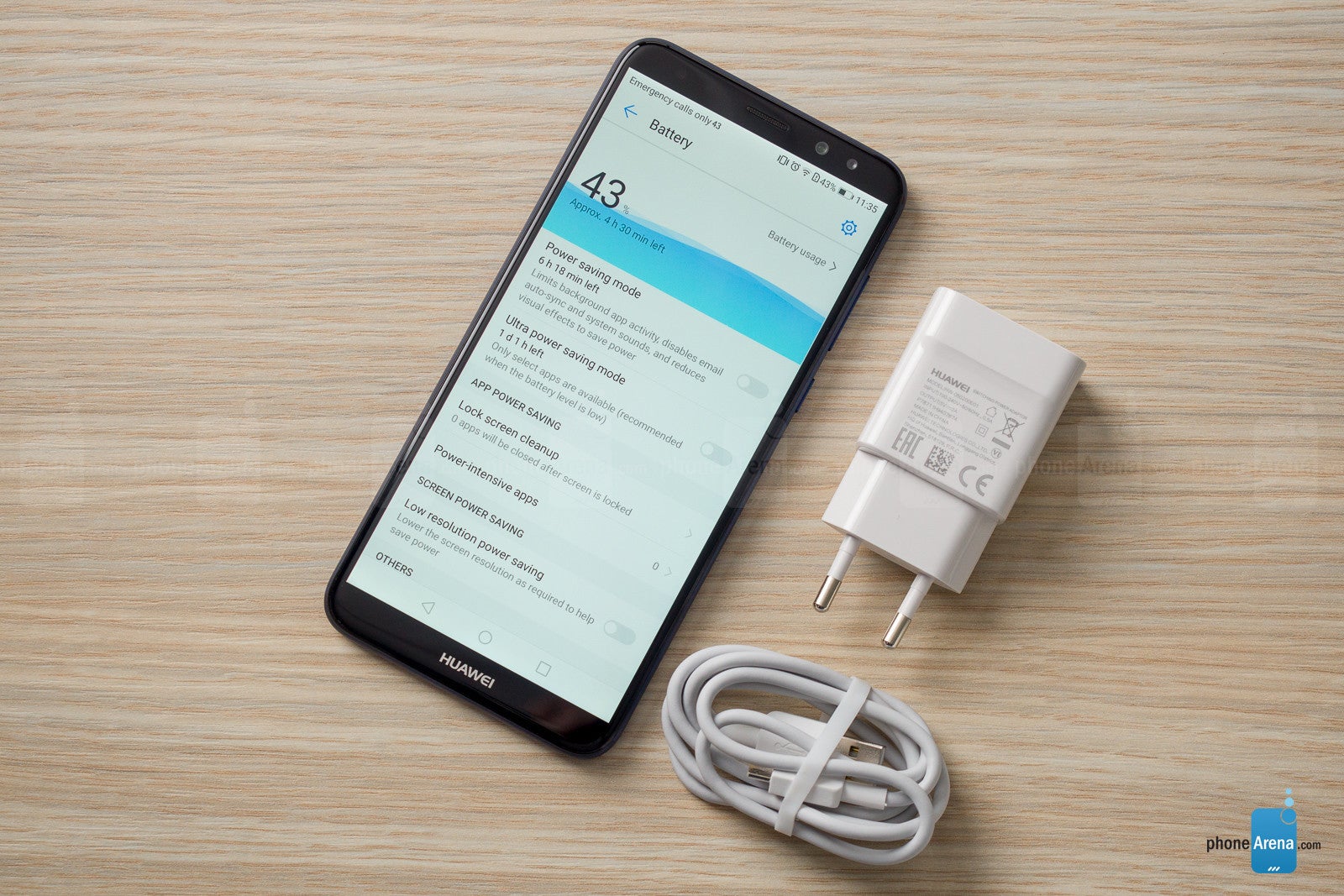 The Huawei Mate 10 Lite comes with a 3,340 mAh battery, which is about average for a device of its size.
We did not have any problems getting through a full day, but not much more. More intense use might drain the battery even before the end of a longer day. Unlike some other phones at a similar price from last year (mostly Snapdragon 625 phones), the Mate 10 Lite does not break any battery life records.
We also ran our battery life test on the phone, and it scored below 8 hours, a result that falls below the average by a slight, but noticeable margin.
Another important aspect of the battery experience is charging times. Sometimes you need that extra battery boost during the day and you need it fast – during the lunch break, for instance. Unfortunately, the Mate 10 Lite is one of the slowest-charging phones we've tested. It has a 10-watt (5V, 2A) charger in the box and it takes a whopping 2 hours and 37 minutes to get fully charged.
Here is how fast it recharged using the charger included in the box:
11% in 10 minutes
29% in 30 minutes
100% in 2 hours and 37 minutes
There is no support for wireless charging.
Price and alternatives
The Huawei Mate 10 Lite is a mid-range phone. More specifically, it is priced at around €335 in Europe, making it more expensive than low-end phones like the
Moto G5s Plus
and
Moto E4 Plus
, but also cheaper than phones like the
OnePlus 5T
,
Nokia 8
and
Honor 9
.
What are its direct rivals you ask? Here are some:
Moto X4
: €350
Sony Xperia XA2
: €350
HTC U11 Life
: €335
Samsung Galaxy A5 (2017)
: €310
Apple iPhone SE
: €320
Apple iPhone 6
: €350
Some older top-tier phones have also now fallen in price and can be purchased for about the same price as the Mate 10 Lite: two such options are the
HTC U Ultra
(€330) and the
Samsung Galaxy S7
(€400).
And yes, it costs half the price of flagships like the
Huawei Mate 10 Pro
(€800),
Apple iPhone 8 Plus
(€910), and
Google Pixel 2 XL
: €840.
Conclusion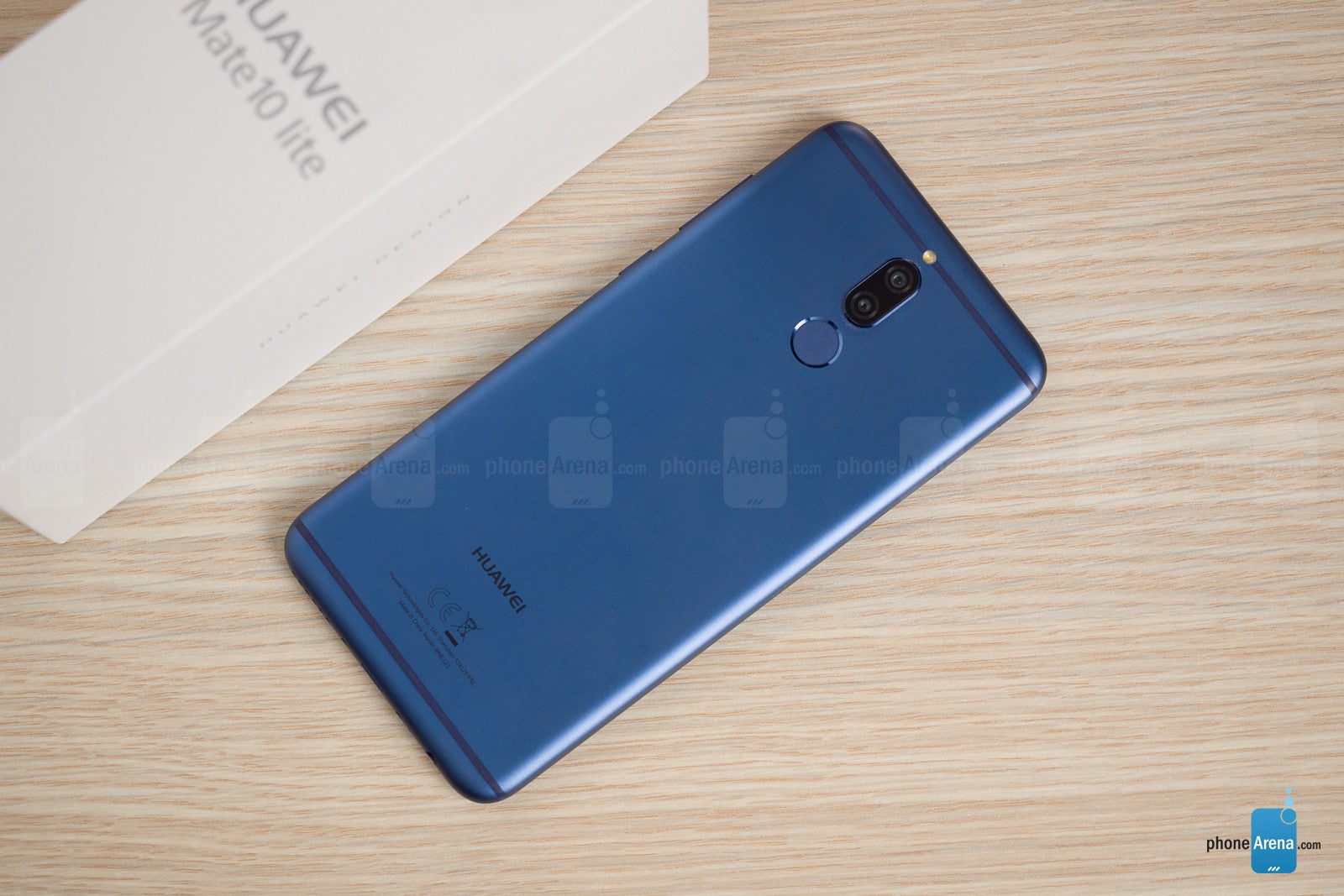 After using the Huawei Mate 10 Lite for a while, we are left with mostly positive impressions.
The phone has a great price. It is build very solidly, it has a cool 2:1 screen with tiny bezels, and we are particularly impressed with the premium feel of the display glass. It runs smoothly in the daily grind, and with a few tweaks, its camera captures good images in daylight. The portrait mode also works surprisingly well, and the fingerprint scanner is blazingly fast and accurate.
At the same time, the Mate 10 Lite does have some issues, the biggest ones being the rather poor video recording and low-light photo quality.
The rest are annoyances rather than big issues: the outdated microUSB port used instead of the newer USB-C, the slightly clunky looks of the Emotion UI interface, the lack of the latest Android version and certainty about future updates, the just-okay battery life and the slow charging, and the lack of extras like water-proofing and wireless charging. If some of these sound a bit nit-picky for an affordable phone, it is because… well, the Mate 10 Lite is actually quite a good phone. Ultimately, it is a safe recommendation if you are looking for a well-rounded phone that does not break the bank.