Duping the Huawei Mate 20 Pro 3D Face Unlock technology might be a piece of cake
31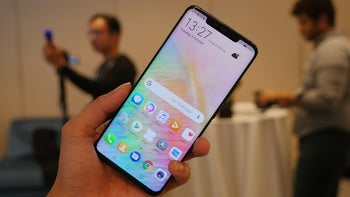 Among the many killer new features and technologies of the
Huawei Mate 20 Pro
, some of which
are truly groundbreaking
and possibly standard-setting for years to come, a couple of things seem to stand out.
It's certainly not unusual to be able to unlock a high-end phone these days using both your fingerprint and face, but Huawei has managed to pair two state-of-the-art biometric recognition methods on the
Mate 20 Pro
.
We're talking ultrasonic in-display fingerprint scanning
and
3D Face Unlock functionality, the latter of which looks very similar to Apple's pioneering Face ID technology, introduced with last year's
iPhone X
.

At least on paper it does, because in reality, the complex facial recognition feature has already been duped without much effort. Two German journalists in the process of reviewing Huawei's impressive handset found the accuracy of its 3D biometric recognition feature wholly unimpressive.

The "notchy" smartphone appears incapable of distinguishing between the two's facial characteristics, even though they are hardly identical. Both have beards and similarly short hair (kind of), but other than that, these are two different guys with no family relation and numerous distinctive traits.
One of them even wears prescription eyeglasses, yet the Huawei
Mate 20 Pro
can be easily unlocked by either face. That's no random occurrence either, as AndroidPit allegedly repeated the experiment multiple times with the same result. Whichever face is scanned and saved as that of the phone's rightful owner, the other one will be accepted as well and the
Mate 20
Pro will be fraudulently unlocked.
The only semi-reasonable explanation for this embarrassing situation would probably be some sort of a pre-release glitch, to be ironed out by the time the device actually hits stores. Otherwise, Huawei's 3D Face Unlock technology could be even less secure and reliable than
2D implementations available on rival phones
.
For its part, the company has promised to meticulously investigate the matter, claiming this type of problem has never been noticed in internal testing. Not even with identical twins.