The Huawei Mate 20 and Pro are official: ultra-fast charging, 7nm chip and in-display scanner
12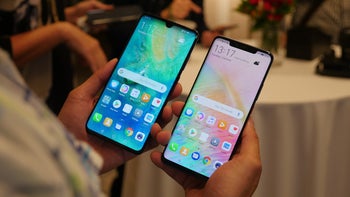 Huawei may be in hot water here in the US, but it is doing so well in the rest of the world that is currently the third-largest phone maker, right after Samsung and Apple, and was even second-place at one point this year. Looking at the newly-announced Mate 20 and 20 Pro, it's not hard to fathom why.
The Pro is perhaps the most feature-laden flagship for the whole of 2018, and if you don't believe us, just read on what's on offer for the price of... well, a Note 9 or an iPhone XS Max, Huawei isn't underestimating itself here. Here's, however, the pretty unique hardware you will be getting for this tag:
Design
Glass with traction, gradient colors, highest screen-to-body ratio on a flagship with the Mate 20
The Huawei Mate 20 and the Pro come with the now-trademark gradient colors of the glass body they are housed in, but there is a new and welcome twist. Huawei calls it Hyper Optical Pattern, and it makes the phones less slippery in the hand than smooth glass, aiding traction if you are using them without a case. It's only on the Midnight Blue, Emerald Green and Twilight color options, though, the Black and Pink Gold versions skip it.
The OLED panel of the Huawei Mate 20 Pro is with plastic substrate and is curved on the sides similar to Samsung's flagships, adding to the pleasant aesthetic impression but not much else. Any aesthetic advantages from the curved screen are offset by the wide top bezel protrusion that houses Huawei's answer to Apple's TrueDepth camera kit. It does have all the 3D-sensing and flood illuminator components needed to reliably unlock the phone or authorize payments with your face, plus engage in some animated emoji action.
Given that the Mate 20 Pro also has an in-display finger scanner, placing an extra biometric option sounds like what it probably is - Apple has it, so we can't let our buyers feel disadvantaged. The Mate 20 has a much tinier notch that houses the front camera only, which Huawei calls a dewdrop, and means a much higher screen-to-body ratio on a phone that rivals the XS Max in screen diagonal. This is also achieved by a thinner bottom bezel compared to the Mate 20 Pro, even though the latter comes with that Wild West of notch bearing. The Mate 20 is a bit taller and much wider than the Mate 20 Pro, though, which would make its more expensive brother a bit more comfortable to hold and carry around.
Displays
Big, bright, curved and nothch-y
The Mate 20 Pro has a large 6.3" 1440p OLED display with 19.5:9 ratio, while the Mate 20 a humbler LCD one, but with larger, 6.53" diagonal, FHD+ resolution, and a quirky 18.7:9 aspect ratio brought to you by a dewdrop notch at the front and a thinned-out bottom bezel. The LCD one is with an extra white pixel in an RGBW matrix which, as usual, means a big boost to peak brightness levels - Huawei cites up to the whopping 820 nits. Both displays support the wide DCI-P3 color gamut, and are certified for whatever HDR movie Netflix throws their way.
Specs
First 7nm chipset on Android, first phones with Cat. 21 LTE downloads of up to 1.4Gbps
Android's 7nm processor era is now upon us, with the introduction of Huawei's Mate 20 and Mate 20 Pro. As we witnessed with Apple's A12 Bionic in the iPhone XS and XS Max, the era will be fast, and it will be powerful, all without taking a further toll on battery life.

The first Geekbench result of Huawei's Kirin 980 chipset, built with the 7nm production node was 3390 points on the single-core test and 10318 on the multi-core. That's way above the best scores that 10nm chipsets like Samsung's Exynos 9810 in the Galaxy Note 9, or a Snapdragon 845 in OnePlus 6, have to offer on this test, and yet is below what the iPhone XS and XS Max score with smaller amounts of RAM.
Still, benchmarks aren't that indicative of real-life performance anyway, plus we are likely talking about pre-release versions of the Mates, so the results might get higher when it is launched for retail users with finalized software. The Mate 20 Pro comes in 6/8GB RAM versions with 128GB of storage and special nanoSD card support up to 256GB, while the Mate 20 starts lands with 4GB/6GB RAM, a 128GB storage option, and the same nanoSD support.
Last but not least, the Mate 20 and 20 Pro come with Huawei's fastest cellular modem in the Kirin 980 chipset, capable of heretofore unseen Cat. 21 LTE download speeds of up to 1.4Gbps. That's if your carrier can provide those, of course, but even if not, the modem is using plenty of aggregation technologies to make the phones the fastest downloaders among all 2018 flagships announced so far.
Camera(s)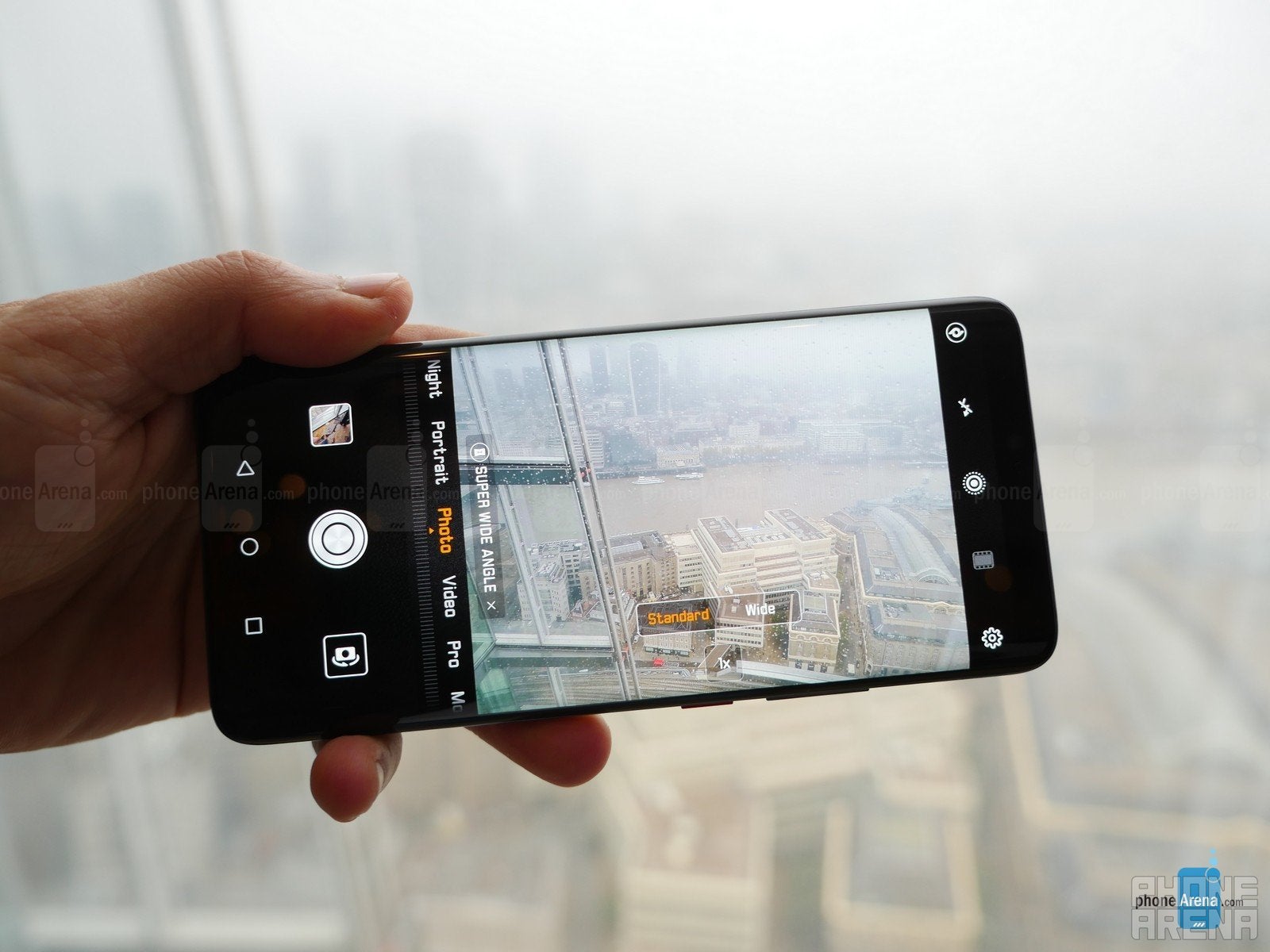 Here comes the interesting part. Huawei introduced the world's first triple-camera phone with a 40MP sensor last year on the P20 Pro, and, instead of raising the sensor count as Samsung does, it improved on the existing setup. On the Mate 20 Pro, gone is the monochrome sensor from last year's kit, as Huawei says that software algorithm improvements made it unnecessary. It is replaced by a 20MP camera with a wide-angle lens. It lets you fit more of the landscape, and more of the people at a wedding in the frame, and also helps to produce some insane macro shots now. The third camera is still telephoto, with an 8MP resolution, and 3x "optical" zoom, paired with digital for up to 5x magnification like on the P20 Pro.
The 40MP sensor is combined with a f/1.8 aperture and a new technology called "FusionMind" which does 4-in-1 pixel-binning in a new way that is supposed to improve low-light shots even further. You can also combine the info from all sensors to form ultra-macro shots, and Huawei promises you will be able to get clear images from a distance of just an inch or so.
The Mate 20 sports a humbler 12MP main + 16MP wide-angle + 8MP telephoto kit that is, however, still a triple-camera setup that does 2x zoom and can accommodate all the landscape you want to fit into the frame. A 24 MP front-facing camera on both rounds up the stellar Mate 20 and 20 Pro photography chops.
Portable power banks, those two, with whopping 40W wired and 15W wireless charging speeds

To back up the roughly 30% more pixels on its 2K display compared to the Mate 10 Pro's FHD+ screen, Huawei increased the battery capacity to 4200mAh on the Mate 20 Pro. The Mate 20 is with a no-less generous 4000mAh, and, with an FHD+ display, we expect it to be the actual screen-on time champion. That's what Huawei may be expecting, too, as it included an ultra-fast 40W charging option on the Mate 20 Pro, and left the Mate 20 with its typical fast 22W charger. This is still one the most capable setup out there this side of the OnePlus Dash Charge or Oppo's VOOC, but SuperCharge 2.0 is something else entirely.
The 40W fast-charger of the Mate 20 Pro can top up the battery to 70% in 30 minutes, and will probably take less than an hour to charge it fully. This is pretty amazing, but get this - the phone also includes wireless charging this time around, and it is with the whopping 15W input abilities, meaning that the coils inside will be able to top up the phone as fast as some slower wired chargers do on other phones. In addition, you can use the phone as wireless power bank to top up other handsets that support the Qi standard, or various paraphernalia like true wireless buds with the tech.

Software
Faster, richer, gesture-based
If we don't count Google's own Pixel 3 and 3 XL, Huawei's Mate 20 and 20 Pro are the first top-shelf handsets from a first-tier phone maker that arrive with Android 9 Pie out of the box. Huawei has made sure that all the goodies that Pie brings, like better battery stats and power draw management and notch support, are augmented with things like rich gesture navigation, faster app loading times, less clutter and extra one-handed navigation options, all wrapped up in the newest Emotion UI 9.0 version.
Price and release date
You get what you pay for
The Mate 20 Pro will start from 999-1049 EUR in Europe, depending on the country, which is as much as the best that Samsung or Apple can offer, and is apparently immediately available for pre-order, with deliveries slated for October 26. The US will miss out on official channels, but with Cat. 21 LTE with up to 1.4Gbps downloads, the Mate 20 Pro will feel very comfortable on GSM carriers like AT&T or T-Mobile if you get them on a side hustle.
The new Mate 20 Pro will go on sale in countries including the U.K., France, Italy and United Arab Emirates as soon as today. The Mate 20 starts from 799 EUR for the 4GB RAM/128GB model, while 50 EUR more will net you the 6GB model. Pre-orders may start today, but the presser states that it will be released on October 26.
In addition, Huawei also announced a 1695 EUR Porsche Design Mate 20 RS model and a 7.2"
Mate 20 X
with 5000mAh battery for all mobile gamers out there, but mum's the word on their detailed specs just yet. The 20 X will be available for order October 26 for 899 EUR, and the expensive RS from November 16. Any takers?
Recommended Stories