iPhones had runaway success in 2021, but 2022 is shaping up to be Android's year
29
This article may contain personal views and opinion from the author.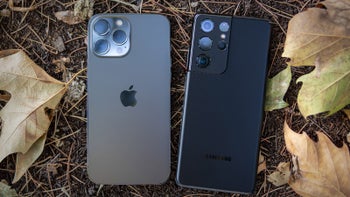 The
iPhone 12 series
really started it — a runaway success for Apple with the adoption of a brand new design and OLED screens across its range, it only continued into a supercycle with the iPhone 13 series that surpassed expectations for battery life and are only held up by the worldwide chip shortage.
All throughout 2021, the iPhone dominated the conversation and Android phones were struggling to get much recognition, and actually most Android flagships were set back by a problem that I think was beyond the control of the actual phone makers.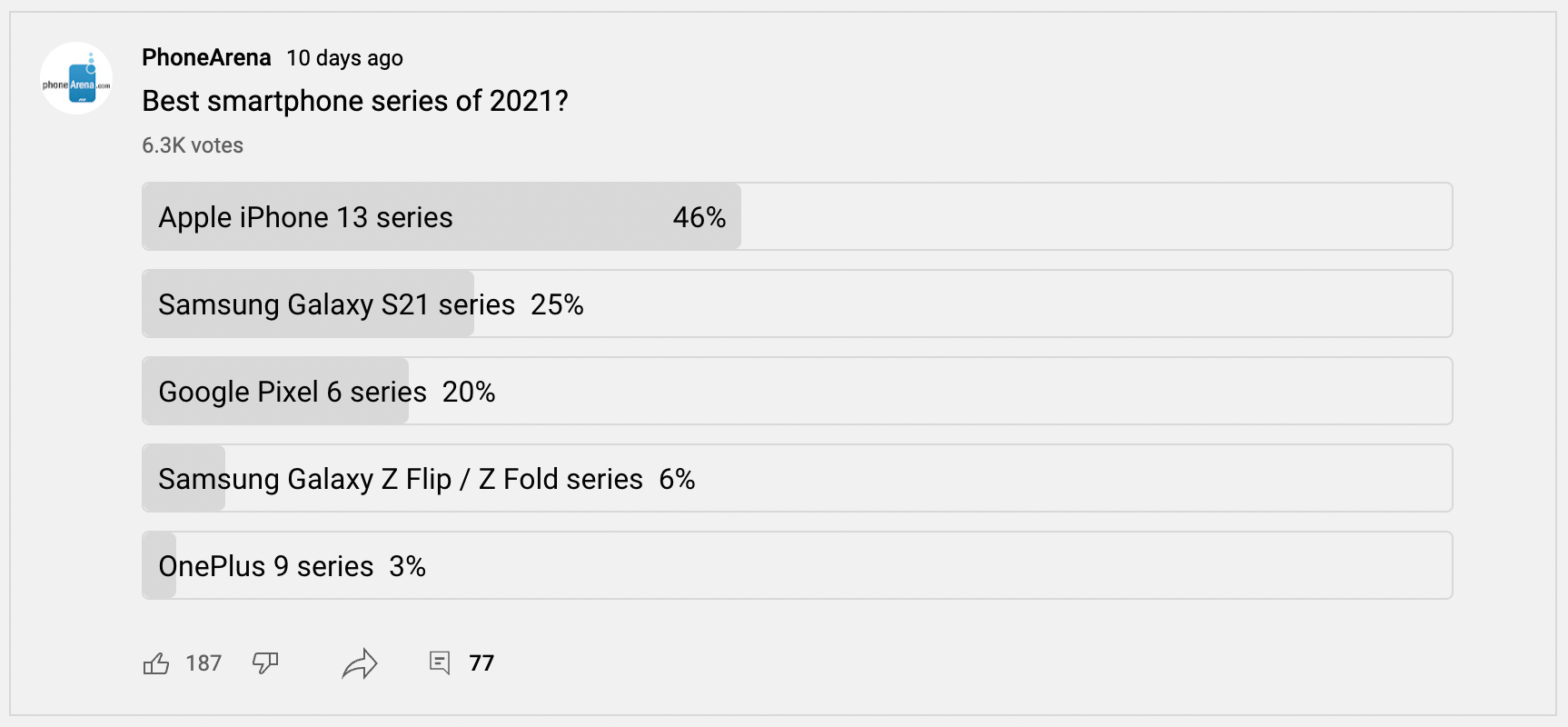 But before we dive into that, just take a look at these results from our
YouTube channel
community (where the majority of viewers have Android devices!). Yes, the iPhone 13 absolutely crushes the competition and that is probably no surprise.
The missing ingredient
While Apple is manufacturing its own processors that lead the mobile industry in terms of performance, Android phones mostly rely on Qualcomm's Snapdragon 8XX series to ensure they can match Apple's silicon.
There are a few exceptions to that rule: Samsung makes its own series of Exynos chips, but they have consistently ranked below Snapdragon chips both in terms of performance and power efficiency, plus Samsung just does not seem to want to risk an all-Exynos strategy and continuous shipping its phones with Snapdragon processors in the United States, arguably its most important market.
Huawei used to be the other big company with its Kirin family of chips that it had developed over the years, but it ended up on the US Entity List, which sucked the Android air out of its lungs and sales slumped, so that it is no longer a factor. And only most recently Google started making its own processor series,
Google Tensor
, that proved to be also behind the Snapdragon family, but not by too much.
Sure, you have other players like MediaTek, but that company does not seem to focus on the high-end spectrum and is instead making great chips for affordable phones. Such is its MediaTek Dimensity MT1200 processor that powers the
OnePlus Nord 2
and that proves to be surprisingly capable for the mid-range class.
Still, looking from the industry, despite this seeming diversity, Android flagships are effectively limited to just one processor choice: Qualcomm's Snapdragon 8XX family. That chip can make or break not just one Android phone, it can make or break the entire spectrum of Android flagships.
And that is exactly what happened in 2021.
See, Qualcomm had a few excellent years before hand with some incredibly solid performers that allowed it to cement its positions as the monopolist for high-end smartphone chips. But the Snapdragon 888 that shipped first on the Galaxy S21 family was not quite that. The chip is certainly capable of impressive peak performance, but it also tends to overheat way easier than previous chips. Unless you have a giant chassis with excellent cooling, which is not really possible in a mainstream phone form factor, you are likely to end up with a flagship that overheats.
A year to forget
Let me just list some of the major flagships powered by the Snapdragon 888 this year:
You know the common thing that unites them? Yep, overheating issues. The Galaxy S21 Ultra was probably the least affected by them, but if you push it harder you start running into higher temperatures. OnePlus 9 Pro was so bad that users caught the issue from the very beginning and OnePlus was even found to be throttling apps to control the uncontrollable dragon inside it.
The Xperia 1 III was even worse in my experience, probably because of its narrower profile. Xiaomi 11T Pro? Overheating has been a major issue. Even the Asus ROG Phone 5, a gaming phone which comes with a cooling accessory suffered from that.
Unfortunately, it doesn't seem like any of these makers found a way to tame the fiery Snapdragon, from the February release of the Galaxy S21 Ultra all the way to the fall when Xiaomi released the 11T Pro. All phones with it seem to have this problem.
The good news
Which brings me to the good news and that is that the year is almost over, and we can finally put this nightmare for
Android phones
behind. We have seen a bunch of rumors for the
Galaxy S22
series and that will probably be the first mainstream flagship series to have that processor.
We trust that Qualcomm has learned a good lesson from the Snapdragon 888 fiasco and the new
Snapdragon 898
will deliver not only great performance, but all of that without making your phone extra toasty.
And that really has been a major missing ingredient in the Android ecosystem. I expect that having a worry-free processor will allow Samsung and other phone makers to unleash the potential of their flagships and finally give those iPhones a run for their money. And I am really excited about that.