Xiaomi 11T Pro Review: That's some fast charging
1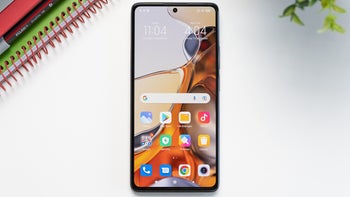 Xiaomi has ditched the "Mi" prefix for good, but it hasn't ditched the exceptional value of its devices. That applies to the brand-new Xiaomi 11T Pro with full force.

Going hand in hand with the company's pledge for indefinite 5% profit margin on hardware, the fresh Xiaomi 11T Pro is easily my favorite Xiaomi phone of 2021, granted that I've also reviewed the
mind-boggling Mi 11 Ultra
and the somewhat peculiar,
quad-curved Mi 11
.
Unlike those two, the Xiaomi 11T Pro is definitely a success story and doesn't have a glaring quirk. It's got exceptional hardware matched with user-friendly design and features that make sense with almost no extraneous fluff. The only big "weakness", so to speak, is the lack of a more intriguing and versatile camera setup, but it's normal that some corners had to be rounded.
The slightly boring camera aside, the Xiaomi 11T Pro has a lot going on for it to make it worth your attention. First and foremost, it's the fastest-charging phone we've tested and used, attaining a full charge in roughly 20 minutes. Second of all, the phone has great performance and storage is plenty, while the OLED display seals it together with the right resolution and refresh rate combo in tow (FHD+ and 120Hz are a winner in my book).
The phone naturally won't launch in the US, but will arrive on a flurry of markets. The pricing in most of Europe gravitates around 650EUR, which translates to roughly $750. It's definitely worth the money, though you probably shouldn't get this phone if you have too high expectations for the camera.
Xiaomi 11T Pro design
The Xiaomi 11T Pro boasts a tried and proven design formula that just works. A flat display paired with a slightly curved backplate and flush side edges are, to me, still the best and most user-friendly design for a smartphone. As usual with Xiaomi devices, the 11T Pro features a couple of mainstays, namely an infrared blaster for controlling compatible electronics and stereo bottom and top-firing speakers, tuned by Harman / Kardon.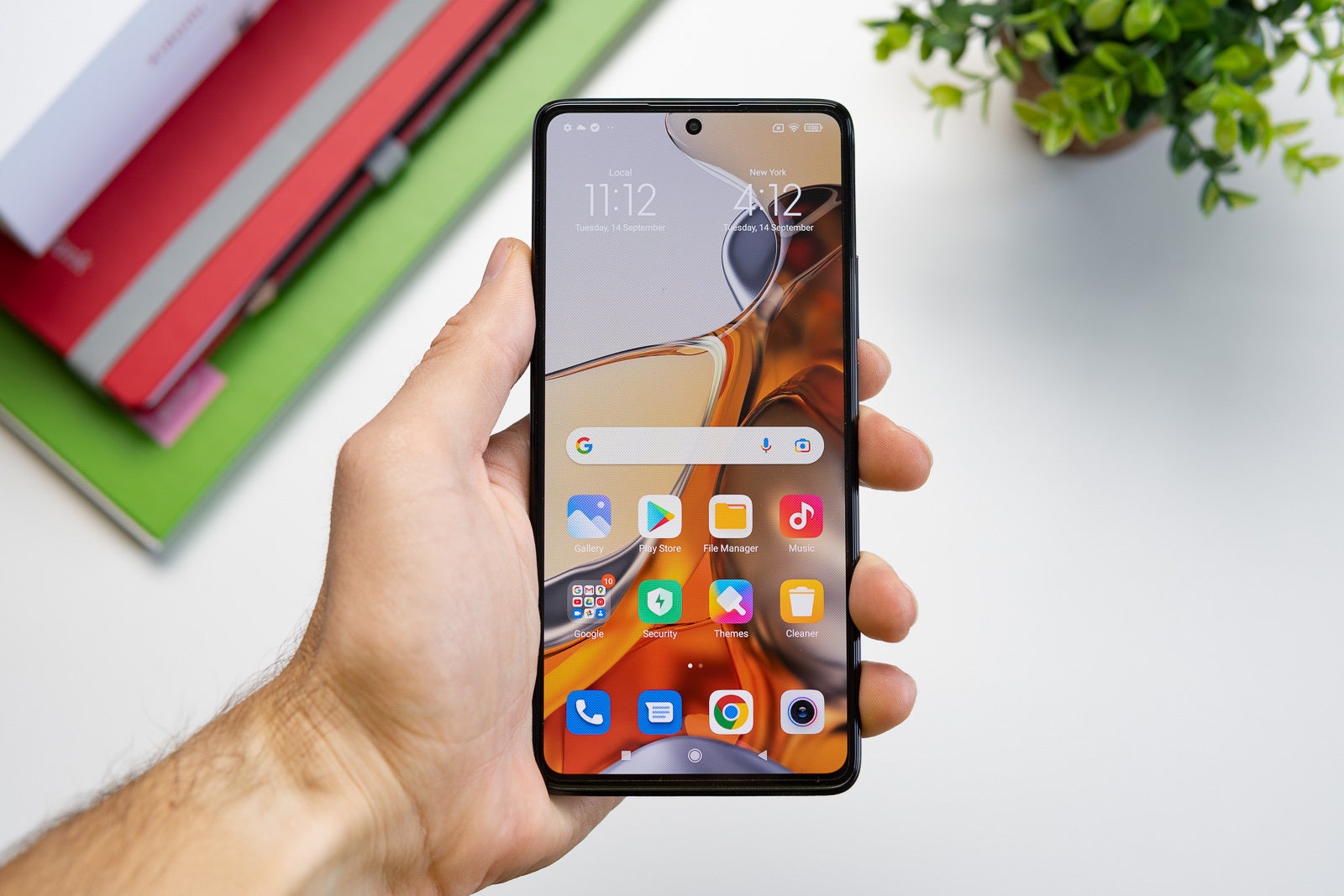 Then again, the phone tries to be something it isn't by employing a fake brushed metal pattern that tries to look sophisticated from afar, but fails spectacularly when you touch the device and feel the plastic finish. Still, I have no problem with that — plastic certainly keeps the weight down (and it's a fairly big device, mind you) and adds some necessary grip by "sticking" to your skin, though your mileage may vary if you have drier palms. Overall, I'm quite happy with the design of the phone. It's quite manageable in spite of its weight and stature, and doesn't look half-bad either, despite its mostly plastic build.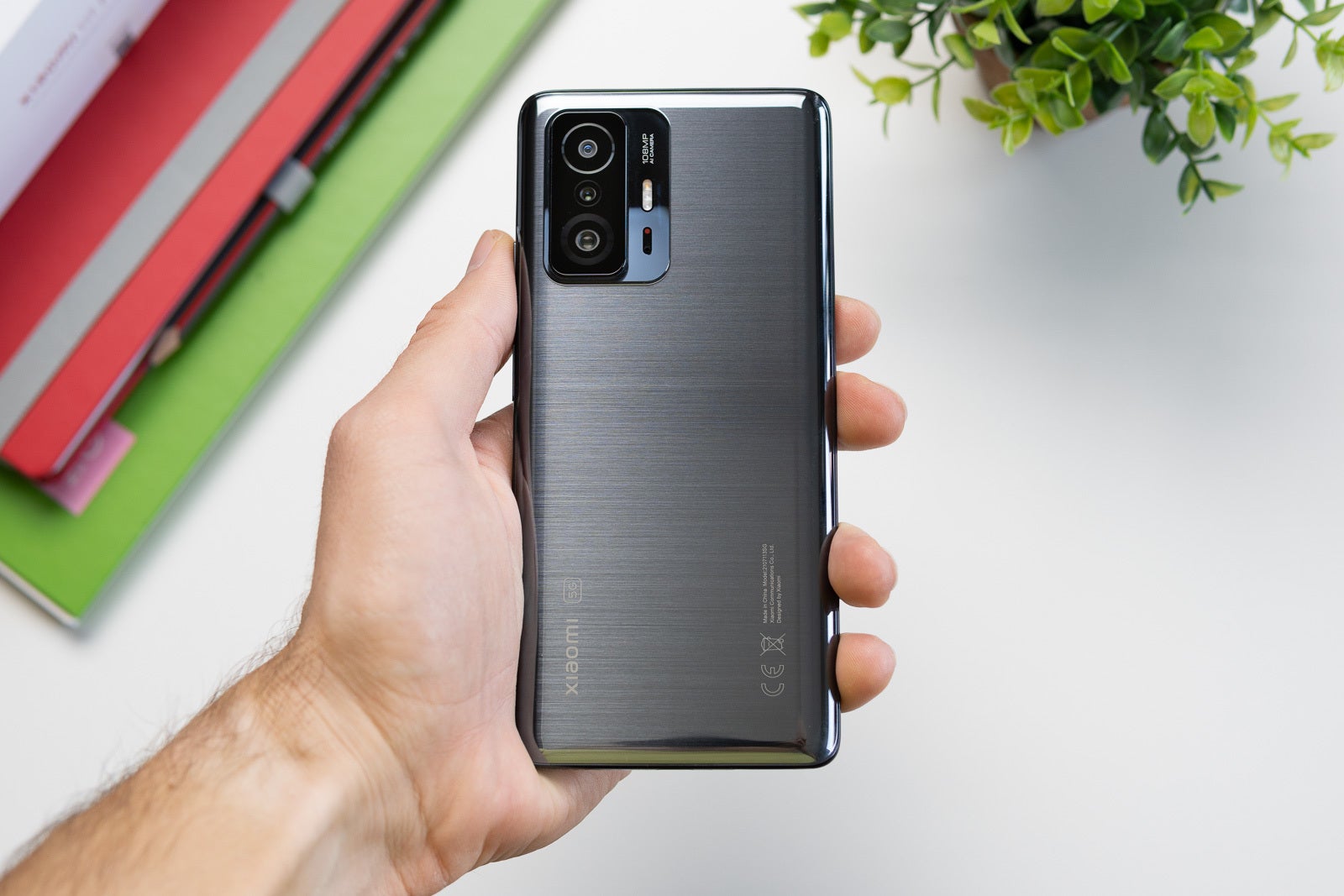 Unlike some more expensive and premium Xiaomi devices, which feature in-display fingerprint scanners, the 11T Pro goes for a regular physical fingerprint scanner embedded in the power button on the side. It's extremely snappy and error-free despite the limited sensor space, and although my muscle memory makes me hunt for the lower part of the screen when I take the phone in my hands, there's something oh-so-reassuring about a physical sensor.

Xiaomi 11T Pro display
Finally, a flagship-grade device that doesn't go all out with a useless QHD+ display and settles for a much more sensible FHD+ screen. The 6.67-inch OLED FHD+ display of the Xiaomi 11T Pro also boasts a 120Hz refresh rate and a cornucopia of different screen color modes. You want true-to-life sRGB colors, P3-compliant hues, or simply a splurge of excessive vibrancy? This phone has it all, so pick your own poison.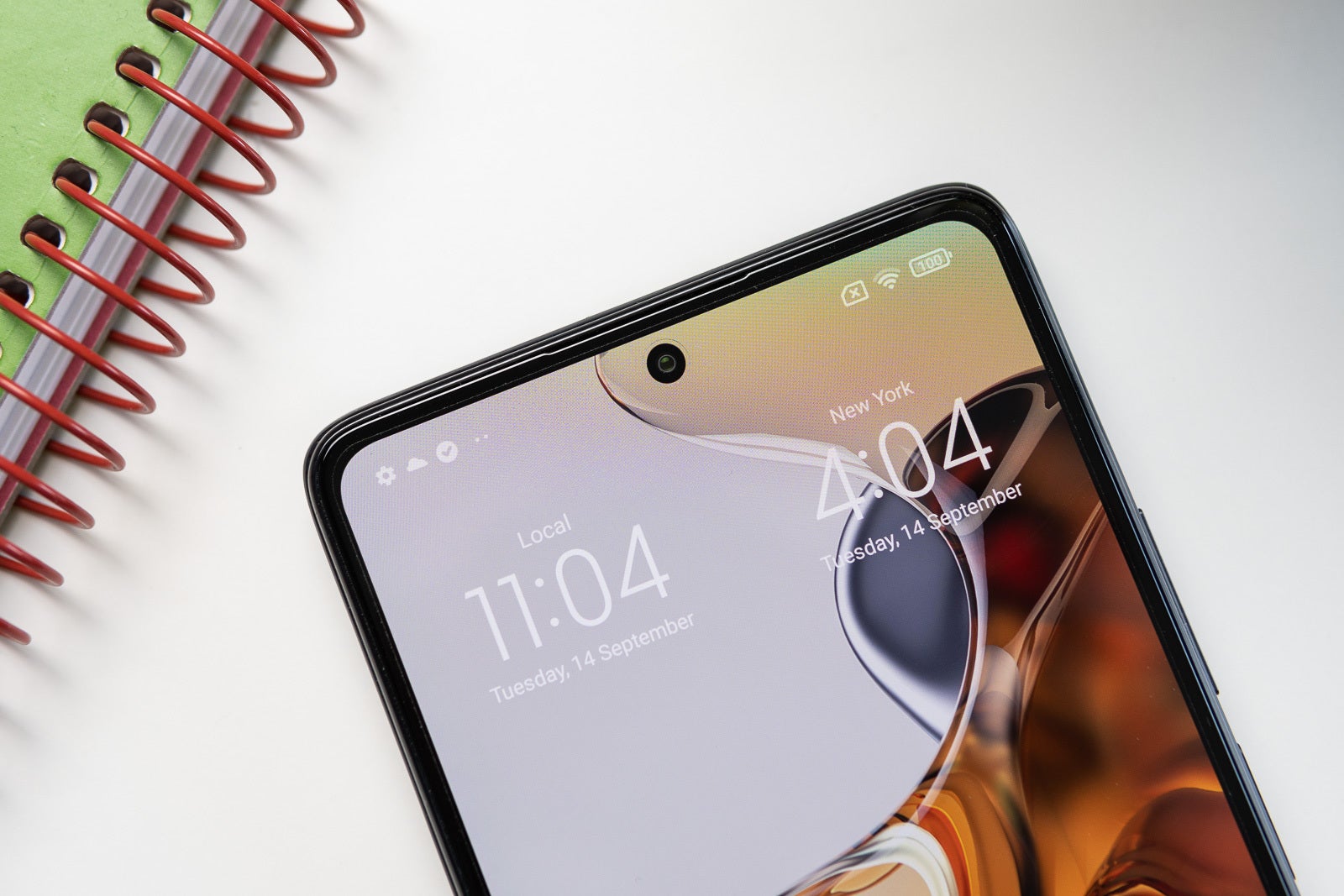 Being a fan of more vivid colors myself, I went with the P3 setting, and honestly, it looks just as good as any other top-tier AMOLED display from the ilk of Samsung, Apple, or you name it. There's also a feature that automatically tweaks the temperature of the display colors based on the ambient lighting around you, similar to Apple's True Tone.
Brightness is also excellent. We measured peak readings of 802 nits, whereas the minimum brightness of just 2.2 nits means you can use the phone in bed without burning your retinas (though you should probably abstain from browsing in bed).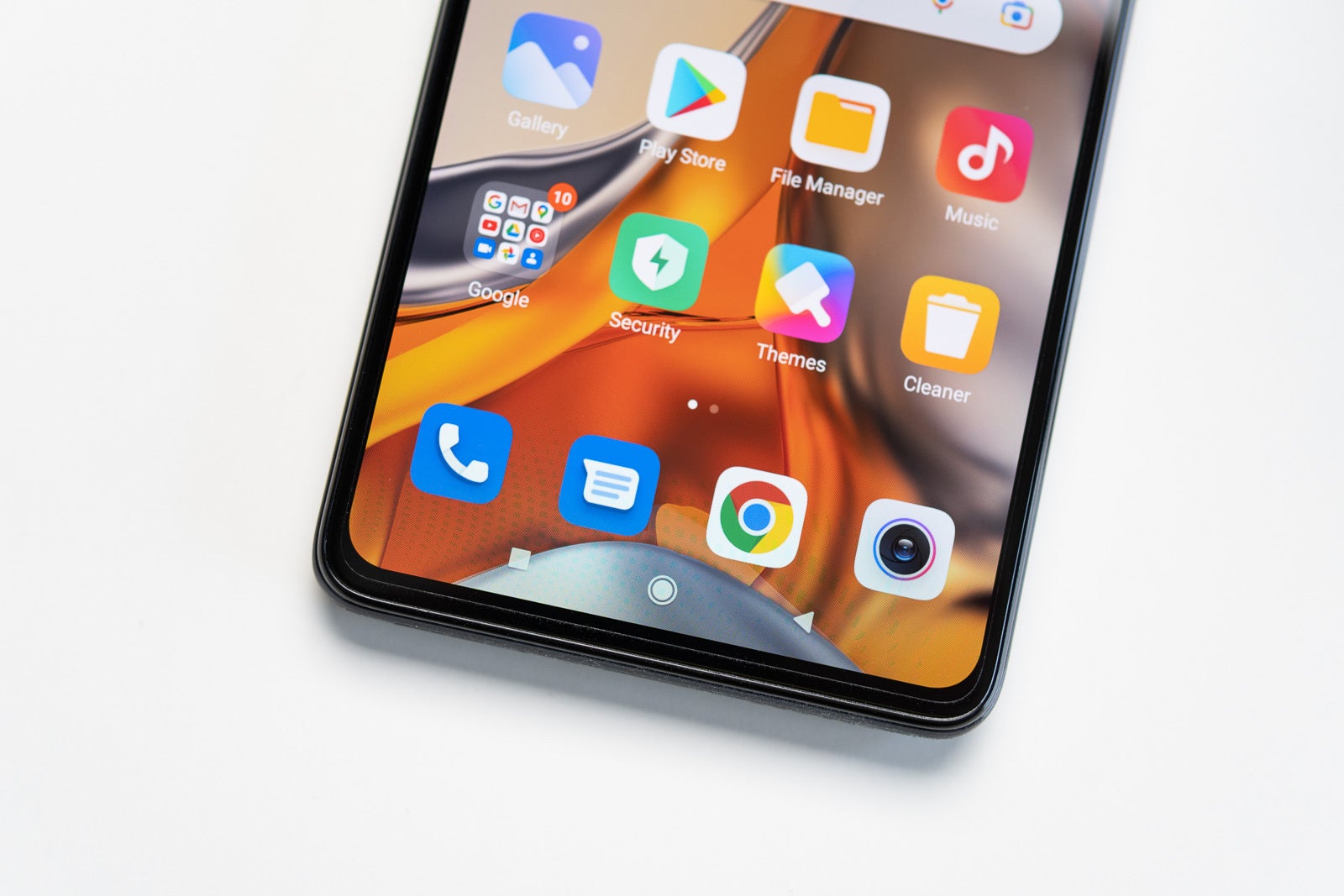 Another minor feature that I also love is the fact that you get a factory screen protector laid on the screen right out of the box. It's not a premium accessory by any means, and some will definitely hate the feel of it, but I definitely respect the company for doing that as it leaves me with palpable peace of mind. The same applies to the stock silicone case, which is nothing to write home about, but is better than nothing, honestly.

Display measurements and quality
Xiaomi 11T Pro Hardware and performance

I'm convinced that once hardware becomes fast enough, it doesn't matter anymore. This is the reason I've barely pondered about the actual hardware of the device during my time with it: it's just so snappy and responsive all the time. I guess this is courtesy of the top-tier Qualcomm Snapdragon 888 chip inside, as well as the standard amount of 8GB of RAM and the ample 256GB of native storage.

The phone is a snappy joy to use, and while synthetic benchmarks will definitely reveal that many other devices are much faster and more potent, I find it hard to believe anyone would find the Xiaomi 11T Pro slow or simply "not good enough". For all intents and purposes, this device has flagship-grade hardware on board and can definitely hold its own against any other contemporary Android flagship.
Xiaomi 11T Pro Features and functionality
As all of Xiaomi's phones, this one also runs the company's signature MIUI interface. Admittedly, I'm partial to it and, honestly, it's now much better than before. The latest version, MIUI 12.5, has fleshed out the general idea of MIUI as a user-friendly interface and I love all the little tweaks and enhancements throughout the interface that make it such a good custom skin running on top of Android 11.

The face unlock of the phone is extremely fast from most angles of attack, though it's probably not very secure as it's not powered by any 3D-authenticating tech. If you're a privacy freak, you should probably only rely on the fast and secure capacitive fingerprint scanner in the power button.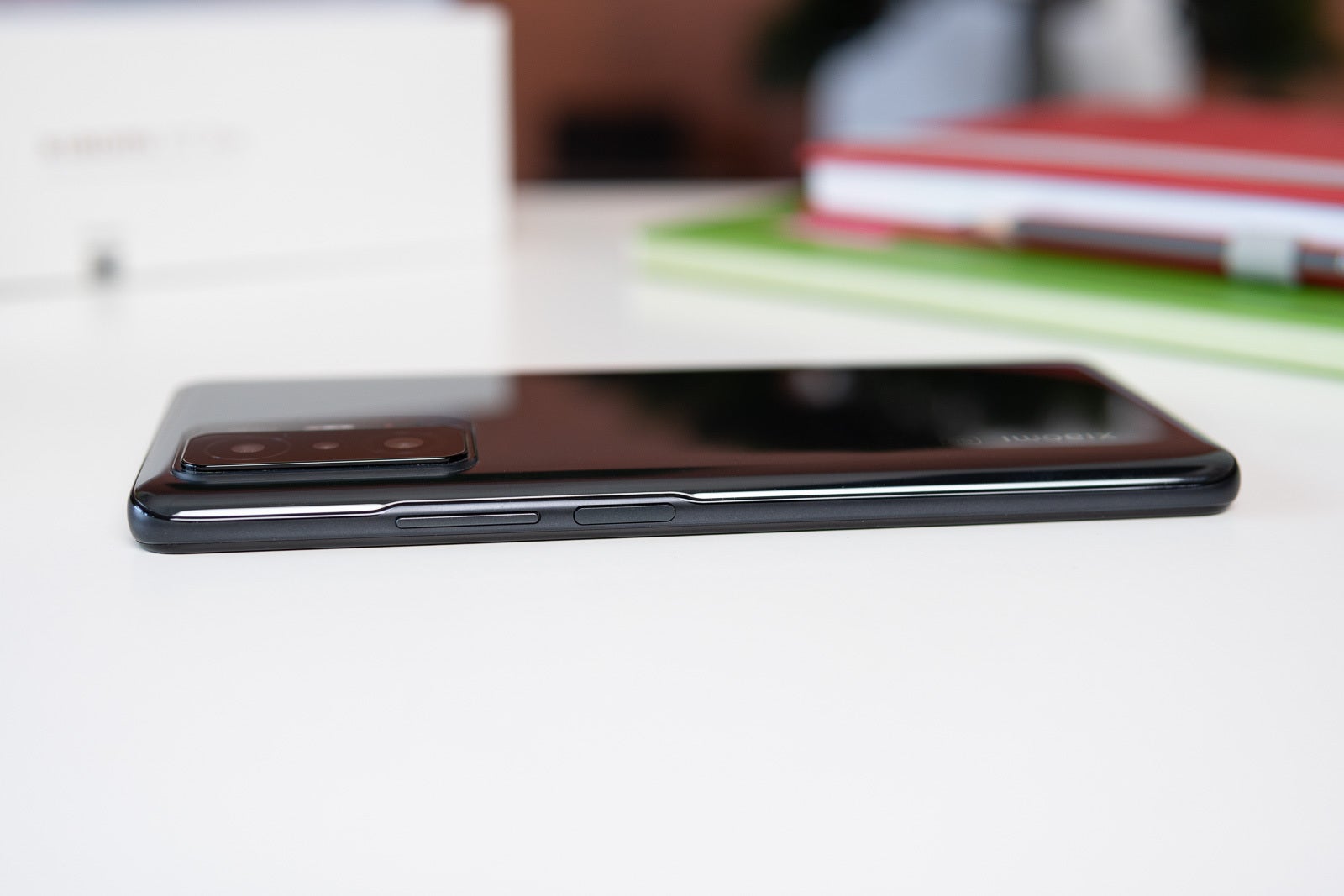 Haptic feedback is great on the Xiaomi 11T Pro, and while it's not as snappy and immediate as on some other devices like the iPhone or the OnePlus, it's a far cry from the muddy vibrators of the not-so-distant past. Various interactions with MIUI also reward you with some haptic feedback.

Audio is great. Sound coming from the stereo speakers is loud and clear, with hints of deep base that's not too tinny. There certainly are louder devices with higher quality audio reproduction capabilities, but for the most part, the Xiaomi 11T Pro met all of my expectations and then some. And yes, I should probably not mention the lack of a 3.5mm headphone jack on board, but that's to be expected from most modern phones.

Xiaomi 11T Pro Battery and charging

The battery life and the charging speeds of the Xiaomi 11T Pro are where its true strength lies.

Oh, your new iPhone 13 has quick 27W charging? How cute. Welcome Xiaomi's HyperCharge!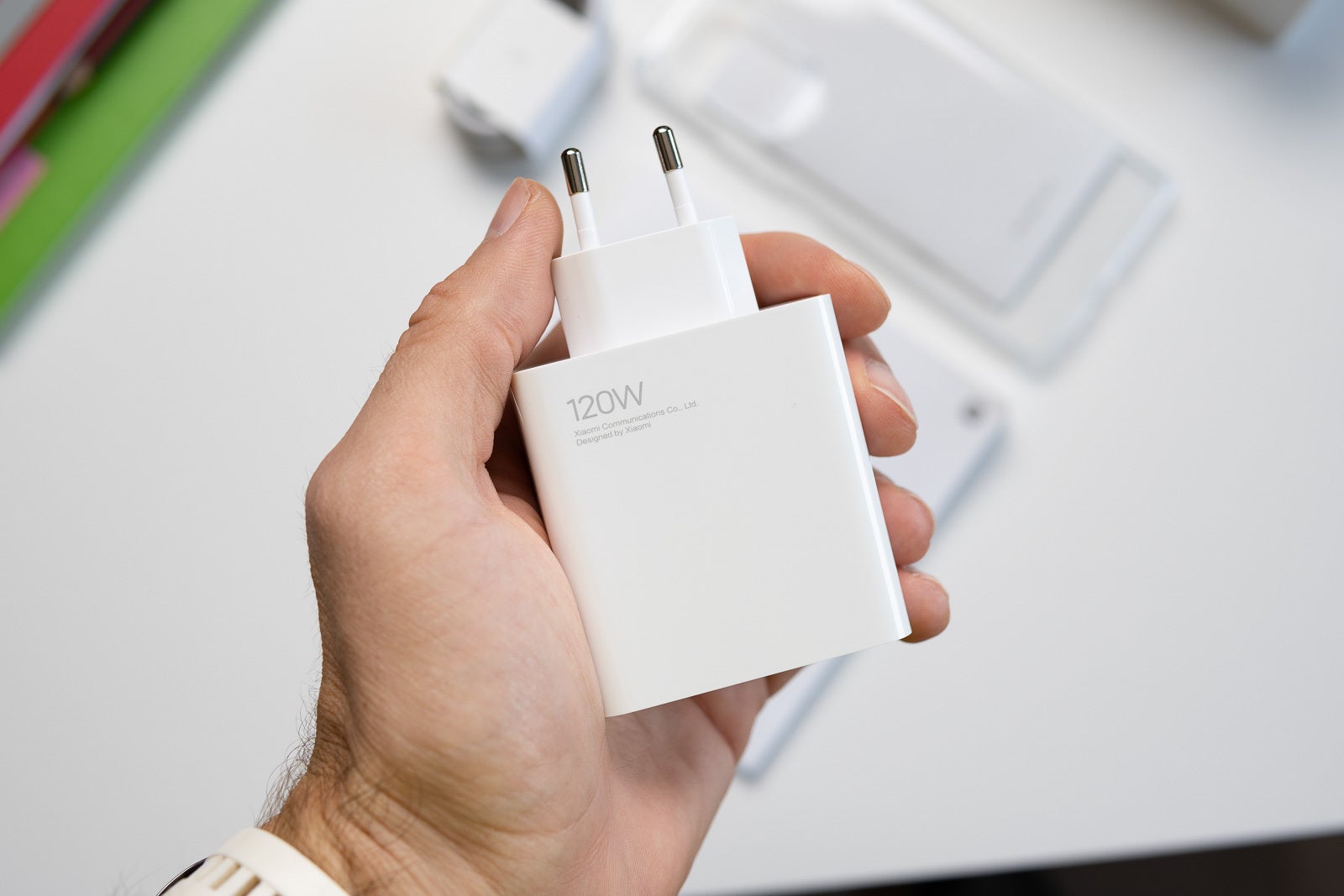 The Xiaomi 11T Pro charges up fully in about 20 minutes or so flat, which is a mind-boggling sneak peek at the future of device charging. This is courtesy of the 120W charging brick that's included within the box of the phone and not sold separately for an exorbitant sum of money. To put the Xiaomi 11T Pro's super-fast charging into perspective, the iPhone 12 charges up in 118 minutes, while the Galaxy S21 gets fully topped up in 70 minutes, which is a whole eternity compared with the Xiaomi 11T Pro.

Living with such a fast-charging device has been a revelating experience for me. While I'd previously have to carefully plan my charging habits so as to always assure I have as much battery as possible before heading out in the COVID-ridden world, the Xiaomi 11T Pro has essentially reversed those useful habits.
Now, simply plugging it into its charger for literally 10 minutes gets me roughly 60% of charge, which could easily last me the day. This has also fixed my unhealthy obsession with preserving battery life: as long as I have the charger nearby, I no longer care about the phone's battery life.

But what about the battery life? The 5,000mAh battery of the phone, which is split in two cells, does a great job at providing adequate battery backup. In my personal experience, the Xiaomi 11T Pro is easily a two-day phone if you use it sparingly, with 120Hz refresh rate and mostly Wi-Fi usage involved, but closer to a single-day device if you push it real hard and use it non-stop starting at 8am, especially with lots of 5G browsing involved. Still, it's more than an adequate device as far as battery endurance is concerned thanks to the bevy of battery-related settings and features that let you eke out every bit of energy left in the battery cells.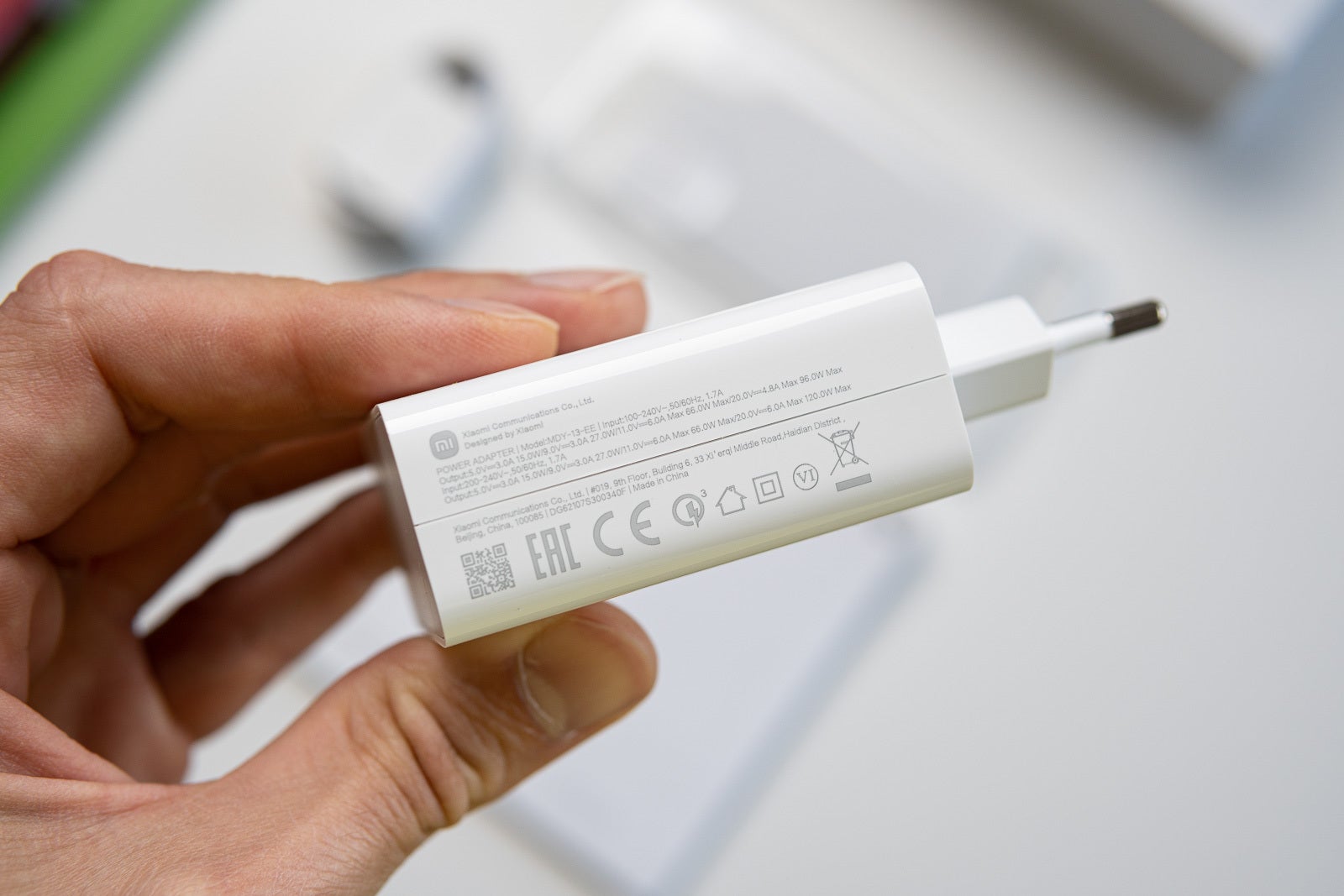 Xiaomi 11T Pro Camera
With a 108MP wide-angle camera at the rear, the Xiaomi 11T Pro is definitely packing a punch. Aside from an impressive main camera, it also has an 8MP ultra wide-angle and a 5MP macro camera which has a rather limited use case. Despite the phone's camera app showing standard 0.6X, 1X, and 2X magnifications, the 2X one is useless as it's simply a digital zoom that's cropping the main camera.

Just as all Xiaomi phones, the camera app is chock-full with features and functionalities, some of which you might never find yourself using. Still, there's auto-exposure, Audio Zoom, a dedicated vlog intro maker, and a bunch of zany movie effects that probably won't be much useful in normal everyday scenarios.

Image Quality
How do pictures turn out? Rather good. When the lighting conditions are good, images turn out with excellent details, decent sharpness and pleasant colors. As most Xiaomi devices I've used, the Xiaomi 11T Pro also has the knack of slightly underexposing some shots with dynamic lighting and not bringing that many details in the shadows. Normally, the phone takes 12MP shots; of course, the amount of details you get when using the dedicated 108MP camera mode is above exceptional. There's a sample below, downscaled a bit for the sake of your bandwidth.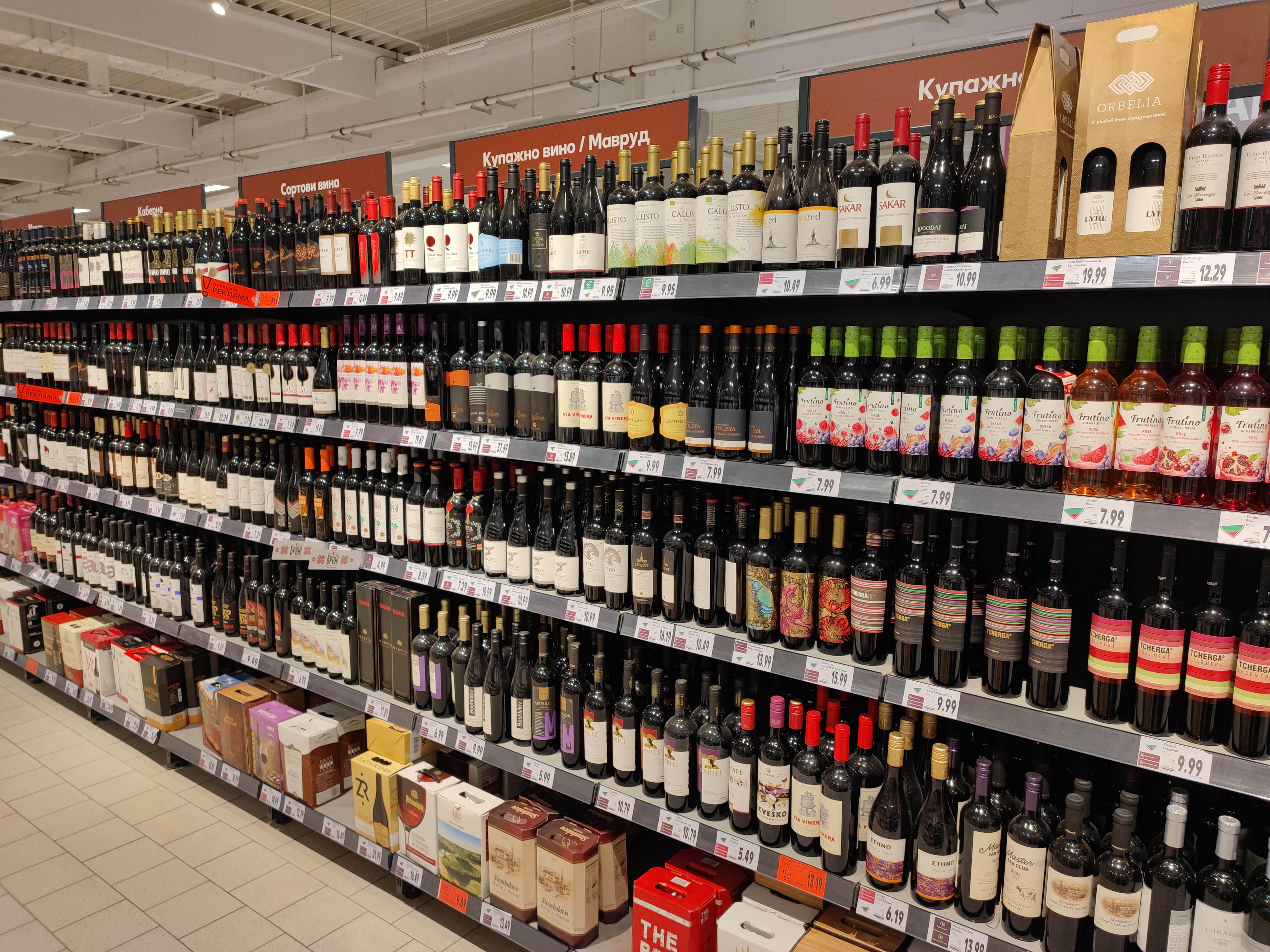 Xiaomi 11T Pro 108MP sample
Colors are slightly colder, but on the vivider side, if that makes any sense. Essentially, it's the opposite of what you get from, say, an iPhone. However, while I'm a sucker for punchy colors, the Xiaomi 11T Pro surprised me in a couple of occasions with the overly vivid colors it produced in some instances. A problem here is the color science inconsistency between the ultra-wide and wide-angle cameras. Pictures of the same scene taken with the two different cameras often exhibit different colors.

There's usually some HDR-hunting while you're framing your picture in the viewfinder, but the end result usually turns out rather good. That's a common quirk of most Xiaomi devices I've used, and means that what you see inside the camera app isn't what you'd normally get as a final photo. Usually, that's not a problem, but I'd recommend reviewing your shots after you've taken them and disable the auto HDR feature if you notice some undesired results.
When the lights go down, the phone's intelligent enough to automatically enables its Night mode, which is great. Low-light images turn out okay, with good exposure, though there's often too much over-sharpening involved. If you, however, happen to take a picture in a lighting scenario that's neither too bright nor too dim and the phone doesn't enable its night mode automatically, then you'll most likely get a noisy picture.
Selfies are detailed enough, but there's some smoothing involved by default that makes faces look unnatural. Disabling this should be a first order of business... unless you're into this kind of stuff. Portraits turn out okay, with complex backgrounds being the natural crux of the believable bokeh.
Videos turn out great as well. You have up to 8K@30fps video recording, and HDR video is also supported but only at 30fps max in both 1080p and 4K video recording.