Asus ROG Phone 5 review
18
The
Asus ROG Phone 5
manages to improve upon last year's already impressive
ROG Phone 3
with even better stereo speakers, better battery life, and the world's lowest touch latency on a phone display.
It is arguably the coolest phone to get if you wish to stand out from a crowd of Samsung and Apple users, or you simply enjoy having full control over every aspect of your device – from screen refresh rate and audio tuning to GPU and CPU clock speeds.
And if you're heavy into mobile gaming – the ROG 5 is pretty much the only phone to get in 2021 for its performance, accessory support, AirTriggers and gaming-dedicated software.
The ROG Phone 5 will be launching this month in all of the regions its predecessor was available in. In Europe, the phone's starting price will be 799 EUR, but we're yet to know prices for other regions like North America, China and India. The exact availability dates are also yet to be announced by Asus.
Design
Over last year's
ROG Phone 3
, the Asus ROG Phone 5 has gotten a bit more narrow and tall, like most modern flagship phones. It feels great in the hand, with a good heft to it, thanks to the large battery inside.
The front has small top and bottom bezels, which house arguably the best speakers ever put on a smartphone, along with the selfie camera, earpiece and a welcome notification light. Under the Gorilla Glass Victus-covered display is the phone's optical fingerprint scanner, which is fast and reliable.
The Asus ROG Phone 5's metal frame holds the usual volume rockers and power key on the right side. The same side also has two AirTriggers, which are touch-sensitive areas that functionally resemble shoulder buttons on a gamepad. On the left side of the phone, we have a special connector for ROG Phone gaming accessories, such as the AeroActive Cooler 5.
But the real show is on the back, where we have a dot matrix style light-up ROG logo, which can be customized to cycle between colors, flash or show a color of your choosing. Even if you disable its lights, the ROG logo is visible, giving this phone quite a distinguishing look.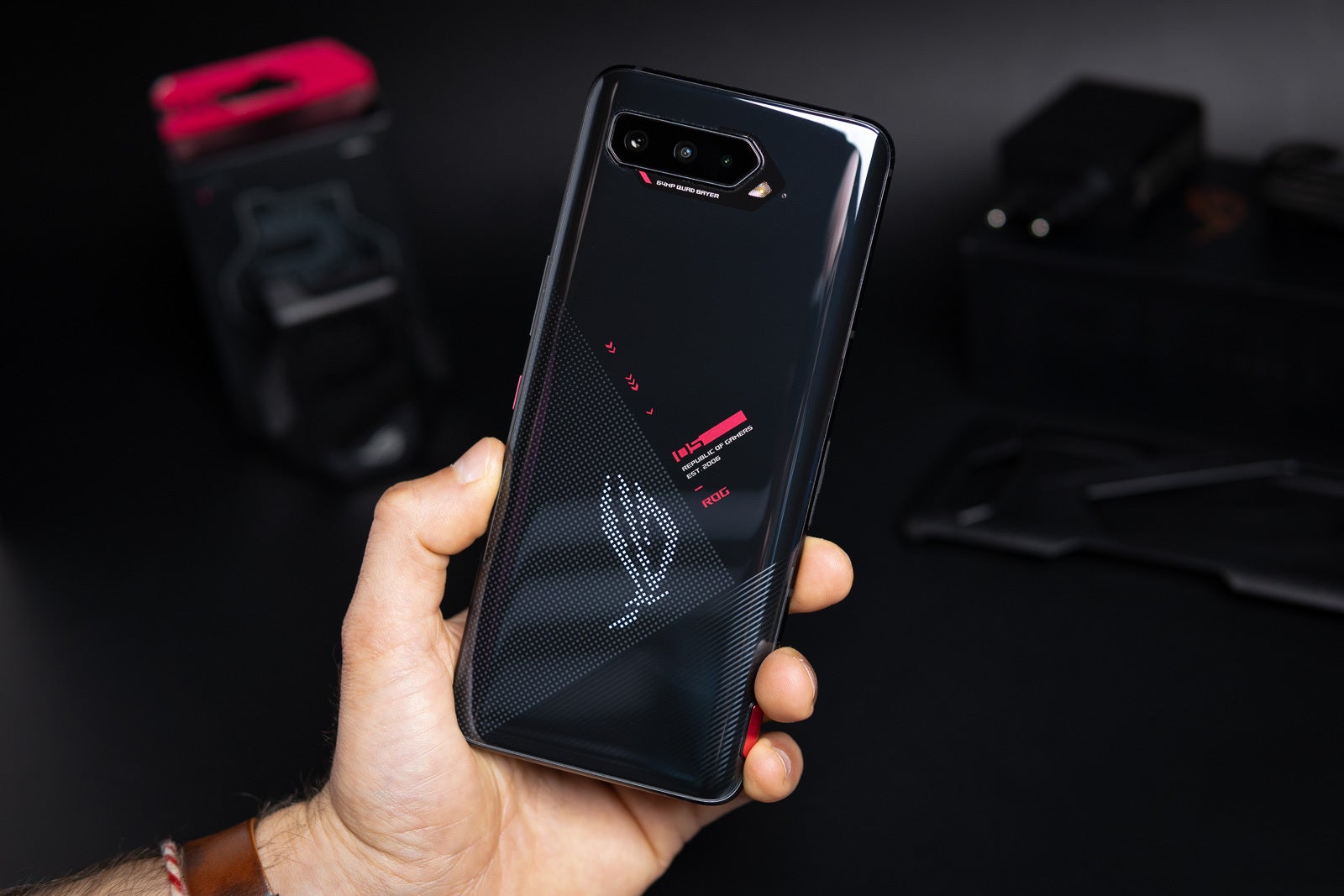 In addition, the phone's Gorilla Glass 3-covered back has a few red accents, such as small "Republic of Gamers" text, but the overall design isn't as obnoxious as gaming phones of the past. It's well acceptable to be a daily driver even if you're not a gamer.
A gripe I had about this phone's predecessor is that the glass back was slippery, causing it to slide off smooth surfaces rather easily, and sadly, the ROG Phone 5's back is similar in that regard. You'll need to be mindful where you place it to charge, as it might be on the ground by the time you return.
Display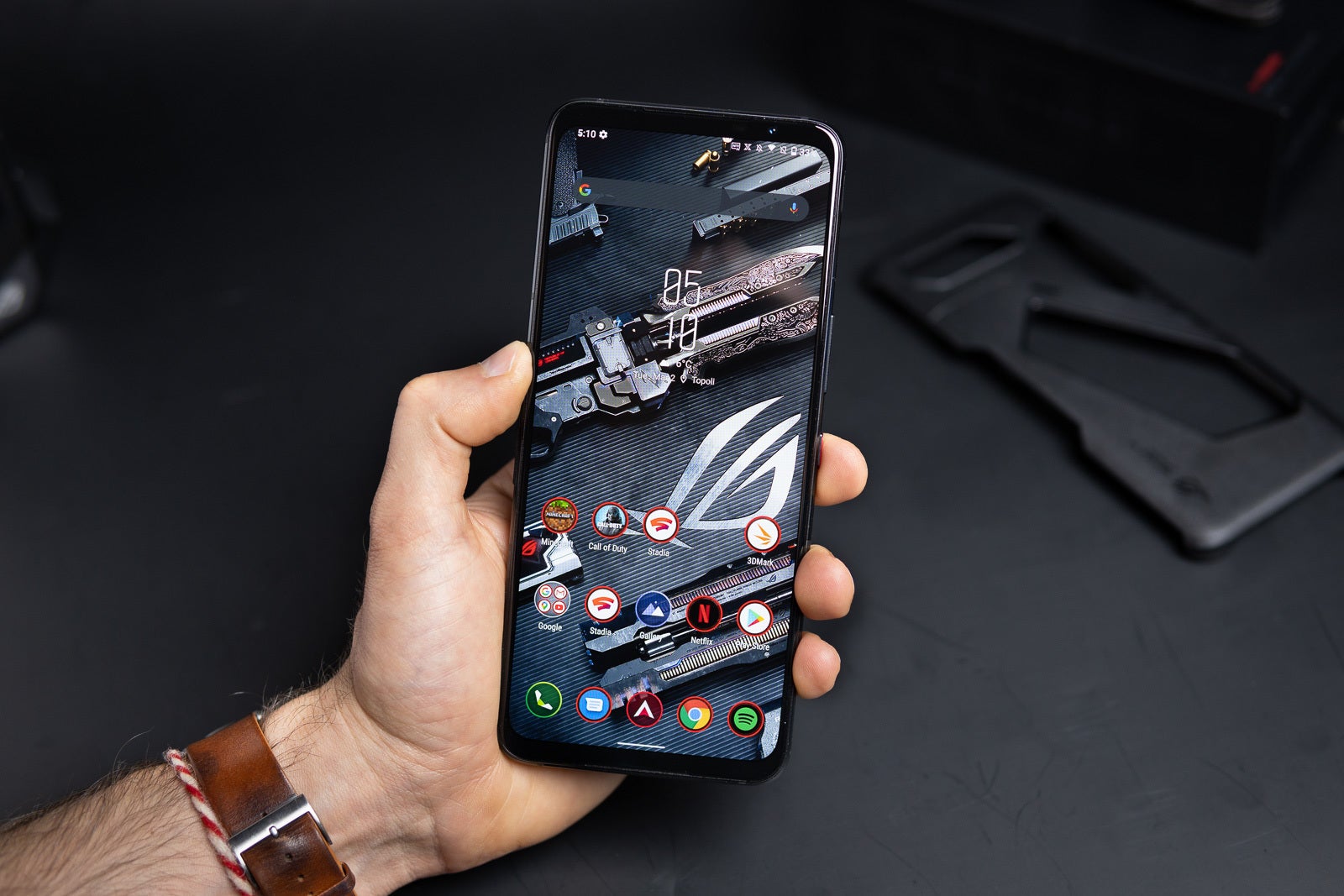 The Asus ROG Phone 5 sports a gorgeous 6.78-inch AMOLED display with a resolution of 2448x1080. Its refresh rate can go up to 144 Hz for a super-smooth experience, or down to the more common 60 Hz, if you'd rather save on battery life.
The display is HDR10+ certified, which means improved color and contrast for when watching movies, and it boasts the world's lowest touch latency response on a phone, at 24.3 milliseconds. The latter suggests that the ROG Phone 5 will react faster than any other current smartphone to your gaming inputs, which can prove invaluable to hardcore or even professional gamers. However, it's not something you'll be able to notice in day-to-day usage.
Aside from having great colors, as AMOLED displays tend to do, the Asus ROG Phone 5's screen can also get really bright, but perhaps more importantly – reasonably dim. I wasn't happy with the minimum brightness of last year's ROG Phone 3, as the screen was still too bright for nighttime use. Thankfully, Asus has improved the minimum brightness on the ROG 5, so it's now easier on the eyes when watching a show before bed.
Like most other things about the Asus ROG Phone 5, which we'll get into, the display can be tuned to your liking. It has a few presets, such as "Natural" and "Cinematic", but you can also adjust the color temperature manually if you just want slightly warmer colors, for example. There's also a "Night Light" option for reducing the display's blue tones, which is presumably easier on the eyes at night.
The Asus ROG Phone 5 also has an always-on display option (called Always-on Panel). When enabled, the phone will show the time, date, battery percentage and notification icons on the screen when it's locked. However, this will have an impact on the battery life.
We did notice that the ROG 5's display is a lower-quality one as compared to the likes of even the
OnePlus Nord
when it comes to viewing angles. Colors can shift a bit and it loses on some brightness under an angle, although it's not too noticeable. We have the display measurements results below.
Display measurements and quality
Audio and call quality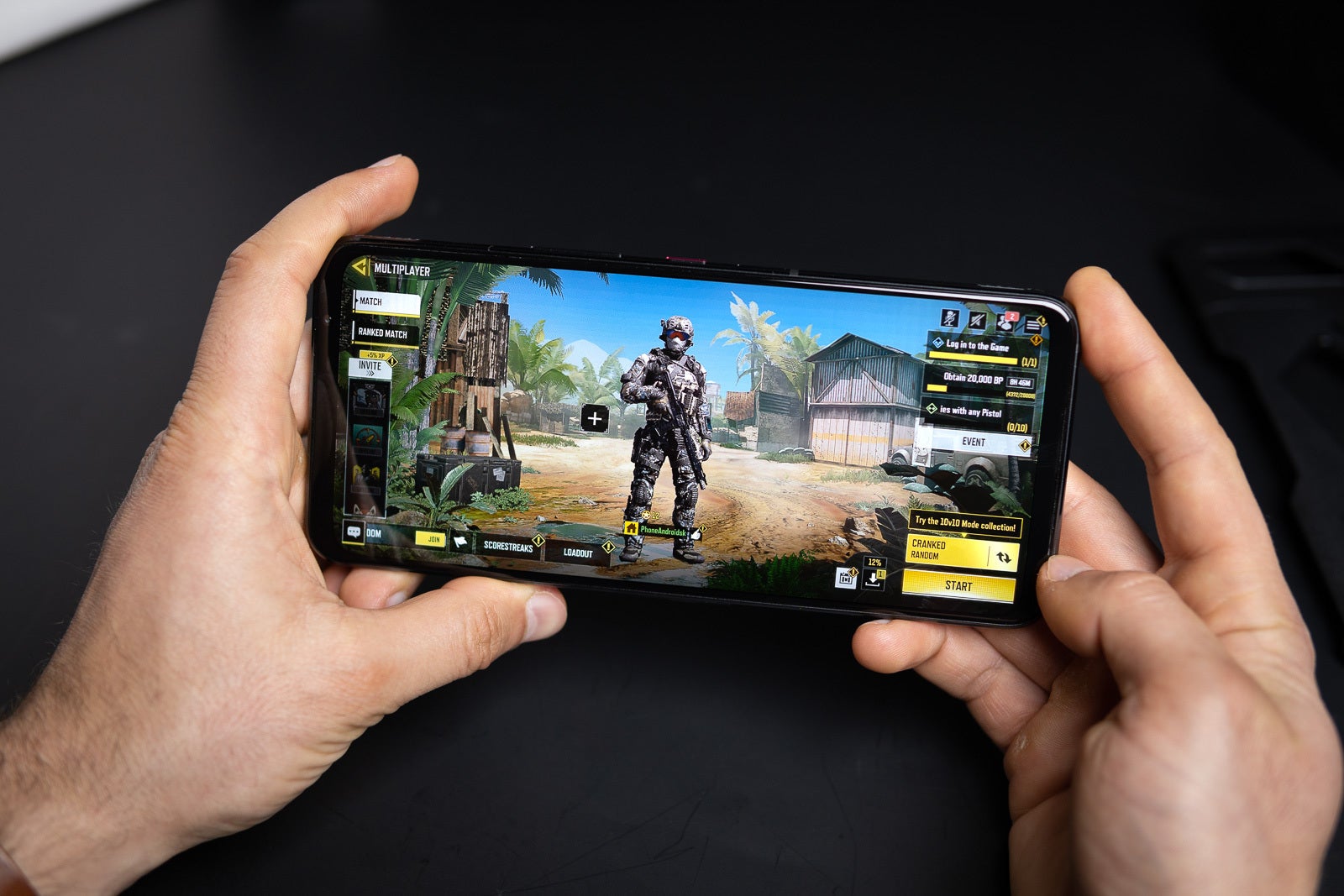 The ROG Phone 5 boasts dual front-firing speakers
One of the greatest things about last year's ROG Phone 3 and most criminally overlooked aspect on any phone is the speaker quality. Thankfully, Asus didn't just rest on its laurels and simply reuse the already great speakers from the ROG 3. The new Asus ROG Phone 5 has even better-sounding, bigger and louder front-firing stereo speakers.
Thanks to their effective stereo separation, due to each being on a different side of the phone, and their impressive bass and clarity, the ROG Phone 5's speakers can easily rival small Bluetooth speakers or even many tablet and laptop speakers.
And if you wish to tune the sound to your liking, AudioWizard makes a return on the ROG 5. This simple-to-use app provides sound presets, an equalizer to play around with, plus dedicated treble and bass boost sliders. Naturally, I maxed out the bass and was pleasantly surprised with the resulting sound. Even in an unfair fight against my iPad Air 4, the ROG Phone 5 won in the bass department for sure. Of course, that's not to say that the sound isn't generally rich and full, bass aside, but it's richer and fuller than any phones I've ever used.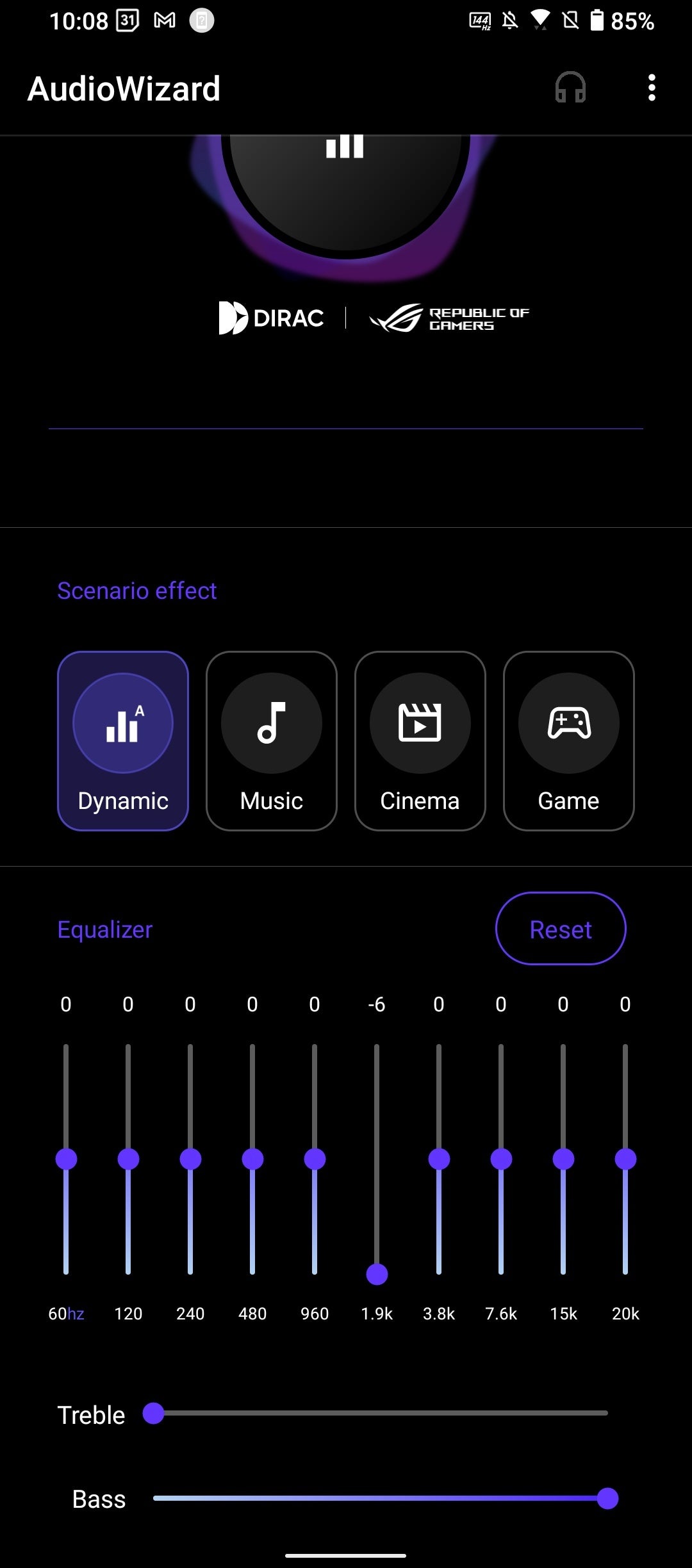 The AudioWizard lets ROG Phone 5 users tune the sound to their liking
In addition, the ROG Phone 5 has a headphone jack and a high-quality DAC (digital-to-analog converter) for great wired sound. This is a particularly pleasant surprise, as last year's ROG Phone 3 didn't have a headphone jack at all. In any case, even though I normally use wireless headphones, I can confirm that the ROG Phone 5 can really deliver some great, loud and balanced sound from that headphone jack. I tested it with both my own Pioneer DJ over-ear headphones and the ROG Cetra II Core in-ear headphones Asus sent over. In both cases the sound had great bass, fidelity and remained distortion-free even at maximum volume.
If you're interested in more details about the included audio technology in the ROG Phone 5, here are the key points from Asus itself:
...We have also included a 3.5mm jack with Hi-Fi enthusiasts in mind. We are using the ESS Sabre ES9280AC Pro with HyperStream II QUAD DAC technology and a built-in Class G ESS Sabre Headphone amplifier with up to 2Vrms output for headphones with higher impedance.
In regards to call quality – there isn't too much to say, as most mid-range and flagship phones nowadays sport a good earpiece and microphones. As can be expected, call quality on the ROG 5 is good and so is voice chat during gaming sessions. For the latter in particular, the phone has a quad microphone array with noise reduction technology. The mics are placed in a way that makes sure they can't all be accidentally covered up, regardless of how the ROG 5 is being held.
Camera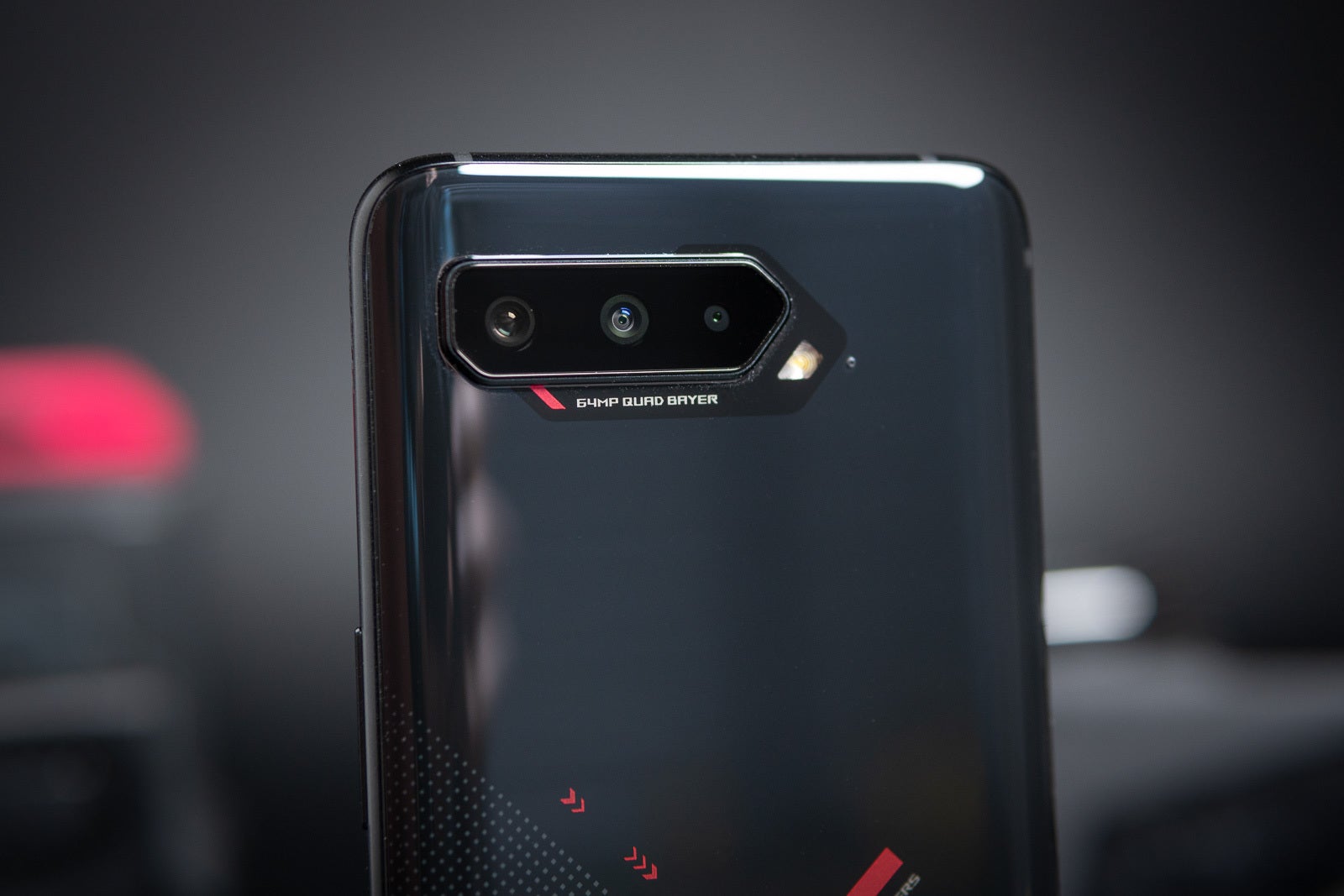 While cameras are far from the main focus of any gaming smartphone, the Asus ROG Phone 5 has a respectable triple-camera system. The main camera is a 64-megapixel Sony IMX686 sensor that can shoot up to 8K video. The other two cameras are a 13MP ultra-wide (125 ̊) and a 5MP macro.
In good lighting photos come out sharp and detailed, with the wide-angle camera giving some particularly cool results, at least for those who are into stylized photography and won't mind the wide-angle distortion effect.
The main camera itself is no slouch, especially for a gaming phone, and should be well sufficient for most users. There's the option of taking Portrait mode photos, and it works well in separating the subject from the background, plus it allows for adjusting just how blurry you want that background to be.
The front camera similarly produces good photos, although when Portrait mode is selected, it occasionally blurs things it shouldn't. When you take a Portrait mode selfie, you might end up with blurry cheeks, not just a blurry background. Standard (non-portrait) selfies come out sharp and detailed, with good contrast and colors.
When it comes to video recordings, the quality is well acceptable, again particularly in good lighting conditions. Although there's no dedicated hardware for image stabilization here, videos are well stabilized through software.
During video recordings you can't switch from the main camera to the ultra-wide on the fly, which would have been a good option.
Software, performance and gaming
The Asus ROG Phone 5 comes with Android 11 and ZenUI on top. Like previously mentioned, the phone offers plenty of customizability, and for gaming in particular – the one feature that stands out is X Mode.
X Mode gives the user control over the ROG Phone 5's CPU and GPU speeds, RAM performance, temperature control, display refresh rate, touch sensitivity and more. Through X Mode, hardcore mobile gamers can tune the Asus ROG Phone 5 to their liking, similarly to how hardcore PC gamers often delve into overclocking or underclocking their rigs.
And while X Mode might sound overwhelming, it's not. The app is easy to use and straightforward, plus you're not actually required to use it at all. But even casual mobile gamers will find fun and useful settings to play around with within X Mode.
For example – editing how the dot matrix-style ROG logo on the back of the phone behaves, or changing its color to your favorite one, which adds a personal touch to the Asus ROG Phone 5, making it your own.
With or without X Mode, gaming on this phone is a blast. You have two fantastic stereo speakers facing you, so you hear perfectly where each in-game explosion and gunshot are coming from. The beautiful AMOLED screen can go up to 144 Hz for a super-smooth gaming experience, which complements the ROG Phone 5's blazing fast performance. But perhaps most notably, you have two AirTriggers, one on each side of the phone when holding it in landscape mode. Asus describes AirTriggers as "invisible ultrasonic buttons" and "motion sensor triggers".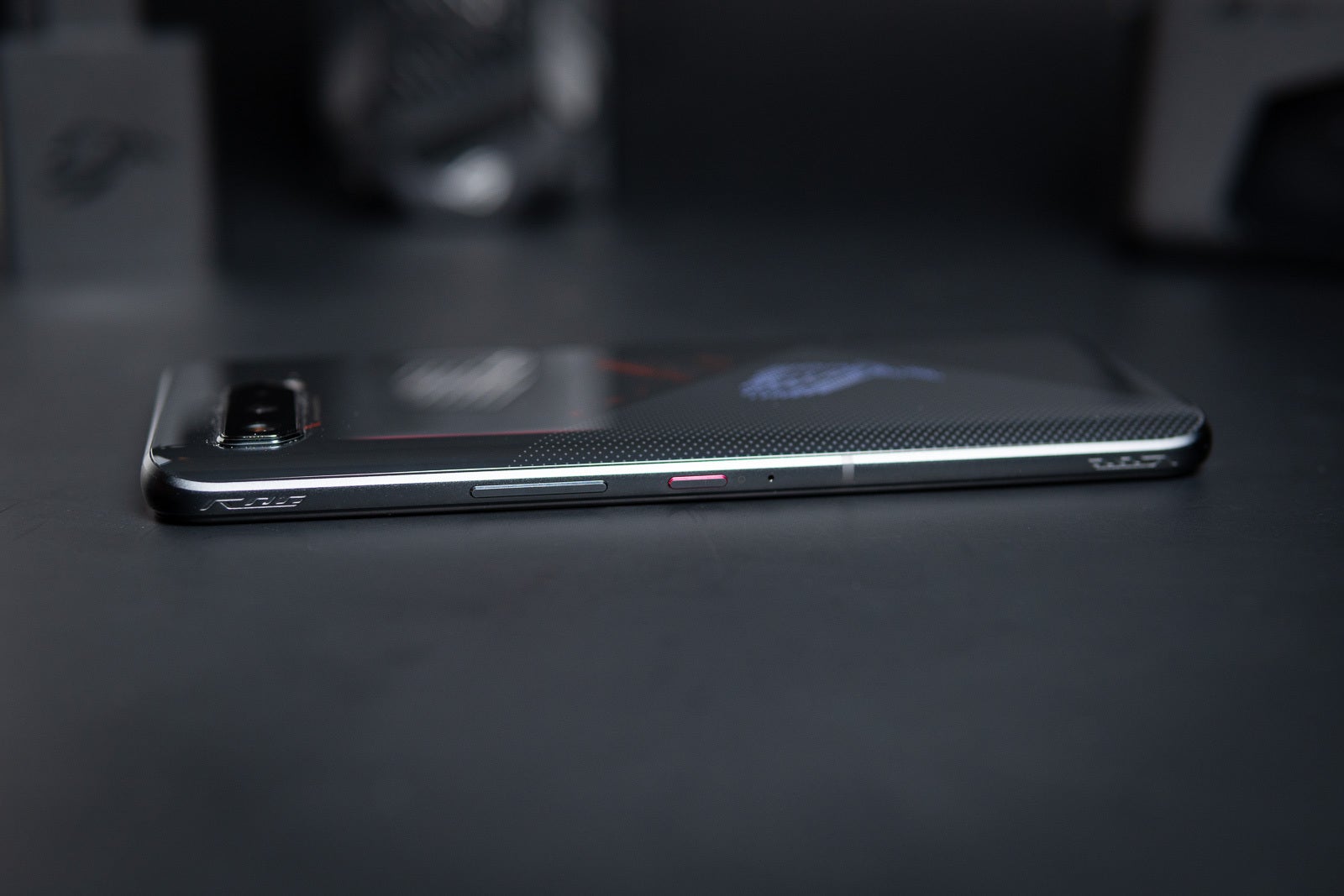 The Asus ROG Phone 5 AirTriggers
For me the AirTriggers are easiest to explain by comparing them to shoulder buttons on a gamepad, as I did earlier. When you're playing a game like PubG Mobile, for example, you can swipe from the left of the screen to open Game Genie, where you enable the AirTriggers. Then you drag each AirTrigger icon to an area of the screen, after which pressing the respective AirTrigger will simulate a touch press there.
For example, you can drag the left AirTrigger icon to the on-screen jump button in PubG and the right one to the on-screen shoot button. Now, pressing the AirTriggers will perform those actions, so you'll no longer need to switch your thumb from the camera controls to the on-screen shoot button, but conveniently have the latter at the tip of your index finger. It works surprisingly well and tapping the AirTriggers is accompanied with a vibration, so it feels close enough to using real, physical buttons.
Similarly, you can set the two AirTriggers to the gas and break in racing games or make them perform any action in pretty much any game with touch controls. It's an overall very convenient and easy-to-use feature for gamers, that doesn't impact the sleek look of the phone in any way, like physical shoulder buttons would have.
Now let's talk about the gaming performance on the ROG Phone 5. Unsurprisingly, all graphically-intensive popular mobile games run smoothly and without a hiccup. Playing Asphalt 9 on its high graphics setting with the AirTriggers means you don't even need to cover the screen with your fingers and get to fully enjoy those flashy visuals.
PubG Mobile can currently be set up to "HDR" graphics and "Ultra" frame rate on this phone. Minecraft with "Fancy Graphics" and "Smooth Lighting" works great too, not to mention that 144 Hz refresh rate really makes a difference in how extra smooth a game like Minecraft feels. That said, it's hard to tell which other games even support a refresh rate this high right now, with many capping at 120 Hz.
Now let's cover some of the optional accessories you can get for this phone. I had the opportunity to use the AeroActive Cooler 5 clip-on fan and the ROG Kunai 3 Gamepad. While the first one isn't all too exciting, the gamepad is quite impressive in how well it feels, looks and improves upon your mobile gaming.
The ROG Kunai 3 comes with a special case that you can slot the ROG Phone 5 in, then the two sides of the gamepad slide onto the same case like Nintendo Switch controllers. So your ROG Phone 5 quickly turns into a top-of-the-line mobile gaming console with dual analog sticks and not two, but three shoulder buttons on each side.
Assigning the keys to on-screen actions works similarly to how it is for assigning AirTriggers – by sliding from the left of the screen to open Game Genie. It should be noted, though, that some games that would be perfect for a gamepad like this, like Call of Duty Mobile, don't support gamepads. Minecraft does though and it works flawlessly with the Kunai gamepad, no setup needed at all. It's generally important to check if the Android games you want to play fully support gamepads before investing in such.
But back to the phone itself. The Asus ROG Phone 5 we have here has 16 GB of RAM, 256GB of storage and is powered by the Qualcomm Snapdragon 888 5G processor. If that's not overkill enough, Asus will soon offer two additional ROG Phone 5 variants – the Asus ROG Phone 5 Pro with 16 GB of RAM and the limited edition Asus ROG Phone 5 Ultimate, which will pack an insane 18 GB of RAM.
Those higher-tier ROG Phone 5 variants will also come with the previously-rumored secondary display on the back, which this "base" Asus ROG Phone 5 doesn't have.
Battery life
The Asus ROG Phone 5 has dual 3000 mAh batteries and as can be expected from a total of 6000 mAh – the battery life of this phone is very impressive.
In our testing, with its display set to 60 Hz, the Asus ROG Phone 5 lasted 13 hours and 17 minutes of web browsing, 10 hours and 8 minutes of 3D gaming and just over 13 hours of YouTube playback on a single charge. Of course, those numbers will be smaller if the display is set to its maximum of 144 Hz.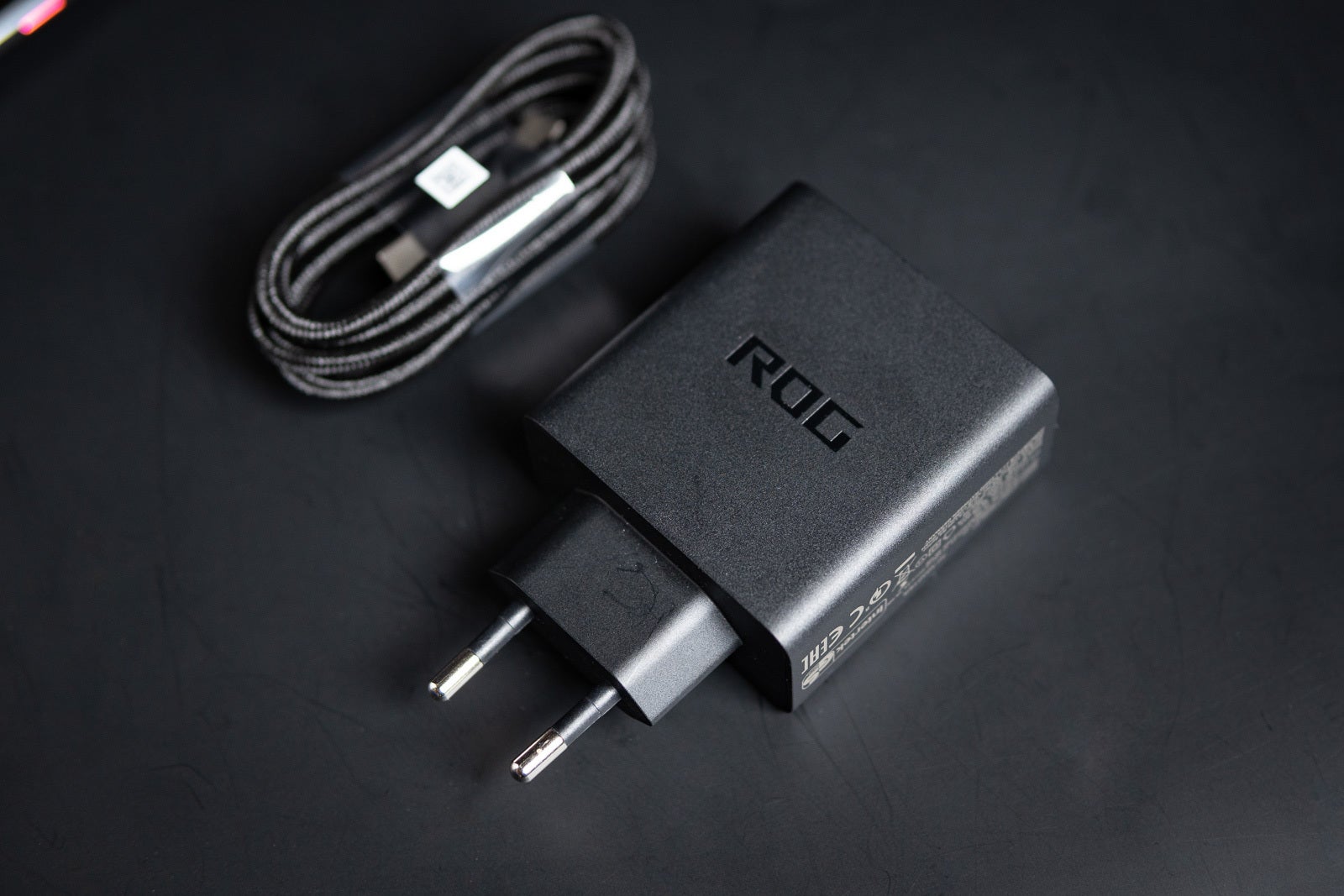 And in times when some manufacturers won't even give you a charging brick out the box, citing environmental reasons, the ROG Phone 5 comes with a solid 65W charger. It's a bit large, but it has a nice, premium-feeling braided cable and can fast-charge the phone from 0% to 70% in just about 30 minutes.


In our charging test, the ROG Phone 5 indeed proved to charge impressively fast, going from zero to 100% in just 57 minutes, which is significantly faster than high-profile flagships like the
Galaxy S21 Ultra
and
iPhone 11 Pro Max
. The ROG Phone 5's charging speeds also beat its own predecessor, which took 103 minutes to fully charge in our testing.
Recommended Stories