Google Pixel 3 XL's key design features seen in case leak
19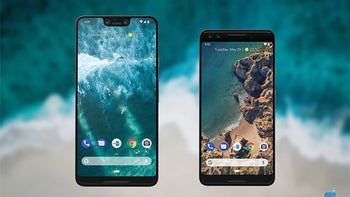 Given the rumors, reports and

generally

predictable release patterns of flagship smartphones, it's likely we'll be furnished with Google's third-gen Pixel handsets sometime during the early fall. What began as the Pixel and Pixel XL in 2016 was bumped to the Pixel 2 and Pixel 2 XL last year and naturally, the next-in-line models are being dubbed
the Pixel 3 and Pixel 3 XL
. Where the name probably won't change all that much, we've been hearing of numerous purported design tweaks, particularly with regards to the larger, XL variant. Now, a new case leak gives us something else to add to the mixing bowl.

facilitate a dual-front-facing camera setup. The arrangement of two sensors in close proximity has been implemented by several manufacturers over the past few years, though for the most part, we've seen the likes of the
Samsung Galaxy Note 8
and Apple
iPhone X
enjoy dual cameras on the
rear
, rather than the front.
There are numerous theories as to how the dual-sensor system may be utilized with the Pixel 3 XL, with suggestions ranging from improved depth-of-field snaps to advanced facial unlocking. Given that we find ourselves very much in the midst of the Selfie Generation, one can already envision TV ads proclaiming the Pixel 3 XL and its self-snap wizardry as the best thing since sliced bread. Whatever the case, the shooters of the Pixel 2 and
Pixel 2 XL
are impressive front-to-back, so if Google
does
plan to take the dual-front-camera route, here's hoping the Big G doesn't rock the boat in a negative way.
The render within the new case leak shows dual front-facing lenses either side of the earpiece and a 'chin' beneath the display for the speaker. To the rear, meanwhile, this leak indicates that there will be just a single camera lens and flash. The decision to go for two cameras on the front -- rather than the back like a number of other manufacturers -- is a slightly curious one. Perhaps Google simply wants to differentiate itself from Samsung, Apple et al. With competition being so fierce at the top end of the smartphone market, it can often be the tiny details that sway consumers one way or the other, and if the dual-selfie camera presents a convincing argument, the search giant could potentially snare a few would-be iPhone or Galaxy owners.

and
rear cameras would be quite a workload for a single generation, and adding so many shiny new features in one hit would possibly increase the chances of something going wrong at launch. Still, fans can be reasonably hopeful that an eventual
Pixel 4 XL
will sport dual cameras on both front and back.
Given that the original Pixel models were announced on October 4th, 2016 and the Pixel 2 series was unveiled on October 4th, 2017, we should expect Google to showcase the Pixel 3 and Pixel 3 XL on Thursday, October 4th 2018 if it wishes to retain tradition. If so, shipments of the new devices should begin a couple of weeks later, on or around October 19th.
Are you looking forward to the Pixel 3 series? Let us know in the comments below.