Google Pixel 3 and Pixel 3 XL new features: everything we expect
27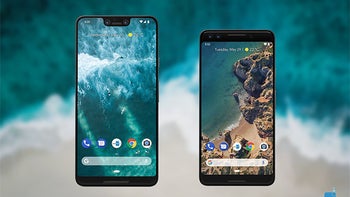 We are well into the second half of 2018 and are already eagerly awaiting the next slew of high-class smartphones. Samsung's new Note, LG's next V, the new iPhones, and — of course — the reiteration of Google's awesome Pixel line.
The
Google Pixel 3
and
Pixel 3 XL
should be released around October, just like the previous two generations, and we expect them to be a powerful, snappy bundle of Android joy, as usual. We will get a hardware update and a few new features that warrant an upgrade. But what would those features be?
Well, let's dive in and take a look at everything we know so far about the fresh, new things that the Pixel 3 pair will bring!
Design — take it up a notch
The
Pixel 2
and
Pixel 2 XL
had a mundane 16:9 display and a trendy 18:9 display, respectively. However, rumors, leaks, and even
alleged screen protectors
for the Pixel 3 and Pixel 3 XL have popped up showing that both phones will be joining the "super-wide" club this time around.
It appears that the Pixel 3 will have an
LG G6
-esque look to its front, with an 18:9, 5.3-inch screen with even top and bottom bezels. The Pixel 3 XL, on the other hand, pushes its display further up, possibly widening the aspect ratio. Its screen is rumored to have a 6.2-inch diagonal and a "notch" at the top, clearly seen on
leaked prototype units
. Though, the device still has a "chin", which will hold one of its stereo front-firing speakers.
Leaksters say that, despite these changes, the phones will not be very different to the Pixel 2 and 2 XL in terms of size and handling. Their backs appear to be pretty similar to the old generation as well, with the blending of metal and glass, a single camera at the same spot as before, and a fingerprint scanner in the very same, familiar location.
Cameras — are we going dual?
Last year, Google defied the duo cam trend entirely — the Pixel 2 and Pixel 2 XL still have a single selfie camera and a single back-facing snapper. However, the company did include a "portrait mode" in its phones by using
software wizardry
and implementing a sophisticated algorithm that works in tandem with the camera sensors to scan depth information in images.
It was Google's display of "brains over brawn" if you will.
This year, however, all leaks point towards both the Pixel 3 and Pixel 3 XL featuring a dual camera. But, get this, the dual module will be on the phones' front. The main camera on the back is still a lone unit.
So, what gives? Some speculate that the dual cameras will be used for better "portrait mode" selfies, but this kind of goes against Google's strides to accomplish DSLR-esque bokeh via software only. Others presume that the dual selfie cameras might be used for some sort of advanced face unlocking to keep up with the trends. There's also the possibility that one camera could have a super-wide angle lens, while the other one would be "normal" — much like LG's vlogger friendly smartphones.
But, as it stands, we can tell you this — we know the dual cameras are there, we can't tell you with a 100% certainty why they are there.
Less tapping, more swiping
Not so much a Pixel 3 feature, but an Android 9 addition — we will be seeing Google move to a swipeable navbar for software navigation. In other words, we will get a gesture-based UI, much like the one on the
iPhone X
.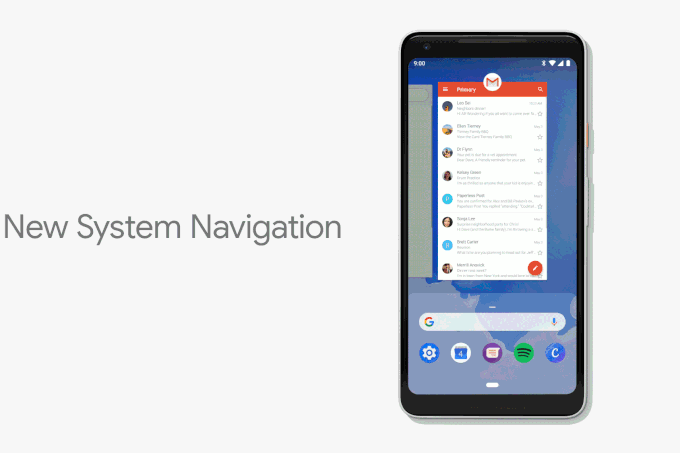 This feature is familiar to those that have the
Android P Beta
installed on their devices and it will be available to owners of the OG Pixels and the Pixel 2 units once they download the new update. However, the Pixel 3 and Pixel 3 XL are the first Google phones designed to work with this new
gesture-based UI
out of the box, and we imagine Google would have thought of the ergonomics enough to maximize the experience.
More than a squeeze
The Pixel 2's Active Edge is a mirror image of HTC's Edge Sense. That's hardly a surprise — Google has been working closely with HTC
for a while now
and the search giant did poach
a bunch of engineers
from the smartphone slinger last year.
So, while no leaksters have pointed towards that, it does make us wonder if the Google Pixel 3 would get the Edge Sense enhancements that the
HTC U12+
got. It kind of makes sense, too — you can't have the Pixels lag behind while HTC's flagships continue to develop the concept.
Here's a reminder — the HTC U12+'s Edge Sense is not just about squeezing the phone. The device can now sense which hand you are holding it with. Then, it will differentiate between three types of input — squeezing the handset, tapping on its side with a finger, or simply holding it. How the phone reacts can be customized to a point.
It's not far-fetched that Google might take these concepts and enhance the Active Edge of the Pixel 3 and Pixel 3 XL as well.