The success of the Google Pixel 3 and OnePlus 6T is bad news for Samsung
21
Both OnePlus and Google are reportedly hard at work on
next-gen flagship phones
scheduled to be
released sometime this summer
and fall respectively, but before that happens, it's probably important for the two companies to take a moment and evaluate just how big of an impact their current hero devices have made on the crucial US market.
Apple, Samsung, LG, and Motorola were
ranked by Counterpoint Research
a couple of months ago as the top four smartphone vendors stateside during the final quarter of 2018, which means Google and OnePlus had to settle for smaller than 6 percent shares of shipments in that period. While that may sound low, it's definitely worth pointing out that the product "portfolios" of these two brands are not exactly extensive.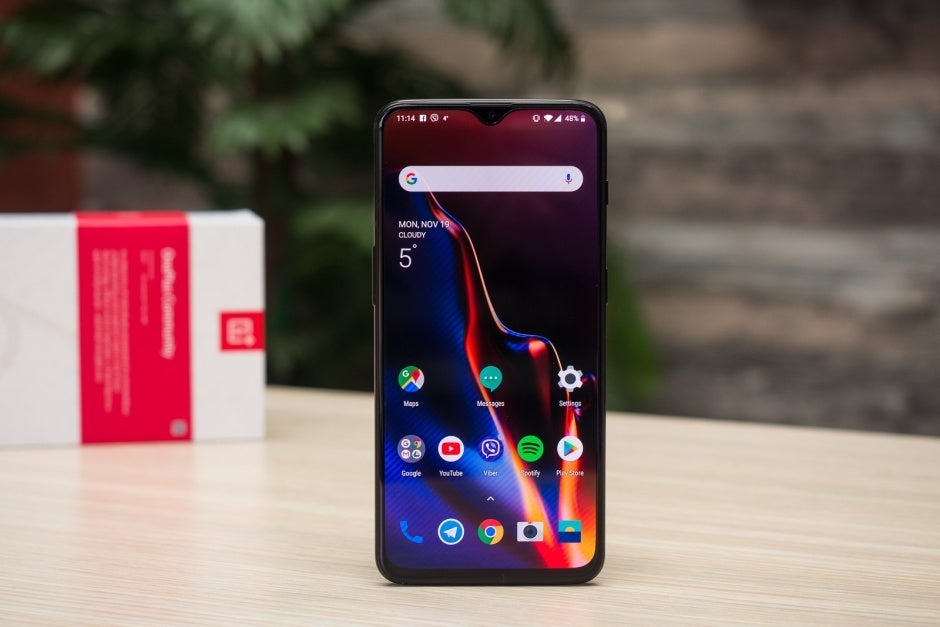 In fact, the
OnePlus 6T
was the company's first-ever handset
sold through a US carrier
, while the
Pixel 3 and 3 XL
continued Google's tradition of Verizon-exclusive devices. That obviously limited the exposure and mainstream appeal of these bad boys compared to the likes of the Samsung
Galaxy Note 9
and LG
V40 ThinQ
, which made their achievements that much more impressive.
Google and OnePlus are hurting Samsung, not Apple
It's pretty obvious that these two companies are just the latest to paint a target on Apple's back, aiming primarily to convert iPhone users into Android enthusiasts. But while Google's huge marketing budget and the aggressive pricing strategy of the
OnePlus 6T
certainly yielded some positive results on the whole, Apple's user base didn't exactly suffer any major blows. After all, the Cupertino-based tech giant continued to comfortably dominate the US market between October and December 2018, with a massive 47 percent share of total shipments.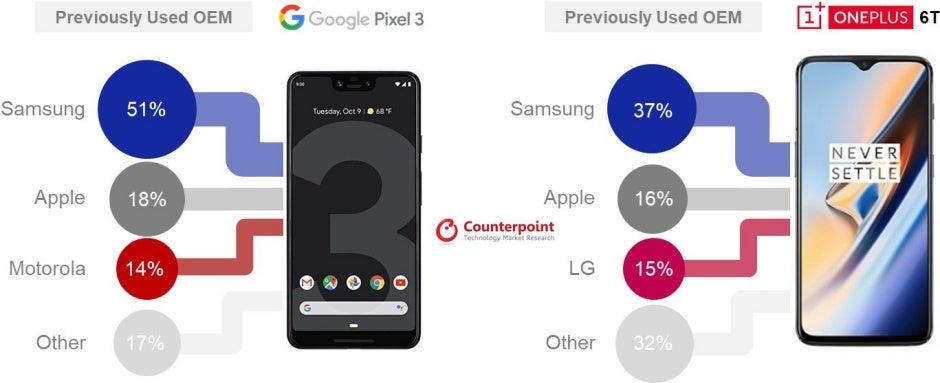 If Apple's numbers were not impacted, it's definitely not surprising to hear Samsung lost a fair chunk of users in this equation. Believe it or not, a whopping 51 percent of Pixel 3 buyers switched from a Galaxy device, including 31 percent that came from the
Galaxy S7
alone. Meanwhile, "only" 37 percent of people who purchased the OnePlus 6T in the US in Q4 2018 previously owned a Samsung, compared to 16 percent that switched from an iPhone, 15 percent for LG, and 32 percent for "other" brands.
While the Galaxy S7 was ranked among the most often upgraded models to a OnePlus 6T as well, the latest "flagship killer" also attracted a large number of Galaxy J2 Prime, iPhone 6, and iPhone 7 users, which is a testament of the success of the company's focus on affordability.
The US market is open to change
You probably wouldn't have guessed that by looking at Apple and Samsung's shares over the past few years, but US consumers can be persuaded to buy phones from other companies as long as the price is right or the advertising is aggressive enough. People are showing an increased "appetite for more diversity", at least as far as "premium" handsets are concerned, a fact proven by OnePlus and Google's strong carrier sales during Q4 2018.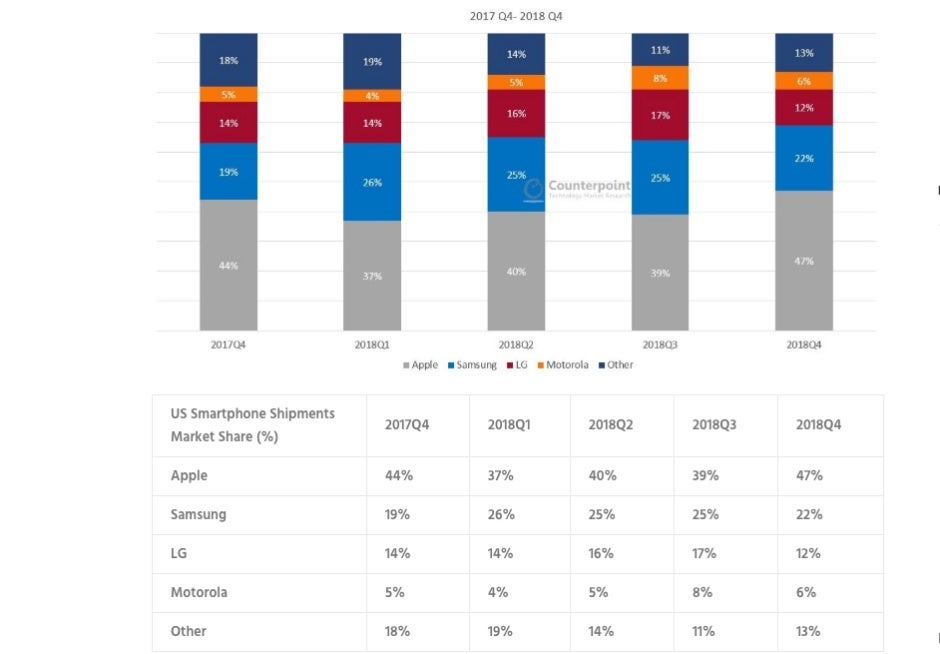 Specifically, it seems the Google Pixel lineup accounted for 7.3 percent of Verizon's total sales in that three-month period, while the OnePlus 6T single-handedly racked up 2.4 percent of T-Mobile's numbers. Mind you, those obviously include Verizon and T-Mobile sales of iPhones, high-end Galaxy devices, as well as many other low to high-end products.
All in all, the somewhat surprising popularity of the OnePlus 6T and Pixel 3 should encourage the two companies to ramp up their US ambitions going forward, also creating a favorable context for other brands to provide stiffer than ever competition for Apple and Samsung. It sounds like interesting times might be ahead for one of the world's largest smartphone markets.