OnePlus 7 renders show off the phone's cameras and its three color options
24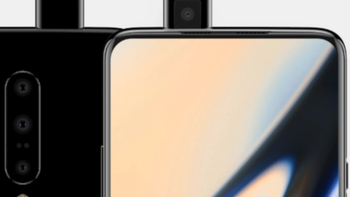 The eagerly awaited
OnePlus 7
is going to feature a pretty high screen-to-body ratio thanks to the 16MP pop-up selfie camera that the device will sport. That feature, as well as the vertically mounted triple camera setup on the back of the phone, are clearly seen in new renders of the handset
printed by GizChina
. The
OnePlus 7
is expected to be released some time in May.
Earlier this month
an etailer prematurely posted a listing for the OnePlus 7
, which included the handset's specs. So, we expect to see the phone carry a 6.5-inch AMOLED display, powered by the Snapdragon 855 Mobile Platform. Consumers can choose a model with 8GB of memory and 128GB of storage, or one with 12GB of memory and 256GB of storage. The triple camera setup on back will include a 48MP primary camera, a 20MP camera and a 5MP camera. There is a chance that Oppo's 10X lossless zoom will also be included; the two companies are brothers from the same corporate parent.
The remaining specs include a nice sized 4000mAh battery that charges quickly, thanks to the 44W Dash charging system. OnePlus touts the in-display fingerprint scanner, which it calls Screen Unlock, as the fastest on any handset. Android 9 Pie will be pre-installed along with the company's OxygenOS 9 UI. And apparently, the OnePlus 7 will start at $569.
We would imagine that given the success of the OnePlus-T-Mobile partnership, which has done quite well moving out units of the
OnePlus 6T
, we will see the OnePlus 7 offered by the nation's third largest carrier. This should not be overlooked because right now, OnePlus is the only Chinese phone manufacturer offering a high-end phone through a major U.S. carrier. U.S. lawmakers have branded both Huawei and ZTE as national security threats, and the U.S.-China trade war has helped the relationship between both countries deteriorate. Interestingly, the success of OnePlus in the states
has led Oppo to declare last month that it is planning on invading the U.S.
This isn't happening right away, but as soon as Oppo feels secure in Europe.
Starting at $569, the OnePlus 7 will be a "flagship killer"

But we digress. Returning to the OnePlus 7, it will come in three colors, Black, Purple and Gray. All three colors are shown in the new renders. If you haven't been following along, the OnePlus 7 will not support 5G connectivity. That task is reserved for the OnePlus 5G; however, OnePlus founder and executive Pete Lau has already made it clear that
the company's first 5G effort will not be available in the U.S.
The
OnePlus One
was unveiled in April 2014 and originally was available only with an invitation. OnePlus did this in order to match supply with demand, to prevent it from building too much inventory. By January 2016, the company scrapped the invite system for the
OnePlus X
, and the
OnePlus 3
hit the marketplace invite-free. The first few models were branded as "flagship killers" by OnePlus because of its high-end specs and low prices. If the premature OnePlus 7 listing does have the legitimate price tag, $569 is quite a good price for such a feature-rich phone.
OnePlus also gets kudos for sending out updates in a timely manner compared to other non-
Pixel
Android phones. It also has a reputation for adding features found on its newer handsets, to some of its older devices via software updates. And the
OnePlus 3
and
OnePlus 3T
, both released in 2016, will soon be updated to Android 9 Pie.