Official Google Pixel 3 case crops up with fabric design in new color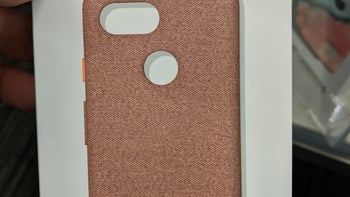 If you're thinking of pre-ordering a
Pixel 3
or
Pixel 3 XL
as soon
as you get a chance
or even if
you've already purchased
the
jumbo-sized "made by Google" phone
in Hong Kong for a small fortune, you might be considering different ways to protect your investment.

While an onslaught of solid third-party options is obviously to be expected, buying a Google-made case could also be worth looking into. For the Pixel 2, the search giant sells a quartet of stylish protective accessories "crafted with a tailored, unique fabric", and unsurprisingly, the Pixel 3 and 3 XL are set to join the fun.
Perhaps jealous of all the attention
Walmart
and
Best Buy
have been getting for prematurely carrying the third-generation Chromecast, Target is now revealing a swanky Pixel 3 case in a new fabric shade. The Coral Pixel 2 case is undoubtedly the closest to this thing, but the new color is significantly darker, also aiming to complement the look of the next-gen "pure Google" phones with a different accent covering the side-mounted power button.
It remains to be seen if any of the old hues will be retained or if an entirely new lineup of official Google fabric cases is in the works. There's also no word on pricing yet, so we'll just assume the $40 tag is to go unchanged.