Apple Repair sets costly records for a cracked iPhone XS Max back or display
22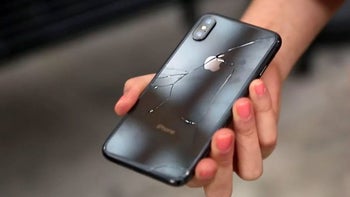 Broken phones are no broken dreams - while the first is repairable, the second might haunt you for life, so let's pray for Apple Repair services that won't break your piggy bank, how's that for another shattered thingy in one sentence? Unfortunately, those prayers will go unanswered, as Apple just updated its official out-of-warranty screen and "other" repairs pricing, hitting a new record.
Previously, The iPhone X set a costly top with $279 to replace its screen out of pocket and the whopping $549 for the "other" category, which includes repairing its glass back in case it hits the pavement unprotected and shatters. Now, however, we have a new king on the Apple Repair block, and it is none other than Apple's most expensive
XS Max
whose price starts at $1099 but can reach $1449 if you are not careful with the storage choices.
As you can see from the Apple Repair quotes below, dropping the XS Max may cost you $329 in screen replacement charges, or the crazy $599 for a shattered back or other damages. That's a $50 premium for both repair services over the iPhone XS, making the XS Max the most expensive phone to fix in Apple's history. Longing for the good ol' days of metal iPhones with no OLED shenanigans already?