The next version of Chrome confirms Google is fully committed to the notch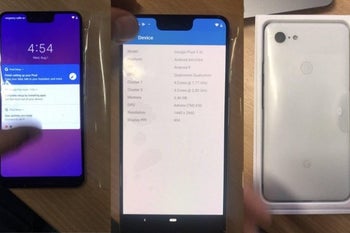 Google doesn't like to poke fun at Apple as often and
brazenly as Samsung
, but some of you may remember how the
iPhone 7's headphone jack removal
was called out during the original
Pixel handset
's launch event back in 2016 only for last year's
Pixel 2
to follow suit.
Similarly,
Android 9 Pie
has added official notch support for all the
iPhone X
-inspired Huaweis, LGs, Nokias, and Xiaomis out there, as well as the upcoming
Pixel 3 XL
. Further proving its commitment to fully embracing increasingly popular smartphone screen cutouts, Google is also preparing an important Chrome update.

The browser recently reached its 68th version with new features including a "Not Secure" label for HTTP websites, while build 69 has already started beta testing. If nothing goes seriously wrong, Chrome 69 should be rolled out to the masses as early as next month with a better use of screen real estate for "modern" smartphones.

The aim is to show web content all around the notch rather than display a large empty space to the right and left of the cutout typically accommodating a phone's front-facing camera and various sensors. Developers will have plenty of time to optimize their sites for the new functionality, although you probably shouldn't expect perfection straight off the bat.
At the other end of the mobile device spectrum, entry-level
Android Go
devices will soon gain the ability to play audio and video directly in their pre-installed Chrome browser. Since most of these ultra-affordable phones come with extremely limited storage space, opening music and movies in Chrome will save them the hassle of downloading
standalone apps
for that specific purpose.

A redesigned mobile download manager and Picture-in-Picture capabilities for Windows, macOS, Linux, and Chrome OS computers are also in the pipeline, along with the already announced removal of the "Secure" flag for HTTPS websites. From now on, everything that's not explicitly marked otherwise is safe to navigate.