Google Pixel 3 XL goes "full monty" in live pictures and unboxing video
57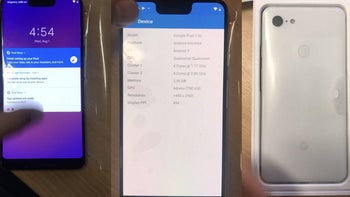 Although we initially expected Google to start deploying Android 9.0 Pie on August 20, the search giant decided that stealing the show from Samsung is the best course of action. As many of you probably know by now, the
Galaxy Note 9
will be officially unveiled on August 9.
Coincidentally or not, Google released
Android 9 Pie
just a few days ago and managed to made headlines at a time when everyone was talking about Samsung's
Galaxy Note 9
. To make things even more interesting, we now have another leak that puts Google's upcoming Pixel 3 XL front and center.
Several images of a Pixel 3 XL production unit have just emerged and they offer us the closest look at Google's upcoming flagship. If you've seen the
previous pictures
showing the "Clearly White" Pixel 3 XL that leaked last week, you'll notice that the new ones come in line with what we knew so far.
The bonus is a short unboxing video posted by a Russian blogger, which shows the phone from all angles. As expected, the
Pixel 3 XL
features a small notch at the top of the display and it will probably do away with the audio jack. Instead, one of the pictures shows that the phone will come with USB Type-C earphones in the box.
The rest of the pictures confirm
some other details
about the Pixel 3 XL, such as the powerful Snapdragon 845 processor, 4GB RAM, and Android 9.0 Pie. The phone's display features a resolution of 1440 x 2960 with a 494-pixel density.
Google is expected to unveil the new
Pixel 3 and Pixel 3 XL on October 4
, and pre-orders will open soon afterward on the Play Store.