Google makes changes to the Discover feed in advance of the Pixel Tablet's release this year
3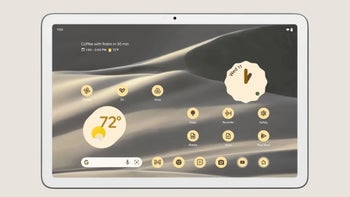 You might not know what it's called, but when you swipe to the right from the first home page on your Android phone, you see the Google Discover feed. There you scroll down on a list of stories that Google knows you have an interest in. For example, this writer's Discover page shows tech stories (including some written by my colleagues and myself for PhoneArena), articles on the sports I follow (MLB, NFL, NBA, NHL), stories about the Beatles, and reports about the stock market.
On an Android phone, the Google Discover feed is a single column that scrolls vertically. As noted by
9to5Google
, changes are being made in preparation for the release this year of the Pixel Tablet. The latter will be the latest addition to the Pixel ecosystem. The change to the Discover page for Android tablets is already rolling out as the new Discover interface has been spotted on the Samsung Galaxy Tab S8 running the current beta version of the Google app (14.2.7.26).

Landscape on Android tablet, Discover feed. Old UI on left, new UI on right
In the Discover feed, instead of each row containing two columns worth of stories, with the update, Android tablets in landscape orientation will show three columns of articles curated for the user. The change makes the feed edge-to-edge. The width of each story in the feed is the same, but the height is different in each row. In portrait, there will be two columns for each row.

Landscape on Android tablet, Google app. Old UI on left, new UI on right
On the Google app, you'll see a three-column feed in landscape with less empty space to the right of the Discover, Search, and Collections buttons on the left side of the screen. In portrait, you get two columns similar to how it looks on the Discover feed.

On the Pixel Tablet, the Discover feed and the Google app will both include a row titled "From your apps" that will show content recommended for you. The Pixel Tablet could arrive with a 10.95-inch display and feature the Google Tensor 2 SoC under the hood.

Recommended Stories