Smartphone sales will register their worst ever decline this year before rebounding in 2020
10
Because the year's third quarter hasn't even ended yet, we don't have any new smartphone sales numbers to add on top of the market's
pretty poor results
reported for the
first six months of 2019
. But
Gartner has just come out with an interesting new report
that paints a pretty bleak picture as far as future Q3 and Q4 global totals are concerned.
Namely, the reputable market research firm expects smartphone sales to end 2019 with a 3.2 percent decline compared to 2018's overall figures. That would represent the worst year-on-year evolution of the mobile industry since its very inception, beating
2018's slightly lower decline
over numbers reported back in 2017 (at least according to some researchers).
Gartner predicts around 1.74 billion handsets (presumably including feature phones in addition to smartphones) will be sold all in all this year worldwide, down from a little over 1.8 billion units in 2018. The good news is all signs are now
pointing towards a return to growth next year
for an industry invigorated by 5G technology.
The next standard in cellular connectivity is expected to help boost the aforementioned 2019 total by a solid 2.9 percent in 2020, although only 10 percent of next year's global sales are forecasted to go to 5G-capable phones. That number should then rise at a pretty staggering pace, accounting for more than half of the world's sales by 2023 if Gartner's projections prove accurate.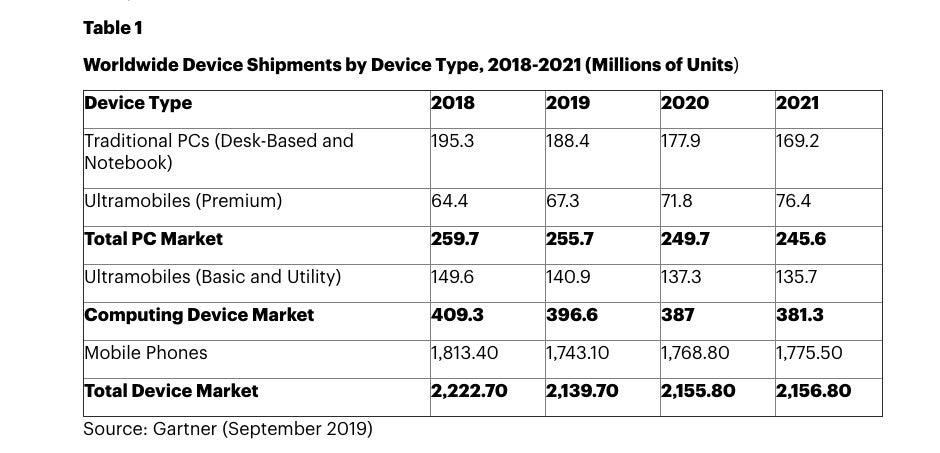 When looking at the larger picture of the "device" market, including tablets and PCs in addition to mobile phones, Gartner expects an even more substantial decline in shipments of 3.7 percent this year. But 2020's smartphone rebound should be enough to offset yet another dip in global sales for both traditional computers and "ultramobiles."
Interestingly, the so-called "premium ultramobile" market is on the rise and expected to continue thriving in both 2020 and 2021. Premium ultramobiles include the likes of Microsoft's Surface Pro lineup, Apple's MacBook Air, and convertible machines such as the Lenovo Yoga 3 Pro,
according to Gartner's own glossary
.