Latest smartphone market forecast identifies 5G as 'ray of hope' for the entire industry, iPhones included
1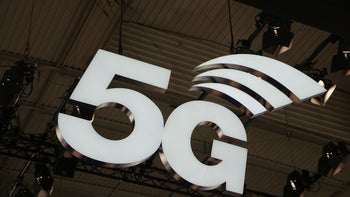 The global smartphone market had
a really bad year in 2018
, with overall shipments estimated at "only" 1.4 billion units by the International Data Corporation, representing a substantial decline of around 4 percent from the 2017 result approximated by the same research firm. While things haven't been quite as bad in the first two quarters of 2019, the mobile industry couldn't find its way back to growth, posting a horrendous 6.6 percent drop during the January - March timeframe followed by a much smaller
2.3 percent contraction between April and June
.
This slowly improving trend is
expected to continue
throughout the second half of 2019 and the entirety of 2020, starting with a pretty much negligible 0.4 percent decline in worldwide sales between July and December this year. That would limit 2019's overall market contraction to 2.2 percent compared to 2018's global total, although smartphone manufacturers are unlikely to be happy to see the industry deteriorate for a third consecutive year.
On the bright side, the IDC believes smartphone shipments could grow by a modest 1.6 percent in 2020, boosted by the expansion of 5G networks. 5G-enabled devices are projected to account for 8.9 percent of next year's total sales, equating to a pretty impressive 123.5 million units. That market share should then rise at a steady pace for the next few years, crossing 28 percent by 2023.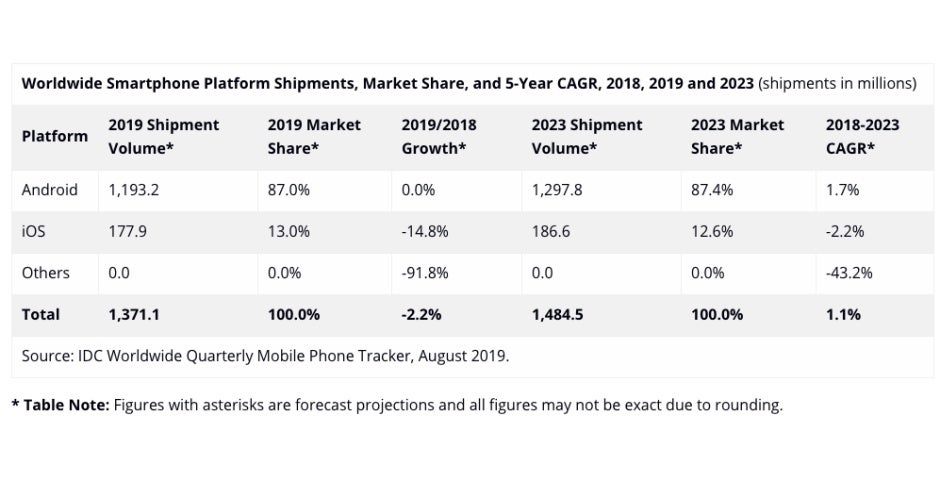 The IDC's analysts explain the "5G ramp on smartphones" will be far "more subtle than what we saw with 4G" due to the sky-high level of penetration of mobile devices these days. Practically everybody owns a 4G handset right now and most people are happy with their speeds, capabilities, and prices, which is why the jump to 5G doesn't feel particularly urgent.
But 5G is the market's "ray of hope", predicted to help boost Android's share even further (from 85 percent in 2018 to 87 this year), as well as stabilize iPhone shipments late next year. Today's introduction of the LTE-only
iPhone 11 lineup
is expected to contribute to the family's massive 14.8 percent decline to 177.9 million units this year, followed by a "slight" uptick in sales on the heels of the fall 2020 debut of
the first 5G iPhone(s)
.