Garmin is finally catching up to Apple and Samsung with 'revolutionary' ECG tool... on one device
1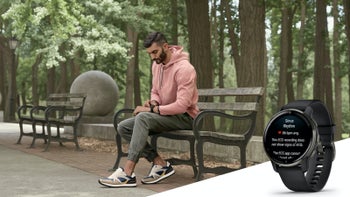 Do you know those touching news stories involving
unsuspecting smartwatch owners whose lives are saved
with the help of their on-wrist ECG monitors? Thanks to its
wearable industry supremacy
, Apple is almost always at the center of that type of media coverage, although in theory, the same could happen to (select) Samsung, Fitbit, Google, Huawei, and at long last, Garmin users.
Released around a year ago, the
Garmin Venu 2 Plus
is the company's first-ever product capable of recording your heart rhythm and checking for "signs of atrial fibrillation (AFib) anytime, anywhere."
All you need to make the newly enabled ECG tool work on your wrist is update both the Garmin Connect app on your phone and your Venu 2 Plus smartwatch to their latest respective software versions.
Your aptly named ECG app should then be able to record 30-second electrocardiograms and either show you the results immediately on your watch or later on your handset for easy sharing with your doctor in the case of worrying readings.
Pretty much the same disclaimers and precautions apply to the Garmin Venu 2 Plus as to the
Apple Watch Series 8
or Samsung Galaxy Watch 5 duo in terms of ECG accuracy and reliability, as FDA clearance and "clinical validation" cannot guarantee the infallibility of a non-medical-grade consumer technology.
Still, this is definitely something that Garmin should have adopted a
long
time ago to better compete in the cutthroat smartwatch world. For what it's worth, the company is predictably and vaguely vowing to expand its proprietary ECG app to other products and other regions aside from the US... at some point in the future.