Galaxy S23 series amps up mobile security with Samsung Message Guard
1
We may earn a commission if you make a purchase from the links on this page.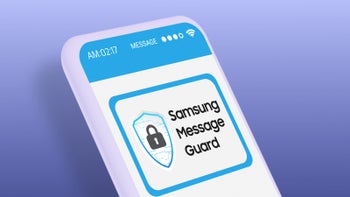 Samsung has just announced a new pre-emptive security feature already available on the Galaxy S23 series, dubbed Samsung Message Guard, which aims to prevent zero-day attacks carried by images sent to the phone. The company reveals that no data about such attacks on Galaxy phones has been gathered so far, but the feature is getting released anyway with the hopes of further boosting the security of the vast Galaxy portfolio.
According to Samsung, the malicious agent might lace an image up with a specific zero-click exploit that gives them full control over your phone, including your messages, gallery contents, and in the worst case scenario, the login credentials for your banking app. We reiterate: all of these are very real threats that could supposedly happen to Galaxy phones, but Samsung hasn't received any reports of such cyber-crime occurrences, and hopefully, it never will.

What exactly is Samsung Message Guard?
Simply said, it's a sand-boxed environment that contains the received image and checks it for known malicious code that potentially harm your data. This way, any potential hazard residing well-hidden into the bits and bytes that make up an image, is essentially neutralized in this virtual quarantine. No user input is required, so rest assured that if you stumble upon such a harmful file, your phone will be capable of fending for itself.

Initially, Samsung Message Guard will work with Samsung Messages and Messages by Google, but Samsung will be updating the security app to work with other third-party messaging services in the near future as well. No details are provided about these, but we imagine that services like Facebook Messenger, Viber, WhatsApp, Telegram, WeChat, and Signal would most certainly fall under Samsung Message Guard's protection.

The Samsung Message Guard feature will be gradually released to other Galaxy phones running One UI 5.1 or higher in the coming months.