First-ever Presidential Alert is ready to go out to every US phone in WEA test
6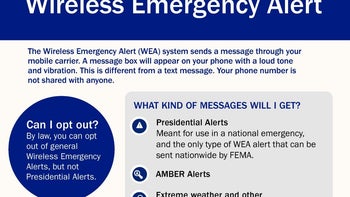 A "Presidential Alert" is finally headed your way this afternoon, but fret not, Donald Trump is not technically in charge of its content, so there should be no mention of any liberal conspiracy aimed at discrediting
Supreme Court nominee Brett Kavanaugh
.
Instead, this is simply a routine test of the National Wireless Emergency Alert System, which the Federal Emergency Management Agency (FEMA)
had to put off
from its originally scheduled
September 20 date
due to "ongoing response efforts to Hurricane Florence."

If no other national disaster breaks out over the next few hours (and no, tax fraud allegations on Trump don't qualify for national disaster status), every single US cell phone connected to wireless providers participating in WEA (Wireless Emergency Alerts) will be buzzing around 2:18 p.m. EDT.

As long as your phone is switched on and within range of an active cell tower, the alert should pop up no later than 30 minutes after the beginning of the test broadcast. While "no action is needed" on the part of recipients, the only way to dodge the notification, accompanying tone and vibration is to turn off your handset between 2:17 and 2:49 p.m.

Don't worry, the system is unlikely to be abused, aiming to warn the public only in instances of dangerous weather, missing children, and other "critical situations." In addition to the Wireless Emergency Alert on your phone, you may see a warning displayed on television and broadcasted on radio at 2:20 p.m. EDT as part of EAS (Emergency Alert System) testing.

This is scheduled to last approximately one minute, following similar experiments conducted in November 2011, September 2016, and September 2017. Unlike EAS, the WEA system will be tested on a national stage for the first time ever later today, so all eyes are on the FCC and wireless carriers. A number of things could obviously go terribly wrong, starting with poor Presidential Alert distribution.