Presidential Alert text message to test WEA is now delayed until next month
18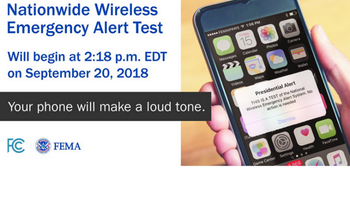 Remember
the initial test of the Wireless Emergency Alert (WEA) system
we told you to be prepared for on September 20th? The text, prefaced by a ear-piercing loud tone similar to the one used on Amber Alerts, is called a 'Presidential Alert' and cellphone users cannot opt-out of receiving it. The texts are supposed to be used to convey warnings related to the weather, missing children, and other emergencies.
The test of the WEA system and the 'Presidential Alert' has been pushed back to Wednesday October 3rd. One reason for the delay is that the Federal Emergency Management Agency (FEMA), which is in charge of the WEA system, has its hands full with Hurricane Florence rescue efforts.
Speaking of responses, social media response to the initial news about the testing went about as well as you might expect. Many questioned the legality of not being allowed to opt-out of a text from the president, even if it is related to an emergency situation. Others were concerned about the WEA system being used to for political purposes by the current president, similar to how he uses his Twitter account.
100 carriers have agreed to send the WEA messages to their subscribers. Those who don't want to be forced to receive the text are threatening to cancel their service or turn off their phone during the test, which is scheduled to be sent at 2:18pm EDT two weeks from tomorrow. But the text will be broadcast over cell towers for 30 minutes, meaning that those who want to miss it will need to have their phone turned off until 2:49pm EDT on October 3rd.
According to tech security researcher Stephen Cobb, people are willing to pass up the benefits of having a national emergency system because they are afraid that President Trump is going to abuse the system. Jeramie Scott, director of the Electronic Privacy Information Center's Domestic Surveillance Project, would like to hear more about the WEA system, which he calls intrusive because it stops all communications to your phone while it processes the message. Scott would prefer that the U.S. stick to the Emergency Alert System (EAS), which sends warnings over radio and television.

Recommended Stories