Best smartwatch deals for Valentine's Day: best gift ideas for him and her
We may earn a commission if you make a purchase from the links on this page.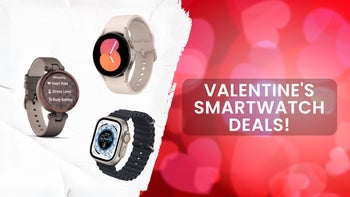 We give a variety of gifts to our significant others on Valentine's Day, but when it comes to mobile tech it seems like a smartwatch is one of the better choices. Wearables sit somewhere in the middle between a phone and a pair of headphones, as they can still serve as a fashion statement, but are —generally speaking — less expensive than a flagship handset.
You are in luck because many of
the best smartwatches in 2023
are enjoying some great discounts right now, including models from the most popular manufacturers such as Apple, Samsung, Google, Fossil, and more. Keep reading to find the best offer, and get an amazing gift for your loved one.
Looking for a different tech-oriented Valentine's gift? Check out
the best Valentine's Day deals
we found so far.
Valentine's Day smartwatch deals for her
Who says that watches are only a fitting gift for guys? Well, whoever they are, clearly they are wrong. At least if we are to judge by how many of these Valentine's Day deals are on more feminine models from popular manufacturers like
Apple
and
Samsung
, but others like Fitbit and Garmin as well.
Of course, if your girl has an iPhone, the logical decision would be to buy her an Apple Watch. Apple Watches have long been among the best wearable devices you can buy, and have always delivered stellar durability and reliability. The best part about them is that there are tons of first and third-party wristbands and accessories, so customization options are easy to come by.
If they own anything but an iPhone, however, then the variety expends quite a bit more. There are obviously the Galaxy Watches from Samsung, which are probably the most popular out of all of these here and will offer you the absolute best in terms of smarts and power. That said, other options like the Fossil Gen 6 and the Garmin Lili Sport are outstandingly elegant and beautiful — fitting for a lady's tender wrist.
Valentine's Day smartwatch deals for him
If by any chance you are trying to make a man's day, though, then a smartwatch is probably one of the surest of ways to do so. Watches as a whole are one of the few accessories men can use to highlight their look, and can even be the center piece of their style. But men are men, so what they wear also needs to have some practicality to it, making the smartwatch an even better gift than a regular one.
Larger, more rugged, and packed with more nerdy software features are arguably the three most important aspects when looking to gift a smartwatch to a man. Needless to say, it is not necessary to have all of these characteristics covered, but more often than not at least one of them is a factor.
Thankfully, there are plenty of choices to pick from, no matter if he owns an Android phone or an iPhone, goes to triathlons, or goes to many fancy events with a suit and tie. There is a good pool of good smartwatch deals for him this Valentine's day.