Best Galaxy Buds Black Friday 2023 deals: Save on Galaxy Buds Pro 2, FE, Live, and more
We may earn a commission if you make a purchase from the links on this page.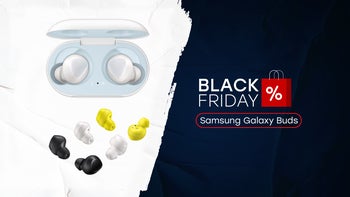 Black Friday
might be over but the saucy deals and discounts aren't quite over, which is a super-fortunate piece of news for all deal-hunters out there! Currently, there are deals out there that are as exciting as on November 24! Stores and retailers like Amazon and Best Buy are keeping the sales momentum alive, which is great. If you're in the market for Galaxy earbuds, we've got a lineup of killer deals that'll go easy on your piggy bank but still let you enjoy super audio quality.
Prepare for a shopping festival with our carefully curated deals! The spotlight is on the
Galaxy

Buds 2 Pro
, boasting an impressive 32% discount, slashing a cool $70 off the regular price. And don't miss the Galaxy Buds Live—they're bringing the groove with a tempting 33% discount, now available at a sweet $99.99, which is a deal you shouldn't miss.
The Galaxy Buds are indeed an excellent choice, and right now, during the Black Friday sales, you can get yours at a bargain price. Many models are currently discounted, so check them out below!
Top 3 Black Friday Galaxy Buds deals today

At the moment, we're seeing 25% to an amazing 37% off on select Galaxy Buds models. The Galaxy Buds Pro are sporting around 32% off on Amazon and Best Buy. Oh, and if you have the Samsung Store App you can get the
Galaxy

Buds 2 Pro
for $70 less or even $75 less with a trade-in.
Samsung Galaxy Buds 2 Pro deals for Black Friday
The
Galaxy Buds 2 Pro
indeed pack some Pro features, like a superior water/sweat resistance, as well as a voice detect feature to lower volume when you are speaking. They also have a bit more sleek design, with less exposed stems and a matte finish for more premium looks. Otherwise, they have the same superior sound that we loved from the Galaxy Buds 2. They are pricier than the non-Pros, though we can't say they offer that much of an improvement.
Samsung Galaxy Buds 2 and Galaxy Buds FE Black Friday offers

Released in August 2021, the
Samsung Galaxy Buds 2
are still a product that can be described as 'great'. At just $150, they offer fantastic sound, fit, and noise-cancelation. It's kind of hard to justify going for the Pros with these around (though, the endurance of the Pros could make you consider them if you are a highly active person).
Speaking in general, for most users out there, the Galaxy Buds 2 are probably the best choice when considering the price-to-function and quality ratio.
Samsung Galaxy Buds Pro discounts

The
Samsung Galaxy Buds Pro
were also released in 2021, albeit in the beginning of the year during the
Samsung Galaxy S21 Unpacked event
. As one would expect from a Pro version, this pair comes with active noise cancelation (ANC) and IPX7 resistance for workouts (got to block the sweat from damaging your earbuds, right?).
And, since it is a Pro line, they have the Voice Detect feature to automatically lower volume. Since these are last-gen models, they often get large price slashes during sales events.
Samsung Galaxy Buds Live offers

Compared to the other Galaxy Buds out there, the
Galaxy Buds Live
are the more "out-there" of the bunch. That statement is more true in regard to their visual design than anything else. Also famous as "the beans", they boast a peculiar look, that you will either love or hate.
They are a weird "open back bud" concept that was destined to be hit-and-miss. See, the Buds Live don't have a seal for your ears, yet they offer ANC. And yeah, it doesn't work fantastically well, letting a lot of frequencies through.
Still, many find the "open feel" of the Buds Live to be enticing and are enjoying their product. They MSRP at $150 but regularly get $50 discounts. One area, besides the ear tips and design, where the Galaxy Buds Live are different is their lower IPX2 water resistance rating. However, that should still be enough to protect the buds from a little sweat.
Which retailers will have the best Samsung Buds deals during Black Friday
Samsung does try to keep a competitive store going, and will often offer very generous trade-in options alongside straight-up discounts. For Buds, for example, Sammy will take an audio device — any old audio device for recycling — and cut the price by $40 (that's how it was on Black Friday 2022). Of course, big retailers like Walmart, Amazon, and Best Buy should also be on your checklist.
There's also the chance that a smaller store or even a local brick-and-mortar location will have the sporadic mega deal, designed to draw eyes and customers to that place. But, we've found that it's rarely easy — or possible — to match the big players' discounts.
Is Black Friday the best time of the year to buy Galaxy Buds?
It is one of the best days for it, as you are guaranteed to see the lowest prices possible. However, it's worth noting that Samsung usually celebrates the launch of a new premium device by running deals on accessories on its website.
Also check out:
Recommended Stories