Tim Cook about to cash in on Apple's rally with $120 million payday
5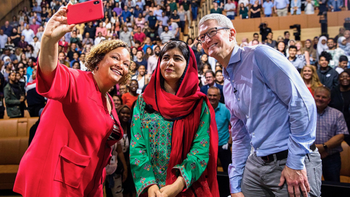 Apple CEO Tim Cook is about to score 560,000 shares of the company as part of his compensation plan. At current prices, the stock that the executive will receive has a valuation in excess of $120 million. Of course, Cook doesn't actually get the cash until he sells the shares. The number of Apple shares that Cook will receive is determined using a calculation that compares how Apple did against the rest of the S&P 500 index. This was something that Cook himself asked for so that he wouldn't be rewarded if Apple under performed the other 499 companies in the widely followed index.
From Aug. 25, 2015, through August 21st 2018, Apple shares rose 119% including re-invested dividends. Over the last 12-months, Apple has increased its valuation by 35%, placing it in the 81st percentile among S&P 500 companies. Over that time period, Apple unveiled its 2017 iPhone models including the tenth anniversary
iPhone X
. It also launched its HomePod smart speaker,
a 9.7-inch iPad
that supports the Apple Pencil, and
became the first U.S. public company to hit a valuation of $1 trillion
. The company is looking to lessen its dependence on hardware by setting a goal to reach $50 billion in services revenue by 2021. Last year, Apple reported $30 billion in gross related to services.
Cook plans on giving most of his wealth away to charity. Last month, an SEC form 4 revealed that he donated 23,215 shares of Apple valued at close to $5 million.