Steve Jobs steps down as Apple CEO, wants to remain Chairman
74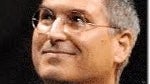 In a resignation letter hinting of health issues,
Steve Jobs has resigned as CEO of the company he co-founded
. In the letter to "Apple's Board of Directors and the Apple Community", Jobs wrote:
"I have always said if there ever came a day when I could no longer meet my duties and expectations as Apple's CEO, I would be the first to let you know.
Unfortunately, that day has come.
I hereby resign as CEO of Apple. I would like to serve, if the Board sees fit, as Chairman of the Board, director and Apple employee.
As far as my successor goes, I strongly recommend that we execute our succession plan and name Tim Cook as CEO of Apple.
I believe Apple's brightest and most innovative days are ahead of it. And I look forward to watching and contributing to its success in a new role.
I have made some of the best friends of my life at Apple, and I thank you all for the many years of being able to work alongside you.
Steve"

Steve Jobs resignation news coverage:
How Steve Jobs left his mark on technology
Foxconn says relationship with Apple to only grow under new CEO
Steve Wozniak reacts to Steve Jobs resignation: "the greatest tech leader in our lifetime"
Who's Tim Cook?
Fixing shades of yellow on a Sunday tells us how Steve Jobs upped Apple's stock price a 100 times
Two years ago, as we
reported
, Jobs had stepped down for 6 months while undergoing a liver transplant and was replaced by Cook. Earlier,
Jobs had been diagnosed with pancreatic cancer
. After the news broke, Apple's stock dropped 5% in after-hours trading.
source:
Apple
via
electronista