The best Apple Watch Ultra deal yet includes AppleCare+
1
We may earn a commission if you make a purchase from the links on this page.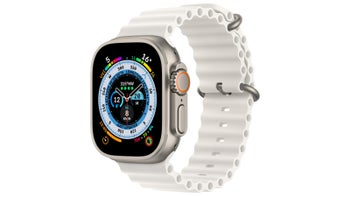 Even though no company has been able to come close to its
dominant global smartwatch sales numbers
at any point in the last few years,
Apple
isn't exactly resting on its laurels and getting complacent in the ultra-competitive and incredibly crowded wearable market.
Granted, the
Apple Watch Series 8
did look awfully familiar right off the bat and the Series 7 before it was not a radical redesign of the Series 6 either, but the
Apple Watch Ultra
is an entirely different beast, proving the Cupertino-based tech giant can sometimes experiment with niche products and take the occasional gamble on something the "masses" haven't embraced... just yet.
Much costlier than its "mainstream" cousins, the rugged iOS-only intelligent timepiece is right now significantly cheaper than usual... in combination with AppleCare+ coverage, which might help with wide-scale adoption.
Of course, the latest Amazon deal is unlikely to last long, slashing a massive 98 bucks off the $898 list price of an Apple Watch Ultra/AppleCare+ bundle with a "white ocean" band only. But that's a new all-time high discount for any version of this super-robust smartwatch in any combination or special bundle, so it's safe to expect the above mentioned e-commerce giant to sell quite a few units no matter how short a promotional period we may be looking at here.
By itself, AppleCare+ costs $99 for two years of Apple Watch Ultra coverage, including unlimited incidents of accidental damage protection (with additional service fees and taxes applicable), as well as 24/7 priority access to technical support.
We know, this bad boy looks tough at first glance, but it's definitely not unbreakable, and given how expensive it is, it's clearly better to be safe than sorry. After all, you wouldn't want to have to replace that state-of-the-art 1.92-inch sapphire crystal Retina LTPO OLED display with 2000 nits of brightness on your own if it cracks, not to mention the... equally state-of-the-art 49mm titanium case.
The Apple Watch Ultra also comes with standalone cellular connectivity as standard, as well as "up to" 36 hours of battery life... in case you're wondering if your needs are best served by the product. Its health monitoring arsenal is also as advanced as they come, so we really don't see any reason why you shouldn't pull the trigger right away.