iPhone XR teardown reveals you can basically call this one the iPhone 9
5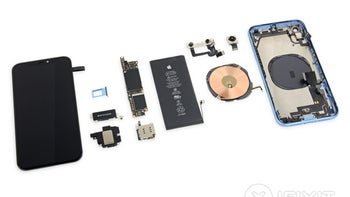 The
iPhone XR
is out,
at least for pre-order customers
, slightly downgrading the build quality and a number of key
iPhone XS
specs in the name of (relative) affordability. But if you were wondering exactly what kind of under-the-hood compromises you're looking at here, you need wonder no more.

We're talking a repairability score of 6 out of 10, which essentially means common repair procedures will be easier for iPhone XR owners than users of "almost any Android counterpart."
iFixit naturally refers to display and battery replacements as the "two most common repairs", with the technically unremovable battery offering decently straightforward access, and a single (proprietary) tool required to pop open the LCD panel.

Speaking of, that LCD display assembly is described as "slightly larger" than the AMOLED equivalent of the iPhone XS and XS Max, but there are actually far more significant inside differences to note.

The most interesting one is perhaps an iPhone 8-style rectangular battery for the XR (compared to L-shaped cells for the XS family). Even more intriguing is that the iPhone XR takes cues from the original iPhone X as well, namely in the rectangular shape of its single-decker logic board.

All in all, you can basically view the iPhone XR as the spiritual "iPhone 9" that never happened, although its A12 Bionic chipset is just one of the many things it also has in common with the iPhone XS.
As suspected a long time ago
, the iPhone XR even manages to beat the XS in one essential department. Specifically, battery capacity. In fact, the 11.16 Wh iPhone XR cell is larger than the 10.28 Wh juicer of the
8 Plus
as well.
Granted, the screen is also bigger, but at a resolution of 1792 x 828 pixels, it's hardly an energy drainer, suggesting
truly impressive battery life
for Apple's more affordable 2018 iPhone.