"Zero Bezel" Pantech Vega S5 sports 5" HD display in a body more compact than the Galaxy S III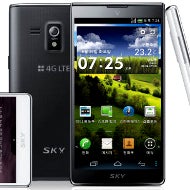 The just-released Pantech Vega S5 for the Korean SK Telecom is the compact big-screen phone we've been all dreaming about. Well. it is not entirely bezelless, but it's as good as it gets with 5" smartphones these days, it seems.
The technology utilized to build the phone is called
"Zero Bezel"
,
and resulted in a device having a 5" 1280x720 pixels IPS-LCD display in a body that is both
shorter and less wide than the Samsung Galaxy S III
, which is of an exemplary size already, considering the 4.8" display. It is also thinner at 6.89mm, compared to the S III's 8.6mm, making it the most compact big screen smartphone to date.
The Pantech Vega S5 makes no compromises in the hardware department either - it has a dual-core Snapdragon S4, LTE connectivity, and no less but a 13MP camera on its back, plus a hearty 2100mAh battery to keep things running long time.
Hopefully the company will take it out of the SK Telecom confines, and will make a global version, since if you want to get it right now, it will cost you about $800 without carrier subsidies and preorders start July 4th. Pantech says in the press release that it made the phone specifically for the average width of Korean hands, so that the 5-incher is still manageable with one-handed usage, so don't keep your hopes high for its appearance in the rest of the world. Hey, us big-pawed folks need some Zero Bezel love too!