Galaxy Note 4 vs iPhone 6 Plus: vote for the better phone
99+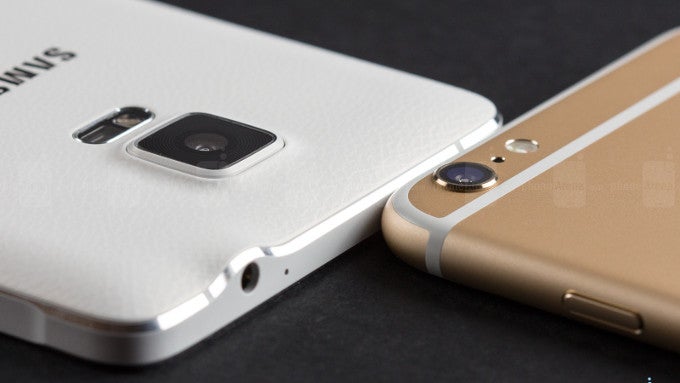 Samsung and Apple have been going at it for so long that we're no longer even keeping score. But the truth is that, in a sense, the two companies competed indirectly. Sure, a lot of people still considered what both had to offer before settling on a device, but that choice was often already made for them – even if they didn't know it at the time. You liked big screens? Apple was a no go, then. You wanted to go lightweight and compact? Not with Samsung.
Fast forward to today, however, and we're living in a different world. Not only has Apple abandoned its long-held belief that people do not want large-screened devices, but it essentially went to the exact opposite extreme by introducing the mammoth iPhone 6 Plus. And we can only imagine that this move irritated Samsung (to put it lightly) – after all, its Note line pretty much created a market for phablet devices out of thin air.
So, now that both devices have been available long enough for many of you to have had the opportunity to read everything there is to know about them and even test them out at your local brick & mortar, it's time for you to speak up and share your opinion on how they stack up against each other. That's right, it's time for yet another issue of our voting comparisons where
you
call the score.
Let's do this.
Design
Samsung definitely stepped up its game with the Note 4 – in comparison with the Note 3, Samsung's latest flagship phablet feels more refined. The company has also finally adopted a material other than polycarbonate for the body of the Note 4, so we now have a sturdy metal frame with four protective bumps at the corners for added impact resistance. As for the iPhone 6 Plus, we're looking at a full aluminum unibody that is also extremely thin (0.28 inches (7.1 mm) vs 0.33 inches (8.5 mm) for the Note 4).
Also worth pointing out is the fact that the Note 4 is actually less imposing with its size, despite its larger screen, thanks to its slim bezels all around. Unfortunately, neither of the two devices is IP-certified, meaning no dust and water resistance.
Which one do you like more?
Display
For the longest time we've been directing attention to the fact that those popping, even gaudy colors reproduced by Samsung's Super AMOLED screens are actually far from natural. At the same time, the IPS panels of the iPhones have traditionally been pretty spot-on in this regard.
With the Galaxy Note 4's 5.7-inch, 1440 x 2560 resolution (515 ppi) display, however, Samsung finally addressed this concern, at least if you put it into the optional Basic mode. Indeed, with an excellent color temperature of 6667 K (6500 K is the reference point here) and only slight errors in color and grayscale reproduction, the Note 4's display is one of the most impressive on the market right now. Of course, if you prefer the overstated colors of old, you can just stick to the default screen mode, which delivers just that.
In comparison, the iPhone 6 Plus' 5.5-inch (1080 x 1920 resolution, 401 ppi) display has a color temperature of 7318 K and color and grayscale errors are a tad more severe. It also offers no dedicated display modes.
Display measurements and quality
Interface and functionality
Oh, boy, where to start!
First off, we're obviously talking about two different underlying platforms – we've got Android 4.4 KitKat with the Note 4 and iOS 8.1 with the iPhone 6 Plus. But while stock Android nowadays feels as intuitive as iOS, we've got to point out that Samsung's TouchWiz skin is far more complicated. Of course, on the bright side, you do get a ton of extra features.
Perhaps one of the defining layers of customization with the Note 4's Android skin is the comprehensive support for the included S Pen stylus. Features like MultiWindow (run two apps simultaneously) and One handed operation (re-size the entire UI so that it is easier to reach) are also not to be underestimated, especially since we're talking about a giant phablet.
The iPhone 6 Plus, too, has some perks up its sleeve, the most noticeable of them being the new Reachability feature. Simply tap the circular home button twice and the entire UI will be brought down so you can easily reach even the status bar whilst using the phablet with just one hand. Bundled with Control Center (swipe up from the bottom to get access to essential toggles), this makes for a powerful, phablet-friendly package.
Camera
Starting with the Note 4, we're looking at a 16-megapixel sensor with f/2.2 lens and an LED flash. The configuration is complemented by optical image stabilization, which kicks in when shooting video, lowering the amount of tremor and shake in the process. The iPhone 6 Plus' 8-megapixel sensor is also optically-stabilized and touts equally-wide, f/2.2 lens and a two-tone LED flash. Up at the front, we're looking at 3.7-megapixel and 1.2-megapixel selfie snappers with the Note 4 and the 6 Plus, respectively.
In terms of video recording, the Note 4 shines with its ability to shoot 4K UHD clips at 30 frames per second, while the iPhone 6 Plus excels at slow motion video – it can shoot both at 120 and 240 frames per second at 720p resolution. Both devices can also shoot Time Lapse video.
Voting will be open until Tuesday, the 25th of November. We'll be publishing the results on the following day after we analyze them. Even if you finished voting, you can always join the discussion down in the comment box and share the thinking behind your choices.