Xiaomi's president compares the front-facing camera on the Xiaomi Mi 4c to the one on the iPhone 6
27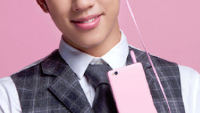 We've been hearing a lot from Xiaomi executives about the upcoming
Xiaomi Mi 4c
. Today, company president Lin Bin was bragging about the 5MP front-facing camera that will be found on the handset. According to the Xiaomi co-founder, the selfie snapper on the phone will feature an 85-degree super wide angle. That is supposedly equivalent to a 24mm wide angle camera, and will allow as many as six to seven people to be photographed in a selfie.
On his Weibo page, Bin also compared a selfie taken with the 1.5MP front-facing camera on the
Apple iPhone 6
, to one taken with the camera on the Mi 4c. You can see how the wide-angle lens on the Mi 4c allows more people to fit comfortably inside the picture. Additionally, the front-facing camera is also going to have an self timer feature. In case you were interested in knowing, there will be a 13MP camera on the back of the device.
We also now know that the phone will be available in pink, thanks to a picture showing the Xiaomi Mi 4c in that color that was posted on Bin's Weibo page. The phone will be unveiled on Tuesday, and we hear that the base model (2GB of RAM/16GB of internal storage) will be priced at around $200. Last week, there was talk that the mid-range model (3GB of RAM/32GB of storage) would be priced at $235. We also expect to see a version of the phone with 3GB of RAM and 64GB of internal memory.
Curiously,
only 100,000 units of the Xiaomi Mi 4c are expected to be produced
. We should find out more about this, and other details pertaining to the Mi 4c, in just a couple of days.
Thanks for the tip!
via:
TechGrapple