Xiaomi's Mi Band shown to pair effortlessly with iPhone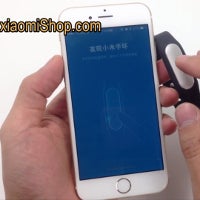 Xiaomi's
Mi Band
is the company's first wearable and, keeping with the company's way of doing things, is extremely cheap, while still looking sleek and packing a punch. The device is a
fitness tracker
, which is meant to pair up with one's mobile phone via Bloetooth, and measure steps and sleep cycles, and vibrate on phone calls, while it holds a battery, which will last it 30 days on a single charge. All of this, Xiaomi offers for around $13 (in China).
If there are any other features to the "fitness" aspect of the band, we are yet unaware of them, but the fact remains that the Mi has sold
1 million
pieces of the bracelet in China for the past 3 months, which, considering that wearable tech is still somewhat of a niche, is a number to brag about.
We've been hearing about Xiaomi planning to push out of Asia and on to
international fame
, and it would come as no surprise if the Mi Band is among the first products to be prepped for sale – a super-affordable fitness tracker sounds nice in these times, where most wearables are, more or less, still a luxury. But it seems that the Mi is not only going to push for fame among Android users – a new video, posted on XiaomiShop.com's YouTube, shows that the Mi Band is iOS-ready, pairing up to an Apple
iPhone 6
that has the proprietary Xiaomi app installed on it.
Well, that's interesting. If the video is up officially, this could either mean that it should be getting pushed to the App Store soon, or, we'd also dare speculate, that this is an app, which can be installed via a 3rd party app store – you know, the ones that are a normal thing in China and were the reason for the
WireLurker
scare. Anyway, without going off on tangents, this move was most likely provoked by the fact that
iPhone 6
is
selling like crazy
over in Xiaomi's homeland and the manufacturer probably decided to at least cash-in on this fact with its affordable Mi Band.
source:
XiaomiShop.com
via
iMore