The iPhone 6 Plus is in demand in China, could eventually account for 60% of all iPhone 6 units sold
10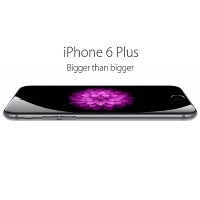 So far, the paths for both variants of the iPhone 6 seem pretty clear-cut. The iPhone 6 with a 4.7-inch display is the crowd favorite, while the 5.5-inch iPhone 6 Plus is moving units at a slow, but calculated pace. However, reports from the Chinese market have something else to say. According to Digitimes, the iPhone 6 Plus is enjoying a strong preference among Chinese customers - reportedly high enough to make Apple shift its production ratio to 55:45 (iPhone 6 to iPhone 6 Plus) from an original 70:30.
Although the odds are in favor of the iPhone 6 for now, the iPhone 6 Plus could turn out to be a late market success, as an earlier Digitimes report, which cites sources from iPhone builders Foxconn and Pegatron's supply chain, claims the phablet is expected to account for 60% of total iPhone 6 shipments. Then again, nothing is for certain - except that the iPhone 6 Plus is seeing larger demand than expected, which is
good news for Apple
.
The gang at Cupertino enjoyed 10 million iPhone 6 sales (both variants) in the opening sales weekend, and supply for the smartphone is pretty tight. Currently, the "regular" iPhone 6 is on back order with a 7 to 10 day waiting period, while those eyeing the iPhone 6 Plus must wait 3 to 4 weeks. This goes to show that Apple underestimated the initial demand for an iPhone 6 phablet.