Xiaomi outs the Mi Band: an affordable fitness wearable that wakes you up and unlocks your Mi phone
7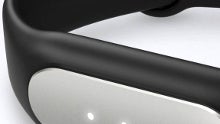 There are affordable fitness wearables, and then there is the Mi Band. Alongside the
Mi 4
, Xiaomi just unveiled its Mi Band wrist wearable, which it claims introduces a laundry list of features for the low, low price of roughly $12. This is, of course, the price in China, so shipping it out would likely cost more around the globe, but by how much more we'll know for sure when it lands.
The Mi Band is a fitness tracking wrist wrapper that can monitor your fitness, and track your movements in your sleep via the built-in accelerometer, so it can gently lull you out of sleep in the most suitable time, doubling as an alarm clock. The Mi Band is thus equipped with the most power-efficient Bluetooth chip and accelerometer, so the wearable can be powered for 30 days on a charge.
The boss of Xiaomi was pretty scarce on the whole "fitness" aspect of the Mi Band, so we don't really know what it will measure, save for serving as a pedometer because of the built-in accelerometer. You can, however, pair it to unlock your phone without pins, passwords and knock codes, just detecting it in the proximity, which is an added bonus. All that jazz is available in a "micro laser perforated" aluminum plate format, held around your wrist by a rich variety of colorful or stylish bands. Available for approximately 12 USD in China, the Mi Band should be making its grand entrance in the budding world of wearables in Q3. Any takers?