Wozniak on Apple's closed products: "I don't like being in the Apple eco-system"
74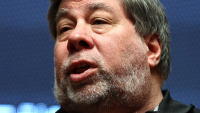 Last week when the
Apple iPad Pro
was launched, Apple CEO Tim Cook said thanks to the 12.9-inch tablet, there is no reason to buy a PC anymore. Apple co-founder Steve Wozniak disagrees. Speaking Friday at a conference organized by analytics firm NewRelic, The Woz says that he is "
more of a laptop-based guy
." He adds that tablets have been "limited" for him.
You won't find Wozniak doing an ad for the Apple Watch. He said at the conference that there are days when he forgets to wear the smartwatch, and doesn't realize it. He calls that a bad sign for the timepiece. The Woz did say that the Apple Watch is improving, which he attributes to the growing number of better apps for the device. He says that with the improvements in app availability, the watch now is worth a little more than its starting price of $349. Wozniak is not a big fan of smartwatches in general, saying that they are just a 'middleman' between himself and his phone.
According to the man who started Apple with Steve Jobs, Wozniak says that Jobs still influences decisions made by the company more than four years after his death. This can be seen in the closed nature of Apple products, something that The Woz is not happy with. "I don't like being in the Apple ecosystem. I don't like being trapped. I like being independent," he said.
source:
Fortune