Would you be interested in a dual camera iPhone?
48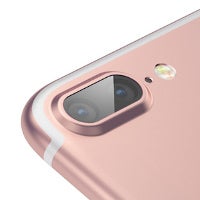 Remember the rumors that Apple is working on a dual-camera setup for a future iPhone? Well, famed Apple analyst Ming-Chi Kuo sent a research memo to clients not long ago that the
iPhone 7 Plus
will have an extra special version with two rear camera sensors, and since then an alleged
chassis mold of that Pro variation has appeared
, as well as
a picture of the dual camera setup itself
.
Apparently, Apple has shoehorned
technology from the Israeli firm LinX
, whose acquisition it announced last year, which allows it to produce high-quality images from relatively small sensors in a multi-lens, multi-aperture configuration with a unique software algorithm. LinX wasn't shy to describe this invention as being able to produce pictures bordering on DSLR quality, especially in low-light scenarios.
LG G5
. Here, however, things get a little crazy - the analyst says that one of the camera modules will be equipped with optical image stabilization.
So far so good, we have OIS on the
6s Plus
right now, but he also claims that the other would sport 2-3x optical zoom lens. Apple actually
patented such a setup last year
, so this suggestion is not totally out of whack, and will be a true game changer in phone cameras if it materializes. When it comes to pricing and availability for this camera-centric version, whatever it gets named eventually, Ming-Chi Kuo expects it to account for 25-35% of total iPhone 7 Plus shipments, and we'd wager to guess it would cost more than the regular single-lens model.
Samsung is also said to
experiment with dual-camera technology
, and it introduced a brand new 12 MP unit with the
Galaxy S7
, so who knows what is in the cards for, say, the Note 6, if Apple indeed comes out blazing with a dual-camera iPhone 7 Plus model.
This is why we wanted to ask you today if you would be interested in such an iPhone 7 Plus Pro of sorts, or whatever Apple decides to name it. After all, Apple might have to respond to the
fast Dual Pixel focusing system of Samsung
in some way, and this eventual camera-centric iPhone may be just what the doctor ordered, what do you think?