Galaxy S7 is the first phone with Dual Pixel autofocus, here's what it means
64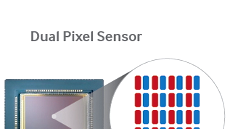 We couldn't help but wonder why did Samsung move from the already blazing fast
phase-detection autofocus
(PDAF) to an obscure Dual Pixel technology on the newly-announced
Galaxy S7
and
S7 edge
. Not only is the 12 MP camera sensor a radical departure from the megapixel rat race we've seen on flagship phones for a few years now, but the whole camera module is brand new, with 56% bigger individual pixels, compared to he S6, and this Dual Pixel focusing for the first time in a phone.
So, what exactly will this new focusing tech bring that PDAF couldn't? Phase detection is better than the widespread contrast detection as it only has to take one measurement from opposite sides of the lens to figure out where to, and how far a lens has to be moved to achieve focus, for instance, making the whole focusing process quicker. PDAF does that by having up to 10% of the total number of pixels equipped with "focusing" photodiodes (Apple even calls them Focus Pixels), and dispersing them strategically throughout the sensor area. How about multiplying even that speed, and adding more accuracy to the mix, too?
This is what the Dual Pixel sensor on the Galaxy S7 and S7 edge is trying to achieve, as it employs two photodiodes for every single pixel, so instead of 5-10% of the pixels being used for focusing, a 100% of them will now. The implications for focusing speed and accuracy are huge, especially with moving objects, live footage, or in low-light scenarios, and we can't wait to grab a bite, and clash Samsung's new Dual Pixel AF system with Sony's fresh Predictive Hybrid Autofocus on the
new Xperia X-series
.