Apple's rumored acquisition of LinX could allow future iPhones to offer SLR quality images
26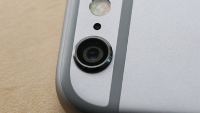 Earlier today, we told you that based on data from Flickr, the cameras that reside on the rear of the
Apple iPhone 5
,
Apple iPhone 5s
and
Apple iPhone 6
are the most popular cameras in the world
. But Apple is apparently not satisfied with that and yesterday the tech titan reportedly purchased Israeli smart camera company LinX Computational Imaging Ltd. While the price of the acquisition was undisclosed, the word on the street is that Apple paid $20 million for the company.
LinX builds smartphone and tablet cameras with sensors that provide depths of field in one image. When combined, the images form a 3D picture. Photographs taken from LinX cameras are single-lens-reflex (SLR) quality, despite coming from a small smartphone camera. The technology also allows for high quality images to be captured in low-light conditions. When lighting is normal, these cameras offer faster exposure times.
"Utilizing state-of-the-art multi aperture imaging technology that combines innovative image processing, advanced sensor and optics technology, our cameras set new standards for image quality parameters such as low light performance, HDR, refocusing, color fidelity, shutter lag and more. LinX cameras are significantly smaller than any camera on the market today, leading the way to DSLR performance in slim handsets."-LinX
We could see Apple employing LinX technology on the iPhone, iPad and perhaps even the Apple Watch. This might take place with the 2016 release of what is expected to be the Apple iPhone 7. There is also speculation that Apple will employ a dual lens system on future models, similar to what was on the
HTC One (M8)
.
By producing a multi-aperture camera for future iPhone models, LinX could use smaller sensors that would result in a rear camera for the iPhone that not only improves on the current unit, but would also do away with the protruding lens seen on the newest iPhone models.
source:
Forbes
Recommended Stories