World Zombination hands-on
2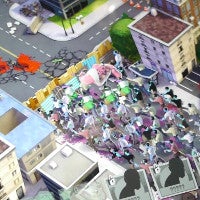 All throughout PAX Prime in Seattle last week, we checked out many mobile games, and from what we saw, zombie themed games were in abundance. Like who doesn't want to capitalize on that, right? Rather than giving us some kind of blow them up action game, the team over at Proletariat went a different route with its zombie centric mobile game that's coming to iOS and Android.
Slated to launch in 2014, we got an early look at World Zombination – a faction-based strategy game that pits you in control of either the surviving human faction, or the brain eating zombies who are bent on wiping out humanity. It takes the elements of other real-time strategy games out there, but the stars of the show are the zombies, naturally. Essentially, the main objective is to simply wipe out the other faction on the map.
Choosing the zombies faction, the game play with World Zombination seems to have a good balance between the different kinds of zombies that we need to eliminate the human faction. There are the slow moving zombies that creep ever so slowly, but are easily mowed down from afar by the gun totting human faction. Now, in order to overrun them, we're forced to call in other zombies, like these that spit acid, to break through various obstacles and barriers littered throughout the map – just to enable the slow moving zombies to overrun the humans.
Quite simply, it's a very different kind of game, especially for mobile! And that's what attracts us so much to this game from the onset, mainly because it requires a fair amount of strategy on our part to combat our opponent. Even though the game looked pretty polished during our quick hands-on look at PAX Prime, it's still too early to release, which is why it's targeting a 2014 launch. Heck, it seems like something worth waiting for to tell you the truth!
PAX Prime 2013 games coverage