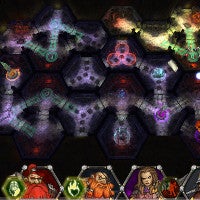 There are games that are easy to pick up from the onset, and then there are games that force players to really think about each and every action. If you happen to prefer the latter, then the upcoming game from developer Tinkerhouse Games, the strategic dungeon crawler in Dwarven Delve, is going to pick at your noodle very slowly. During PAX Prime in Seattle, we got a quick look at an early build of the game, which is being developed right now for iOS and Android.
First and foremost, this is the kind of game that would probably frustrate the average mobile gamer who feeds on those tower defense, slingshot style, or endless runner games. And why is that you ask? Well, the game play for starters requires quick reflexes and thinking, as players lead a merry band of dwarves through a dungeon. However, it's not your average dungeon per se, seeing that it consists of rotating hex tiles that require some rotating to allow the band of dwarves to pass through adjoining hexes.
The game play is best described as an "
action puzzle crawl
," which combines aspects from games in the puzzle and RPG genre. In keeping the action paced throughout the game, monsters will also enter the dungeon, where the player is forced to rotate the hexes so that the two parties fight one another. Of course, there will be a variety of special items and abilities that the dwarves will have access to – in order to fight in real time.
At the end of the day, this is the kind of game that rewards players who are patient and quick on their feet with their actions. Like we said, this is still very early in development, but the team intends to have it ready by the end of the year.
Dwarven Delve screenshots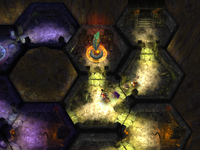 Dwarven Delve Teaser Trailer from TinkerHouse Games on Vimeo.