With the Nexus 5 looming, the Nexus 4 is sold out on Google Play for good
11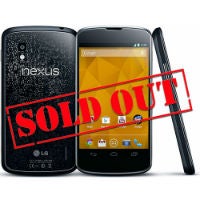 Just about 3 weeks ago, Google dropped the price of the Nexus 4 by
$100
. Last week, the 8GB model of the Nexus 4
sold out
, and sources said that the device would not be coming back. This made perfect sense because we've seen plenty of leaks concerning the new LG Nexus, which has widely been called the
Nexus 5
, despite there being no official word on naming. Tonight, the 16GB model of the Nexus 4 sold out on Google Play, and like its smaller storage mate, this model is not expected to make a return either. It's unclear when the next Nexus phone will be released, but until that happens, there will be no Nexus handsets available directly through Google.
The rumors have it that the Nexus 5 will be announced sometime in October. There have been rumblings that
October 14th
is the date, but there isn't really enough evidence to put a lot of faith in that date just yet. Whenever the Nexus 5 is announced, it will no doubt come along with the announcement for
Android 4.4 KitKat
. The Nexus 5 is expected to be powered by a
Snapdragon 800
. The updates of Android 4.4 are also just rumors at this point, but it is expected to have optimizations for low-end devices, and possible optimizations for
laptops
.