Android 5.0 expected to have optimizations for laptops, Samsung planning to jump the gun
48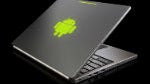 Back when Android first made its way onto tablets, the OS wasn't optimized for the form factor, but companies like Samsung charged ahead anyway. The early Android tablets were filled with compromises and apps that just weren't ready for the larger screens. Well, it sounds like Samsung is about to jump the gun again and release an Android-powered laptop before the release of Android 5.0, which is expected to bring optimizations for laptops.
We've heard before that there are Android-powered touchscreen laptops that are on the way, and expected to start at
around $200
. We've played around with Android 4.2 on a laptop, and the platform definitely needs work before it can transition to laptops full time. Android 5.0 is said to have been delayed, which has also led to the announcement of Android laptops being bumped from the Google I/O schedule this year.
However, KGI Securities analyst Mingchi Kuo believes that Samsung and other manufacturers are planning to go ahead with release plans anyway, and start putting Android laptops on the market in the next 3-4 months. Apparently, manufacturers either don't care about, or don't remember the damage to Android's reputation when it was put on tablets before the platform was ready. At least this time, Android 5.0 is likely coming by October or November; so, depending on how fast manufacturers can push updates, the time between hardware release and mature software shouldn't be too long.