Google cuts Nexus 4 price by $100, now starting at $199 on Google Play
67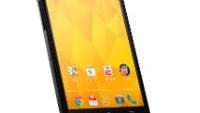 The Google Nexus 4 was already one of the best deals available on its unlocked pricing, but a new price drop has brought it to the point where you might pick one up on impulse to be a backup device and no one would say anything.
Google has just cut the price of the Nexus 4 by $100, so now you can get an 8GB Nexus 4 unlocked for just $199 on Google Play. The 16GB model will set you back just $249. And, best of all, this sale isn't happening just in the U.S.. According to Google, the Nexus for will be "25% off or more in Australia, Canada, Germany, Spain, Korea, US, [and] UK."
Of course, the Nexus 4 doesn't officially have LTE (though there are some hacks to get LTE working on some carriers), but the device will have the newest version of Android, and it does still stand up quite well given that it is almost a year old. No doubt, this price drop will spark quite a few more rumors about the Nexus 5, which has been rumored to come from either
LG
or
Motorola
, and should launch sometime in October or November if Google keeps to its usual schedule.