With emphasis on software and services, BlackBerry reports its highest gross margins ever in Q3
95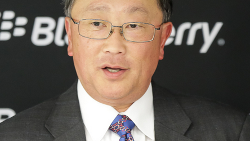 BlackBerry reported its fiscal third quarter earnings today, and with the focus on software and services and away from hardware, the company reported a 47% drop in Q3 revenue to $289 million on a year-over-year basis. Software and services was responsible for $160 million of that amount, up 16% from the fiscal second quarter. For the current fiscal year, the company expects top line growth of 30% in the software and services area.
For the fiscal third quarter, BlackBerry overall reported a net loss of $117 million, or 22 cents a share. Excluding certain non-recurring items, BlackBerry had a profit of 2 cents a share topping Wall Street's consensus estimate of a 1 cent a share loss. Last year, BlackBerry reported an adjusted loss of 3 cents a share.Today's report included an all time high in gross margins for the company at 66.8%.
BlackBerry now expects to report a profit for the current fiscal year, after adjustments. Previously, the company expected to post earnings for the fiscal year in a range between breakeven and a 5 cents a share loss.
BlackBerry has completely divorced itself from the competitive hardware business. Just last week, BlackBerry and TCL announced a licensing agreement that will result in
TCL designing, manufacturing, promoting, selling and delivering all future BlackBerry handsets
.
"We firmly believe that the move to a software business model will be positive for revenue growth going forward, sustainable profitability and overall shareholder value."-John Chen, CEO, BlackBerry
Investors are happy with the report. On Wall Street, BlackBerry's shares are up 25 cents or 3.2% to $7.96.
source:
WSJ