Windows Phone volume doubles for a year in major markets, still 3-6%, Android running wild
29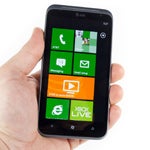 Kantar WorldPanel published its mobile operating systems market share research today, which spans a year back to mid-April. It turns out that Windows Phone has benefited handsomely from Nokia adopting it as its primary platform, since in five of the seven major markets followed, its share rose from less than 2%, to 3-6% this spring.
Germany saw the largest boost, with Windows Phone handsets accounting for 6% of all smartphones there now, whereas in the US, UK, France and Italy it rose to 3-4% market share.
Android's run continued unabated, with the 12 weeks to mid-April alone seeing it surge to 72% in Spain, 62% in Germany, and 49% in Italy. Apple also saw a huge boost in market share in the US and UK, thanks to the launch of its
iPhone 4S
, but continental Europe saw its market share slip, as carriers started to
wean it off subsidies
.
The biggest losers - why, RIM and Nokia, of course. RIM's market share in the US shrank three times - 9% to 3% - from April 2011 to April 2012.