Apple shares down 12% from highs as carriers cut on subsidies, Verizon reps pushing LTE over the iPhone
56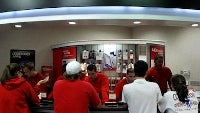 Apple's stock has fallen double digits since its all-time high not long ago, and the main reason smart money is citing for the dip is carriers trying to make people keep their phones longer and overall trying to make more money from smartphones that they did until now. About $400+ have to be paid to Apple by the carrier for each iPhone sold, with high-end Androids commanding a hefty premium too.
Dave Goldman of CNN Money has been reading for a while on forums threads with titles like "
Do Verizon sales reps hat the iPhone?
", and decided to make a little survey of his own. He phoned Verizon or chatted with a representative ten times, and found out that indeed the reps were
pushing 4G LTE phones for the sake of the iPhone 4S
. Therefore it is more likely you walk out with a
RAZR MAXX
or
LG Lucid
out of the Verizon store, even if you came to ask for the iPhone.
The reasoning behind the Android 4G pitch is that the iPhone on Verizon is only capable of 3G speeds, and LTE price plans are much more lucrative for Verizon. As a carrier rep puts it:
The only drawback to the iPhone is it doesn't have 4G, and Verizon is really pushing 4G. Don't get me wrong, the iPhone is a great phone. It just costs the company a lot of money for returns when customers find out that a faster 4G network is available and the iPhone's only on 3G.
That might be one of the reasons Apple's stock is down so much lately, since the company makes the vast majority of its profits from iPhones, and their carrier subsidies in particular. At the same time carriers are
raising the upgrade fees to switch phones
, trying to make you use your old device as long as possible, and hiking smartphone data plans to juice the situation up from the other side too.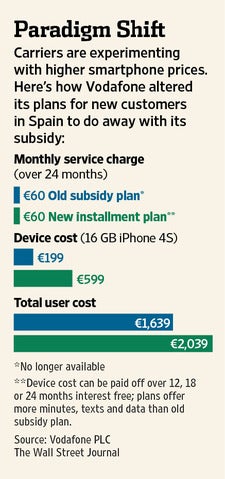 Analysts and investors in carrier stocks are loving this trend, and are waiting with bated breath the results from the grand experiment of carriers in Europe, which are trying to get away from the Apple/Android racket by reducing or eliminating subsidies at a faster pace than the US.
The two largest Spanish carriers Telefónica and Vodafone Spain decided to stop subsidizing new subscribers last month, a move that is likely to save them 25% of their significant subsidy expenses. Existing customers will still be able to pay less for an upgrade, but new ones will have to pay full price for an iPhone 4S or another phone, or pay it off in 12, 18 or 24 month installments interest-free, which is still something.
Thus a 16GB iPhone 4S will cost Spanish customers 599 Euros (about $777), compared to 199 Euros (about $258) before the new policy. The same 60 Euro monthly plan remains in both cases, but when you pay the phone full price, either directly or on installments, you get more minutes, texts and data in it, which is Vodafone's bait to ease the transition.
If Telefónica and Vodafone's experiment is successful, cell phone makers might have to live with less sales and profits, which would particularly affect Apple and Samsung as those two have
cornered 99% of the industry's profits
. If that results in better and cheaper carrier services and cheaper phones for us, then great, but it might also result in
less frequent model refresh cycles
and more mid-range devices sold.
We'll have to see Apple and Samsung's reaction over this trend, though - their sales are
booming in places like China
, so even if US and Europe reduce subsidies, Asia will likely more than compensate.