Windows Phone 7 powered Microsoft handset to be made by Asus, launched in 2011?
This article contains unofficial information.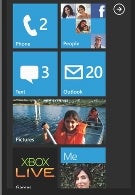 When Microsoft debuted Windows Phone 7 at MWC, the OS was running a phone made by Asus that is not expected to be made commercially available. Or is it? According to a report in The Street, equity analyst Ashkok Kumar, who nailed info on the Nexus One before the herd, says that Asus and Microsoft have encountered some headwinds in trying to put together the next "iPhone Killer". The candy-bar shaped device is expected to run on Windows Phone 7, natch, and Kumar has spent coutnless hours talking to vendors and Microsoft's design partners. The analyst says that problems have shut down production for the moment which might put off launch until early in 2011. While the analyst has no concrete idea on what has shut down the production, his guess is that it is software related and that all handsets planning on debuting with Windows Phone 7 might have to suffer a delay. Microsoft officials would not comment on the report. By producing its own handset, the Redmond based firm could risk upsetting some of its own customers like HTC and Samsung. Of course, this is exactly the same risk that Google had to weigh before introducing the Nexus One.
source:
TheStreet
via
UnwiredView